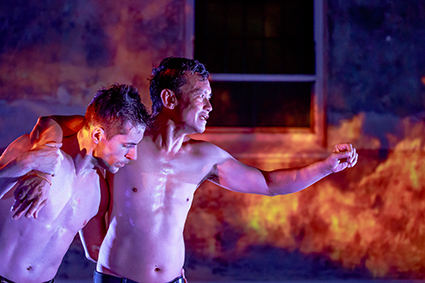 Brendon O'Connor, Tony Yap, Dionysus Molecule, photo Windu Kuntoro
Dionysus Molecule is an enactive, immersive, ritual work. While aesthetically informed by Tony Yap's distinctive mixture of Malay shamanism and Butoh, its rituals also hail from contemporary performance. Yap's early experience with theatre maker Renato Cuocolo locates his aesthetic firmly in the camp of those who want performance to be striking or powerful, rather than representational or conceptual. The figure of Artaud oversees this Dionysian realm.
We are ushered into a rectangular room, presided over by a witness (Robert Meldrum) seated on a high chair. Its pitted walls are alive with lines of light, mobile projections that form rivulets of light. The room is become flesh. It throbs darkly. Intoning TS Eliot, Meldrum refers to the endeavour and its associated risks: the liveness of performance, even ritual performance, is always and inherently open to failure.
How then to judge its success? This is not a work that demands contemplation, a view from afar. Insofar as it envelops the spectator in its action, it aims to provoke an intensity of experience. Yap articulates the power of shamanism for a Western theatrical audience largely ignorant of its traditions and distant from its cultural origins. Yet, we are very close to its invocation. We see the sweat dripping profusely from Yap's bare torso, try to decode his opaque look, his faraway gaze. His visions are not our own but we piggyback on their intensity.
This is a ritual evocation, a duet between two men: Yap and Brendan O'Connor. If not about their masculinity, it stages a series of relations between men. They are the atoms of this complex molecule, intertwined but also quite different in terms of their embodiment. Yap is thoroughly inside his own experience, his eyeballs almost turned inwards. His cries make raw sounds, his skin is exposed and wet. O'Connor is more contained, though equally focused, his movement more animal, perhaps totemistic. Yap is possessed, overtaken by the dance. There is a sense in which he opens himself up to that which finds expression through him. I did not feel this with O'Connor, whose shape making seems to draw on a different kind of (kin)aesthetic. While the two performers sometimes interact, they tend to perform alongside one another. There is no common choreography, no one choreographer, rather a joint engagement in this performative venture.
The collaborators of Dionysus Molecule are all skilled in their own right. The world they have created transforms the everyday into a theatre of the night, a sensorium of time passing. The challenge (and risk) of the work lies in its intertwining of distinct traditions and styles. The mark of its success could be measured through the impact of its impulses and intensities. Would Dionysus have been pleased? I like to think so.
Dionysus Molecule, performers Brendan O'Connor, Tony Yap, visual media artist, sound collaboration Khaled Sabsabi, creative collaborator, performer Rob Meldrum, musician, sound artist Tim Humphrey, Abbotsford Convent, Melbourne, 26-30 Aug
RealTime issue #129 Oct-Nov 2015 pg. 23
© Philipa Rothfield; for permission to reproduce apply to realtime@realtimearts.net