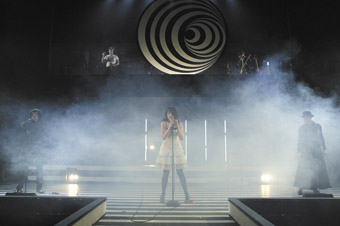 photo Lisa Tomasetti
Grant Smith, Ian Stenlake (top), Alison Bell and Renee Geyer, Sleeping Beauty
AT THE RISK OF GENERALISING ON NATIONAL GROUNDS, I'LL GO ON THE RECORD AS ARGUING THAT AUSTRALIA DOESN'T PRODUCE THAT MANY NOTABLE DIRECTORS. NOT THAT THERE AREN'T A LOT OF GOOD, AND INDEED A FEW GREAT-DIRECTORS WHO'VE EMERGED FROM THE COUNTRY IN THE LAST FEW DECADES. BUT THERE AREN'T SO MANY AS TO HAVE GENERATED THE KIND OF CULT FOLLOWINGS SEEN INTERNATIONALLY.
Those who have achieved almost household-name status—your Barrie Koskys or John Bells—have often done so through flashy, eccentric manoeuvring; idiosyncratic aesthetic choices that sucker-punch our familiarity with classic texts. For the most part, however, our directors seem happy telling actors which way to face. It's rare that an audience will leave a show thinking "now that was some direction."
Three recent Melbourne productions were exceptions—or at least complications—to the rule. Malthouse Theatre's Sleeping Beauty advanced artistic director Michael Kantor's increasingly distinct program of gloriously contradictory excess; Theatre @ Risk's Chris Bendall bettered his best with the arresting Checklist for an Armed Robber; and the debut directorial gig for Spring Awakening's Simon Stone heralds an almost alarmingly striking new talent.
sleeping beauty
I like Kantor's artistic sensibility, though not always the results. He creates big shows, ambitious spectacles which do head towards that directorial stamp lacking in much Australian theatre. I like his eagerness to exceed, rather than simply succeed; to say "more is more" and to attempt to stretch the given meanings a text can be expected to contain. He layers myth and allegory, pop culture references, meta-theatrical self-consciousness and a vaudeville slice of grotesque humour onto anything he approaches. God knows what he'd do with Chekhov.
Sleeping Beauty takes its source fairy tale in typically irreverent fashion. In Kantor's hands, the story of a young girl put to sleep and woken by a kiss becomes the hook for a fabulist confection of psychosexual desire, familial monstrosity and uncanny weirdness. It's a musical, too, with all the trappings. The small cast of four—Alison Bell, Ian Stenlake, Renee Geyer and Grant Smith—deliver the goods entirely through song, piecing together the narrative via the great lyricists of the past few centuries: Cave, Bowie, Brahms and Britney.
Beauty is here a wayward teen, simultaneously desired and detested by her parents and slovenly brother. Retreating to her bedroom after her sixteenth birthday, she falls into a fitful sleep and takes a somnambulistic journey into a world of animal-headed avatars and a rock-god star-man arriving to save her from (parental-surrogate) dragons. When she finally awakes, it is her brother who takes the place of her object of deliverance, and her parents themselves who have inaugurated their incestuous union. It should be scary stuff. I'm not sure it hits all the right notes.
By theatrical convention, curtains and flats are always wheeled out on tracks—perhaps there was a subtle punning in the way the performers frequently interacted along straight horizontal lines, rarely navigating the betweens. It seemed, to me, strange, since the profundity the script gestured toward—we're talking that epic, pop, grotesque explosion of meaning Kantor seeks to create—is anything but flat. It's as much playlist as play though, and hinging the work's effectiveness on song is a brave move that only pays off if the tracks in question rouse the soul of the audience member watching. There's no doubt that some moments—Geyer's eye-widening rendition of Eminem's Go to Sleep ("Now go to sleep bitch! / Die, motherfucker, die!"), for instance—make for uniformly jaw-dropping theatre. But the deeply divided response the show has met, some feeling little while others have been gobsmacked, is testament to the way music is that most personal of things. Love it or hate it, you won't really know unless you've seen it.
Kantor's unrestrained eclecticism is perhaps the closest we have to that paradoxical global phenomenon of contemporary theatre—avant-gardism as the norm. Today's canon is composed of that which can't be boxed into traditional categories, postmodern performance as the institutionalisation of the un-instituted. Difference is the sameness of the now; Sleeping Beauty can only be the unquestionably wondrous work it is for some by failing to inspire wonder in others.
checklist for an armed robber
As the creative force behind Theatre @ Risk, Chris Bendall occupies a different space. His productions over the past half decade have not suggested a studious eclecticism that itself becomes an aesthetic so much as an untamed variety of style that effaces directorial intent. It's almost impossible to reconcile the range of works which this company has laid out under his name, since their scope—in both quality and content—has been so variegated as to put to question the very notion of direction. There's no such thing as The Bendall Look. As a result, the productions where he's been at the helm have been at times outstanding, at times mediocre. With Checklist for an Armed Robber, however, he hits his stride.
One floppy-haired wag once remarked to me that, as a director, Bendall makes a great producer. Their point was that his talents lie in picking the right script, assembling the appropriate creative team and casting the ideal performers for each role. His individual, unique contributions in the form of directorial choices are invisible. There's a truth to this, though its dismissive tone should be ignored. Bendall has developed a talent for sourcing excellent material and has gradually built a solid stable of theatre-makers to help realise each work. I don't think this is an ability to be scoffed at. There's a place for art which doesn't draw explicit attention to the hand of its maker, just as there's one which underscores a distinct perspective behind its fashioning.
Certainly, Checklist is an unequivocally powerful script in its own right. Writer Vanessa Bates contrasts two real events—the Moscow siege of 2002, in which Chechen rebels held a theatre audience hostage until soldiers gassed the venue with tragic results, and a holdup in a Newcastle bookshop which occurred over the same weekend. The action shifts between the two settings as a journalist attempts to negotiate with the terrorists and the Newcastle robber prepares to undertake his crime.
What links the two incidents, in this case, is a question of sympathy. In the Moscow scenario the journalist in question is one sympathetic to the Chechen struggle but now faced with the unutterable horror taking place in its name. Locally, we are given saddening insights into the mind and history of a man driven to commit an armed robbery, but his abortive—indeed, hilarious—efforts produce a trauma all the more effectively conveyed by its subtle deliverance.
It's a tense, taut thriller that doesn't let up, but had Bendall gone for a more showy aesthetic the effect would not have been the same. In this instance, he has picked the right script, drawn together a superb creative team and excelled in his casting. Can that be a bad thing?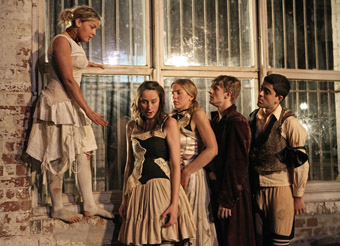 photo Jeff Busby
Spring Awakening
spring awakening
And then there are those directors who arrive entirely unexpected. Simon Stone's first effort in the role, Spring Awakening, is as bold and engaging a piece as has been seen this year in Melbourne, and it's one where his input has been more than evident. The play is adapted from a century-old script by Frank Wedekind, which caused great scandal when it first appeared. It's not hard to see why—the list of taboos it toys with is extensive, including rape, homosexuality, suicide, domestic violence, teen pregnancy and abortion. It's all played out by schoolkids, too, in a timeless schoolroom beset by decay.
Done badly, the piece could too easily be a tacky, squalid affair, but Stone evokes performances from his young cast that transfix. The level of energy displayed is impressive, but the way it is channelled into controlled states is laser-sharp. The unflagging pace is made to carry its audience, rather than expecting them to keep up, and if Stone can pull off this feat more than once, he'll be assured a rapid ascent in Melbourne's theatrical circles. If not, well, here's hoping his Spring Awakening returns for another season.
Malthouse Theatre, Sleeping Beauty: This Is Not A Lullaby, director Michael Kantor, devisors Paul Jackson, Maryanne Lynch, Anna Tregloan, scenario Maryanne Lynch, Michael Kantor, performers Alison Bell, Renée Geyer, Grant Smith, Ian Stenlake, design Anna Tregloan, lighting Paul Jackson, choreography Tony Bartuccio; CUB Malthouse, July 6-28; Theatre @ Risk, Checklist for an Armed Robber, writer Vanessa Bates, director Chris Bendall, performers Paul Ashcroft, Ryan Gibson, Natalia Novikova and Edwina Wren, producer Kirrilly Brentnall, designer Isla Shaw, lighting Nick Merrylees, sound Jethro Woodward; Trades Hall, May 10-27; The Hayloft Project, Spring Awakening, writer Frank Wedekind, adaptation & direction Simon Stone, performers Angus Grant, Sara Gleeson, Katie-Jean Harding, Shelly Lauman, Rhys McConnochie, Beejan Olfat, Russ Pirie, Dylan Young design Jolyon James, Mark Leonard Winter, Simon Stone, lighting Lucy Birkinshaw, sound Rob Stewart, costume Mel Page; fortyfivedownstairs, Melbourne, June 7-17.
RealTime issue #80 Aug-Sept 2007 pg.
© John Bailey; for permission to reproduce apply to realtime@realtimearts.net