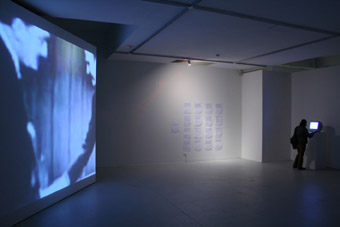 courtesy of the artist
Mark Amerika, Mobile Phone Video Art Classics
TAKE AN AIMLESS RUN LOLA RUN THROUGH ONLINE SPACE TO THE SOUNDTRACK OF A POP SONG; INVITE SALVADORE DALI, MARILYN MANSON AND MADONNA ALONG FOR THE RIDE. TAKE SCI-FI AND LO-FI, TAKE CULTURAL THEORY AND TAKE WAY TOO MUCH OF IT ALL (MORE THAN YOU CAN TAKE IN). REMIX IT, MASH IT UP, THROW IT AT HOLLYWOOD (ENJOY THE PROCESS—GET DIRTY) AND YOU MIGHT HAVE A NICELY MESSY ANALOGY FOR MARK AMERIKA'S MOBILE PHONE VIDEO ART CLASSICS AT THE EXPERIMENTAL ART FOUNDATION (EAF) IN ADELAIDE.
Using the tiny frame of the mobile phone camera, US media artist and writer Amerika [RT80, p36] provides glimpses that contain only the loosest memory of subjects. The viewer is given small samples that suggest the presence of something greater; Amerika is not quite looking (but sideways sampling) the tirading torrents of online culture. Using pace and rhythm to convey to the viewer the feeling of diving into an information rich world, the experience of his work is of a chaotic journey across mash-up media popland. Wide eyed in a digital candy store, Amerika snatches the bits he wants with a refreshing (if disrespectful) disregard for intellectual property.
Utilising everyday consumer programs like PowerPoint and iMovie, Amerika gives his works an 'anyone can do it' flavour and highlights that his is a one man show, made from an unashamedly personal, subjective position. Much like a Duchamp of the digital age, Amerika has a knack for grabbing strangely right and slightly ludicrous stuff, ripe for re-contextualisation. Mobile Phone Video Art Classics is just one of the three video works included in the show. Presented as a large scale looped projection, it comprises a series of shorts that regurgitate media constructed personas. Recorded from existing media sources and filmed on a very lo-res mobile phone camera, characters including Madonna, Manson and Dali star as washed out, pixelated ghosts. These characters are re-introduced to the screens and copied to the point of abstraction. Amerika creates an awareness of the artificiality of celebrity on the blurring screen surface—a skin that he skims with relish.
The last chapter in Mobile Phone Video Art Classics is a quiet recording in a museum café. We can only make out the backs of heads as viewers settle into their coffee at that halfway stop point between the art and the street. Nothing much happens. The pixels sway with blurry uncertainty and the screen occasionally refreshes. This work comes from the border at the end of art viewing and is documentary in nature. Similarly, Amerika's work itself seems restless in the gallery; it's a loosely captured grab from a deluge of data that resists the permanence implied by art institutions.
Also in the space, Amerika writes (makes) his Postproduction Mantra; printed excerpts of his blog (Professor VJ) plaster the wall while a PowerPoint inhabits one corner and a computer, awaiting quiet exploration. Amerika throws a lot of language at his work; he theorises the work of postproduction artists with manifesto-like fervour. Stamping out his ground, he traces trends among artists who hybridise art forms, remix culture and use media with openness to changing the nature and sites of audience engagement. In Amerika's hands postproduction artists are wizards of remixology: hackers of traditional media discourse.
"The virtual is the most powerful narcotic to have ever struck the scintillating nerve scales of the protoplasmic replicants…"
This is one statement from the tirade flowing below the large scale projection Society of the Spectacle (digital remix). Amerika's language reveals a dream slippage between subjects that range from personal to pop to cultural theory. You can be pleasurably lost in the flickering mash-up of video and animation running above the text, however being 'spoken at' by the subtitles can prove overwhelming. With such relentless shifting of meaning and context it is not hard to see why Amerika cites the coining of the term "the information superhighway" by Nam June Paik as inspiration for the work.
My immediate response was enjoyment of the lush abandon of the work. Amerika throws things together with admirable lightness, making art that is cheeky, a little bit brave, even sacrilegious. However, as the torrent of information washes past me and subsides I am left with only the memory of the storm; loosely held subjects fading quickly in the weak sunlight outside.
Mark Amerika, Mobile Phone Video Art Classics; Experimental Art Foundation, Adelaide, April 18-May 17
RealTime issue #85 June-July 2008 pg.
© Sasha Grbich; for permission to reproduce apply to realtime@realtimearts.net