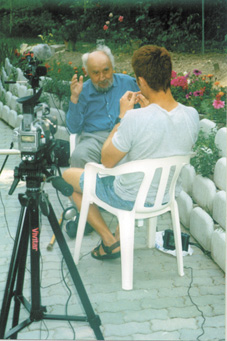 Peter Hegedus, Grandfathers and Revolutions
As the world rapidly divides itself between the technologically comfortable and the technologically wary, one often hears the word 'Luddite', used to mean someone who resists engaging with technology. But this is an inaccurate use of the word. Originally a Luddite was a craftsperson, for example, a glove maker, who knew everything about their craft from tanning leather to embroidering appliques. Skilled craftspeople were called Luddites after the leader of a union movement that was against transforming individual workshops into assembly lines. On assembly lines any worker could be replaced because each worker only did one small, easy to learn job; none was an expert, so none was indispensable. The Luddite label was perhaps the first use of the now well-honed neo-liberal tactic of disempowering resistance by labeling it as outside the 'mainstream.' The original Luddites were not resisting technology, but the decreasing of skill and devaluing of knowledge.
How would these original Luddites have responded to the proliferation of postgraduate degrees in the arts, particularly in film and video? My feeling is that these degrees are, in a sense, resurrecting the 'workshop' approach. They counter the assembly line method that allows the blithe production of films like Dumb and Dumber and the culture that greedily consumes them. Those of us enrolled in Masters and Doctoral degrees in film and video around Australia are Luddites in the sense that we want to do and learn, to be individually responsible for our work from beginning to end.
Peter Hegedus
Peter Hegedus, Doctorate of Visual Arts (DVA) candidate at Griffith University in Queensland, has created a much lauded body of work from within the university. His BA Honors thesis film, Grandfathers and Revolutions (1999), won prizes and screened widely in Europe. He "realized through [the film], and having the chance to reflect on the theoretical side of things, that this was something I should explore", and took up a Masters degree. But the practical work was very demanding, not leaving enough time to focus on theory. Hegedus deferred while producing and marketing Inheritance: A Fisherman's Story (2003), which won even more prizes, and was short-listed for an Academy Award in the documentary category. He was consequently offered a scholarship and entry to the DVA, which he began in 2004. About the DVA, Hegedus says: "The degree develops as you go. I may have 3 or 4 projects to submit in the end, but I may not. I'm doing the best I can." Working out what the submission will finally be is, in a way, part of working out the nature of his practice. He started out with the intention of making a documentary and writing a work called Towards a Model for Contemporary Documentary Production, but "things have changed. I am interested in fiction and non-fiction, and my thesis will probably expand to look at both. I have a slate of projects and these will have an effect on the DVA and on me as a filmmaker."
Perhaps as a consequence of being associated with a university since high school, Hegedus is thoughtful about the connection between theory and practice. He believes that "there is a contingent of people who specialise in the theorizing of film, and it is important to have dialogue with them." His 'theory' is pragmatically oriented. It is theory in the original sense of the word: theoria: (Latin) a looking, a seeing, an observing or contemplation, hence a speculation. Hegedus' 'speculation' is close to the bone for practitioners in the industry. His ideas are organized around 4 key issues: "control, conscience, commerce and creative treatment."
This theory/practice mix is one of the most significant features of the postgraduate programs, and may be one of their most important contributions. If these programs can develop filmmakers who are at once 'industry ready' (skilled and experienced), and industry wary (critical and reflective), the industry and its culture could change. In the shorter term, there is a sense that for everyone I spoke with, the support structure the programs provide are shelters from a certain thoughtlessness about "control, conscience, commerce and creative treatment." As Hegedus says "there is life out there, but it is always some sort of compromise."
Jenny Coopes
Jenny Coopes, who has just finished the first semester of the new MA in Animation at University of Technology, Sydney, is taking a break from "life out there" after working at Fairfax as a political cartoonist for 20 or so years. Just after taking a voluntary redundancy offer, she ran into Gillian Leahy (filmmaker and Associate Professor at UTS) who told her about the course. "It was a little moment when life changes."
Coopes says, "When I first started the course my idea was to animate editorial cartoons for the television news. I may well still do it." But she is not exactly career oriented. "I'm very conscious that a lot of students are here to prepare them for a job, but that's the last thing on my mind. I'm hoping that my final project will be a film worthy to be shown somewhere, but I have no idea after that. I may go and do a doctorate because I love being a student. Although I thought this would be a lot easier than it is. Working is easier."
Coopes had never been to university. UTS took her as a postgraduate without her being a graduate, which, she says, is "a very sensible thing to do because they get people from all strains of life. Most of the students are from graphic arts backgrounds and also computer literate. I had never used a computer because of drawing. But my fellow students had not used conventional art materials, paper, crayons, pastels."
The diversity of skills and ages within the programs is actually another strength of the postgraduate degrees. The students learn a lot from each other, form teams that go on to work together, and influence each other aesthetically. As Coopes says, "the course is changing me a hell of a lot. Being with people half my age…got me back in tune with a younger culture, and another way of looking at the world. My thought process is slightly different, which is a great thing. Political cartoonists have a use-by date unless they change their style."
Dustin Feneley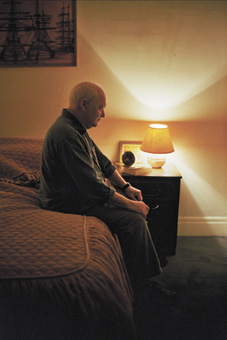 Dustin Feneley, Night
Dustin Feneley, the youngest of the 4 postgraduate students I talked to, is also very aware of the impact the other students in the MA at the Victorian College of the Arts (VCA) are having on his thinking. "It's a small group of totally committed, like-minded people, passionate about what film is and what it can be, what it can do. Each individual's sensibility, their sense of drama, conflict, humour sparks a fantastic amount of debate." In our conversation Dustin pours forth ideas, energy, enthusiasms and convictions with generosity and insight. He was an actor as a teenager, did his BA at UTS, and then went straight on to do a graduate diploma at the VCA. Even before his graduate diploma film Night was short-listed for Cannes, he was accepted into the VCA's new, highly competitive coursework MA. He speaks warmly about the program. "At the VCA we do get practical training but the culture of school is for graduate students who want to be writer-directors. The VCA has given me a sense of belief in myself and what I could do…I thought I had been telling my own stories but I realised I had not been until getting into a situation where no one is pulling their punches, where they ask, 'What the fuck are you doing? What are you saying?'"
Another reason for staying 'inside' comes up later in our conversation and resonates with the experience of everyone I talked to. Feneley says, "I'm dreading being kicked out at the end of the year with a film and a piece of paper because I will have to join the queue and strategise and navigate a path that resembles a career."
Peter Templeman
Peter Templeman's choice to enrol in the Australian Film, Television and Radio School (AFTRS) writing program after successfully finishing the 2-year MA in directing actually seems like a clever way to "strategize and navigate" the industry. Templeman says, "I am out in the world, but being enrolled at AFTRS in writing helps pressure me to have my feature finished by the end of the year. Not being forced to hand it in at the end of the year would mean not doing it. I have had a bunch of other opportunities…but there are benefits to being here, the office, the pressure, the tutorage, the feedback."
One aspect of Templeman's experiences that mirrors those of Feneley at the VCA is that "critical analysis from really experienced people coming in from the industry and analysing your films and looking at and sledging your work is a really positive thing." But some of the rigours that Templeman enjoys at AFTRS are almost the opposites of the pleasures that Feneley talks about in the VCA's "auteur based culture." One of Templeman's current AFTRS projects is writing for a TV series and "I am learning a lot from that because I've never written for someone else before. This series is not my idea or creation, it is a real crafting challenge."
Templeman's bio, which came from AFTRS on his agent's letterhead contrasts with his own self-effacing tone. It begins by saying: "Peter was recently awarded the Australian Film Commission's Excellence in Directing at the AFTRS 2005 graduation. His last 3 films, Splintered, Milkmen and Gifted Thumbs have won 16 festival awards between them, including 7 Best Films and the Slamdance Grand Jury Award for Splintered, placing it in front of the selection panel for next year's Academy Awards." Templeman just says the awards are "encouraging, and you need that kind of encouragement to justify not getting a real job."
Templeman, Feneley, Coopes and Hegedus are all deepening and extending their practice, creating new work, and enjoying some level of financial/facilities support in their postgraduate programs. To these benefits they individually add the benefits of working within structure, navigation of a career, undergoing the rigours of tough analysis and criticism, changing entrenched views, creating a community of collaborators, and restoring the balance of theory and practice.
What about learning?
There are a couple more things I would add to the list from my own experiences of 3 postgraduate degrees: there is the act of learning itself, and there is something ineffably humane about the whole undertaking. The funding bodies would do well to look at it as a model. The postgraduate degree is a workshop/apprenticeship model which trusts the apprentice.
The apprentice is not a novice, indeed they are often very close to their mentor's level of achievement. In the workshop we draw on the works of many masters and consult with mentors, not to mimic, but to discover ways of working. The scholarship is provided for living expenses with no questions asked about how it is being used as long as you're still alive and present. The focus then is on the project and the thinking around it. The facilities are provided. There is regular reporting on progress, which means that there is oversight concerning whether or not your head is above water. The accumulated wisdom of people with more and different experience from your own is accessible and forthcoming. Research and in-depth reflection are not just encouraged but required. At the same time a product is also expected and given a rigorous set of deadlines.
Interestingly, no one I talked to had much information about how his or her final projects—films and writings—are assessed. Unlike the days when admission to a guild was a goal that would bring status and financial rewards, none of us got involved for the purpose of being awarded ('admitted to', as they say) a postgraduate degree. Clearly, the degree itself is not the point. Three of the 5 of us see teaching as an option for supporting filmmaking when we are post-postgraduates, and the degrees may be useful for that. But the long term outcome of the burgeoning of postgraduate degrees is not necessarily more teachers, but more filmmakers, and from all evidence, better, more thoughtful, more culturally enriching filmmakers.
RealTime issue #68 Aug-Sept 2005 pg. 17,
© Karen Pearlman; for permission to reproduce apply to realtime@realtimearts.net