Making Black Harvest
Robert Connolly
ABC Books, 2005
ISBN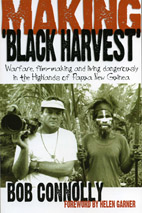 Making Black Harvest is filmmaker Bob Connolly's compelling but ultimately unresolved account of an Australian documentary classic. It is also a moving testament to Connolly's personal and collaborative relationship with Robin Anderson who died from cancer at age 52 in 2002. Connolly and Anderson were co-producers, co-directors and, along with Ray Thomas, co-editors of Black Harvest. While Connolly was director of photography, Anderson was sound recordist.
The film is the final instalment in a trilogy which begins with First Contact. Their breakthrough observational film is so good that most Australian documentary filmmakers wish they had directed it themselves. If the trilogy were to be understood as a 3-act structure, Joe Leahy's Neighbours would be the dramatic centre. Of course then, the question must be asked, why a book about Black Harvest and not Joe Leahy's Neighbours? The answer is straightforward. It was only during the production of Black Harvest that Connolly and Anderson decided to keep a diary and from this account Connolly wrote this book.
Despite a certain degree of disingenuousness on Connolly's part, I would view Connolly and Anderson's filmmaking project in the 1980s and after as part of the observational filmmaking tradition. While Connolly mentions Gary Kildea's Celso and Cora, there are some curious omissions. (I assume this is partly due to the book's intended audience—generalist rather than film specific). Besides Kildea, Dennis O'Rourke spent over 15 years filming in PNG and the Pacific. While not overtly character driven, O'Rourke's earlier films Yumi Yet and Ileksen reveal a forceful and systematic attempt to participate in an ordeal of contact without a previous generation's sense of passive anthropological detachment.
The late documentary filmmaker Mark Worth once wrote that this generation of filmmakers thrived in a climate of isolation. They looked outwards to our region—simply because nobody else would. The DIY band of filmmakers, including Connolly and Anderson, were perhaps the most stylish, cinematic—they were still shooting on film in those days—and gung-ho exponents. But they still stood on the shoulders of others, most notably the American cinema direct movement of DA Pennebaker, the Maysles Brothers and Australia's own Mark Rubbo.
Connolly's enthusiasm for the observational form never diminishes. He sees it neither as a second poor cousin nor as a convenient stepping stone to the drama feature. Watching reality unfold on a day-to-day basis was far more powerful for Connolly and Anderson than anything which could have been scripted. "Uncertainty is the defining characteristic of observational documentaries", Connolly writes, "treatments were for us nothing but convenient artifices." They "embraced" the uncertainty knowing this would involve courage, tenacity, intelligence—and luck! But above all they were dependent on the full and unreserved cooperation of their characters, the highland Ganiga—and Joe Leahy.
Joe Leahy is the middle-aged son of Australian gold explorer and adventurer Mick Leahy and Jiga Amp Marpa, a Highlander mother. First Contact tells the remarkable story of the Leahy brothers who were the first white men to travel to the remote PNG Highlands. When the story begins 50 years later Joe Leahy is a coffee buyer, businessman and planter.
He is a great, complex and intriguing character. Even when he is silent and looking into the distance he is never dull. What a gift to any filmmaker, but especially to Connolly and Anderson: "Joe Leahy was like no-one we had ever met in New Guinea", Connolly writes. "He travelled first class, drove a Range Rover, owned real estate in PNG and Australia and lived on his own coffee plantation. 'My mother,' Joe proudly announced, 'was a stone-age woman.'"
Dan Leahy, Joe Leahy's uncle and only surviving member of the family, provides a metaphor for an ailing and dying Australian presence in PNG. He's deaf, blind and paralysed by a stroke. He can only communicate with Joe by listening through headphones and talking into a microphone. But crucially for Joe, he is the only Leahy left who shows no shame in acknowledging that his brother, Mick, was Joe's father. It's an extremely moving scene in Black Harvest, heightened by the fact that Mick can neither hear nor see Joe's tears.
Ten years after PNG's independence in 1975, Connolly and Anderson began filming Joe Leahy's Neighbours. "Almost every area of government activity—health, education, law enforcement—had gone backwards", Connolly observes. "Kilima plantation was an island of prosperity surrounded by thousands of people with nothing to sustain them but the sweet potato they grew in their gardens, a few 100 kina annually from their own scraggly coffee trees, and the spiritual and psychological rewards to be gained from a vibrant traditional culture."
Enter Joe Leahy and his relationship to the Ganiga—his neighbours and usually unequal business partners. He is a capitalist, they are communal. But was it ever so simple? The audience is constantly frustrated by the poor man-rich man, upstairs-downstairs dynamic. And this, of course, is the brilliant dynamic behind Joe Leahy's Neighbours and Black Harvest. In one of the crucial scenes in Joe Leahy's Neighbours, Maui, an old man dying from cancer, is taken home from the hospital to his village. Joe Leahy's commitment, obligation and sense of responsibility is never doubted as he hands over a substantial amount of money to Maui. "If we kicked you out of here, who would help us in times like these?", a villager asks Leahy.
The films can be seen as an extended mediation on first and third world relations. In Black Harvest the coffee prices crash—5 years of cultivation will yield an extremely limited financial return and this all takes place before the tribal fighting begins, a virulent type of warfare which will last another 7 years.
The police are helpless; indeed they are invisible. There are no NGOs, church or civil society leaders anywhere. (Why? It's a question which Connolly doesn't deal with—but maybe even asking shows extreme naivety on my part.) The old colonial Australian presence is far, far away in Port Moresby, represented by an Australian diplomat who arranges for Leahy's business migration out of the mess to Brisbane, which becomes a bizarre Antipodean eden.
It's an extreme situation—about 100,000 kina of coffee lies ruined with nobody around to pick it. The casualties are high—about 150-200 mainly young men have died from gunshot wounds. It is a real black harvest.
Connolly's book explores the filmmakers' reaction to the tribal society's disintegration. Towards the end of their stay and after one of their oldest and closest friends Madang is shot dead, they film the grieving elder Popina. "As we rose up above the town on the road to Kunguma", Connolly writes, "heading for our comfortable refuge in the clouds, I fought back a mounting sense of guilt, as though we were somehow abandoning Popina. Robin read my mind: 'Nothing we can do for him now. We're not part of things out there any more'."
"Nothing we can do for him." It's a depressing and not too unrealistic conclusion that this type of filmmaking only preserves the status quo. Connolly and Anderson were after all, only very human filmmakers—neither the United Nations nor the Australian Federal Police. But somehow Connolly doesn't deal strongly enough with this conundrum. After the filming ends, the reality of life in the Highlands of PNG continues.
RealTime issue #71 Feb-March 2006 pg. 16
© Carmela Baranowska; for permission to reproduce apply to realtime@realtimearts.net