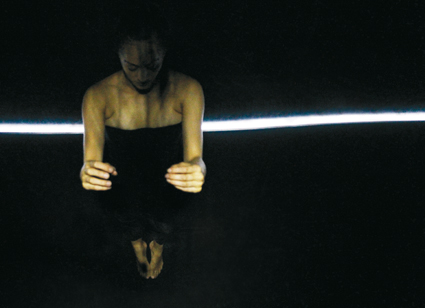 photo MAU
Lemi Ponifasio, Stones In Her Mouth
A beaming Lisa Havilah, director of Carriageworks, the contemporary multi-arts centre located in Sydney's Redfern, proudly guides me through the proof sheets of her 2014 program prior to its launch. It's abundantly evident that Havilah has, over several labour intensive years, incrementally established a clear sense of purpose, identity and, not least, continuity, confirming that her programing is underpinned by a firm vision. The venue has doubled in size and attracted 400,000 visitors in 2013.
It's especially pleasing that Havilah has resolutely committed to the notion of Carriageworks as a contemporary arts space, not an entertainment centre, like the Sydney Opera House, now awash with stand-up comedians and indie bands. Havilah's program cogently reflects and nurtures the diversity of contemporary art practices—through long-term projects and commissions, off-site residencies and an ever-expanding network of partnerships with like-minded organisations.
What stage is this in the evolution of Carriageworks under your direction?
2014 will be the third year of our re-imagining of what Carriageworks is going to be and the third year of implementing what we think is quite a distinctive artistic vision for the organisations resident here and for the overall institution. I think this makes it distinctive from other major cultural institutions across Sydney, but also across the country in that Carriageworks has a real multi-arts contemporary focus, and a focus on cultural diversity and contemporary urban practice as well. The program reflects the cultural demographic of Sydney and supports the development of work that really does move across art forms in interesting ways. 2014 also continues our commitment to commissioning and presenting work of scale that meets the architecture of Carriageworks.
These are works that occupy the foyer and the large performance spaces?
This wholly new direction started with Travelling Colony, the large-scale Brook Andrew commission [painted caravans containing video interviews with Redfern Indigenous inhabitants in the Carriageworks foyer], then Song Dong [Waste Not, a massive foyer installation], Ryoji Ikeda's Test Pattern (No5), MAU's Birds with Skymirrors and Anne Teresa de Keersmaeker's dance works [Cesna and En Atendant]. These are epic works that speak to and reflect back on contemporary life but at the same time are of a scale that pays respect to the scale of the building and the history and the context within which the work is presented. This is always a key factor in how we think about programming. We are located in Redfern, a place that has a strong political and social history and is undergoing very significant change. And that's also a hallmark of Carriageworks—the scale of change that we have driven in part but, in return, are also experiencing because the artistic program is driving it. All of our success emerges from the content, commitment and quality of our artistic program with its artists.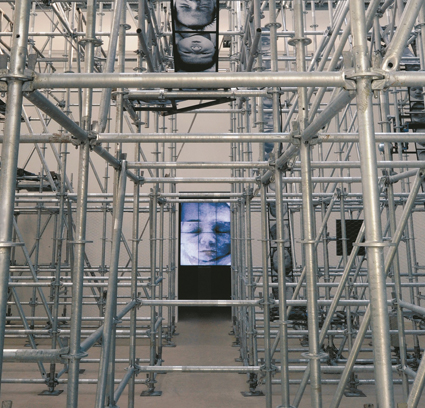 courtesy Carriageworks
Christian Boltanski
Your 2014 program opens with a huge installation by French sculptor, photographer, painter and filmmaker Christian Boltanski that mimics a printing press.
It's 40 metres long and 10 metres high and will occupy all of the foyer space. You'll be able to walk around and through it and also play a game of chance.
As part of your annual social history program, you'll have an exhibition featuring the Aboriginal Progressive Association and its activities and achievements prior to World War II.
Yes, and one of our most important projects with the Indigenous community is a partnership with Alexandria Park Community School where we're establishing a full-time artist's studio within the school. We'll invite an Aboriginal artist to be in residence there each of three years. The first will be the incredible contemporary dancer/physical performer Ghenoa Gela followed by Tony Albert, then Microwave Jenny [pop/folk/jazz duet Tessa and Brendan Boney].
You're clearly committed to long-term programming.
That's another key driver in terms of how we develop the program. We were so excited to be able to bring Lemi Ponifasio's Birds with Skymirrors here in 2013. We now have a long-term partnership with Lemi and MAU in which we'll co-commission a new work from him over the next three years and hopefully that relationship will develop into the future. Most often, you'd experience a work from this company but then not see anything else from them for 10 years. This way we can really work with Lemi to build audiences in Sydney for his work who can see how the practice builds over a number of years.
You've also programmed Sydney Chamber Opera, Perth composer Cat Hope (working with visual artist Kate McMillan) and the UK-based Australian ensemble Elision. That's good news for new music.
That's been one of the things I've loved most about our program in 2013, with Sydney Chamber Opera, Michael Kieran Harvey and the amazing Jack Quartet from New York. This will be the first time we've included Sydney Chamber Opera's work as part of our own artistic program. That's quite a significant increase in our support to that company. My practice doesn't emerge from music but I've loved engaging with those artists. We're looking to continue to build that program.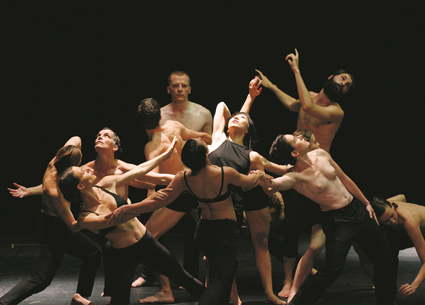 courtesy Carriageworks
Shanghai Bolero
Dance is a form you've committed to strongly. Next year you have Compagnie Didier Theron, which is quite a coup.
This year we partnered with Brisbane Festival to present the amazing Doku Rai and Fight the Landlord. We proposed Didier's company and we were lucky they concurred. It's the first time he's ever presented a work in Australia: three radically different responses to Ravel's Bolero in the one show.
You come from a visual arts background. What appeals to you in dance?
My passion for it started at Campbelltown Arts Centre where dance programmer Emma Saunders and I curated What I Think About When I Think About Dancing (2009), looking at the intersections between visual arts and contemporary dance. I really loved the way artists in the independent dance sector worked. It's the visual and the repetitive nature of dance that appeals, and the exactness and discipline. A company like Rosas [creates] a visual artwork that moves in an incredible way over an extraordinary duration. I think that's one of the most incredible experiences that I've had in a theatre ever.
You also have Force Majeure, resident dance company at Carriageworks, doing several shows.
At the end of the year we're co-commissioning and presenting Obscura with the company; it's a major work by Byron Perry. In other dance, from MAU we'll have the very beautiful Stones in her Mouth, which just opened at Red Cat in Los Angeles to really amazing reviews. We've established a relationship with the Keir Foundation and Dancehouse to establish the Keir Choreographic Awards which will invest in new commissions and a cash prize. We also have a multi-year partnership with NAISDA as well, presenting their end of year work and doing residencies in their Central Coast [facility]. And we have a Ken Thaiday Snr exhibition, featuring headdresses and performance from the Tiwi Islands, the Sydney Dance Company's New Breed, works by four choreographers, two from outside the company; the NAISDA end of year show; and a new show, Choreography, by Garry Stewart with NIDA students.
As part of our policy we co-commission or co-present a number of works with resident companies every year. With Performance Space we're doing the Ken Thaiday Snr show, as a co-commission, a work by electronic media artist Pia Van Gelder and a multi-sensory environment by Cat Hope and Kate McMillan. We're working much more in partnership with Performance Space in 2014.
What is Carriageworks' role in the Biennale of Sydney?
We're a major venue partner. This is a first which ranks us with AGNSW and the MCA and brings the Biennale to this part of town. We're presenting around 25 works over Bays 22-24 and we're commissioning a major new work by the Berlin-based English artist Tacita Dean. It's Biennale director Juliana Engberg's idea but we're producing the work for them and working directly with Tacita Dean.
You also have events focused on food, with a co-production, The Serpent's Table, with Griffin Theatre Company featuring chef Adam Liaw and others, a two-day sustainable food event and Carriageworks is now managing the Eveleigh Market.
And Kylie Kwong is our 2014 Carriageworks ambassador. It's important the market is integrated into the precinct. Broadly, we have a commitment to excellence in contemporary arts and culture; whether that's fashion or food or music or dance. We always try to make interesting intersections.
You'll find more about the substantial 2014 Carriageworks' program, including Back to Back's Ganesh vs The Third Reich and New York-based durational performance artist Teching Hsieh (in partnership with UNSW College of Fine Arts)
Carriageworks 2014 program: www.carriageworks.com.au
RealTime issue #118 Dec-Jan 2013 pg. 18
© Keith Gallasch; for permission to reproduce apply to realtime@realtimearts.net