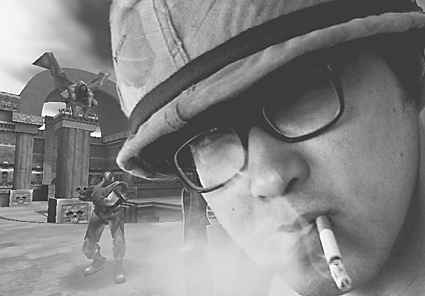 Feng Mengbo, Q3, 1999, digital video
Satisfying physical and cyber-needs
Talk about working the screen! By the time MAAP99 (Multimedia Arts Asia Pacific) Festival hits Brisbane and the Asia Pacific region from September 3 – 12 the organisers will have considered over 180 proposals (quadruple last year's content) for more than 50 projects showcasing the latest in digital arts in the Asia-Pacific region. From over 60 submissions from Australia alone, the curatorial team selected 4 artists who have been supplied with Macromedia and Metacreations software valued at nearly $10,000. MAAP will bring the artists to Brisbane to participate in the festival.
The work in MAAP99 covers a range of art forms and practices with an emphasis on interactive multimedia, web, video, animation and projects integrating new media. It encompasses a range of public events, online projects, cinema screenings and exhibitions both on-site and online and forums addressing issues of audience awareness and critical engagement with artists working with technologies and screen-based media. MAAP99 is the ultimate co-mingling of the real and the digital, satisfying both physical and cyber-needs.
As you'd expect, such an ambitious project requires major support and MAAP99 has this from Online Australia, an initiative of the National Office for the Information Economy (NOIE) promoting the development of information technology throughout Australia. They're also partnering the Third Asia Pacific Triennial's Virtual Triennial exhibition which will be APT3's official online art content and screen culture provider. Macromedia is again a major sponsor making available just about every tool they produce including Generator. With help from Firmware's Generator server, live image and text updates to the web will be used extensively during the month-long online festival.
SEE, SEEK and SPEAK
The program has 3 streams. SEE is the national and international screening program at The State Library Cinema, September 4, and Queensland Art Gallery, September 5. It includes recent works from Korea, Malaysia, China, Taiwan and Hong Kong. Feng Mengbo from Beijing will present recent video and web interactive works. Videotage features the One Minute Video Festival, a selection of works from China curated by the Hong Kong Video and New Media co-operative. D.art is the annual showcase of experimental film, digital video and computer animation from dLux media arts in Sydney. Visual artists are creating short works for television to be broadcast in Art Rage. The Art Rage For Kids edition is available to schools as an introduction to creative uses of new technologies. The Samsung Project from Korean artist Young-Hae Chang will feature in a narrative program session titled Strange Stories; Self-Made Cinema. It incorporates recent works from Hong Kong curated and presented by Jo Law and will be toured by the West Australian Film and Television Institute. Digital Degrees features showreels of current digitally produced projects by multimedia and design students from Singapore, New Zealand and Australia.
SEEK is the interactive exhibition program including gallery, public spaces and online exhibitions. net.works/ MAAP99 Australia/Asia Artists Exchange is an online residency project aimed at generating dialogue, exchange, and collaboration between Australia and the Asia Pacific. Rather than run 'real' residencies which result in artists making works for the web, net.works/… is a habitation of the web, where the internet is used as a beginning point, a space from which to proceed, to commence a dialogue, to speak an idea, to live and work. It's hosted by Multimedia Art Asia Pacific for the MAAP99 Festival and funded by the New Media Arts Fund of the Australia Council. Feng Mengbo (Beijing); Young-Hae Chang (Seoul); Rick Vermey (Perth); Tina Gonsalves (Melbourne) are partnered to interactively create joint on-line work.
Xi'an/Ipswich: Double Happiness is a unique cross-cultural internet exchange program with young web explorers from Australia and China. The project involves the joint design and construction of a website that will help create a link across cyberspace and between cultures. The project is managed by Arterial and Global Arts Link in association with the Bremer TAFE and the Xi'an Translators College with software support from Macromedia.
SPEAK comprises a conference, forum and training program. Presented by MAAP99 in association with ANAT and the Queensland Art Gallery, the conference Collapsing Geographies will take place at the Brisbane Exhibition Hall and Convention Centre on Saturday September 11. The focus will be on 3 artist exchange projects involving over 15 web artists from the region. MAAP is sponsoring international guest speaker Naranjan Rajah (Malaysia) at a forum discussing current and future strategies for digital art networks. This is part of the Asia Pacific Triennial Conference, Beyond the Future. As well, at the 30th World Congress of INSEA (International Society of Art Educators) MAAP will present an address and series of workshops to highlight the uses of technology for arts educators.
A real/digital night out
Opening night is Friday September 3 where special guests and late night shoppers will mingle in the Queen Street Mall in Brisbane's CBD. The program includes large projections and a special opening program netcast live on the web. Melbourne curators Shiralee Saul and Helen Stuckey will present Pre Fab: Invisible Cities and Photon Palaces comparing and contrasting the digital architectural practices currently being developed by Australian artists and architects with those of their Asian peers. This virtual architecture exhibition will be projected onto buildings in the mall area. Cyberpoet Komninos will perform and project his poetry onto the main wall of the Queensland Performing Arts Trust. This will be netcast on the web. There'll be computer games for those wanting to test their motor coordination. MAAP has also been trying to lure an international pop-star to Brisbane for this high-tech evening. "Diki", the virtual pop star (originally from Korea, but often holidays in Japan) has promised a new world release for the MAAP 99 opening!
Stay online
Events physically held in Brisbane and in other parts of the region will be available to view from any location with a series of netcasts on the internet. Forums, artists' live performances and intimate interviews will stream through the MAAP99 festival site to achieve a web festival experience. Each day of MAAP Month an online art project will be launched onto the MAAP website. Thirty online projects have been selected to enliven the web festival experience.
Fame too is on offer with The National Digital Art Awards staged at the Institute of Modern Art. And participation: a "People's Choice" page will be housed on the MAAP website for judging the best Artist's Website. These awards are open to all computer artists working in any digital format. Submit entries to the IMA.
MAAP99 is the perfect stay-at-home festival for the avid onliner but it's also a seductive program for see-ers, seekers and speakers who want that special in-the-body festive experience. RT
MAAP99, Multimedia Arts Asia Pacific Festival, Director, Kim Machan. Brisbane and online http://www.maap.org.au/, September 3-12
RealTime issue #32 Aug-Sept 1999 pg. 24
© RealTime ; for permission to reproduce apply to realtime@realtimearts.net