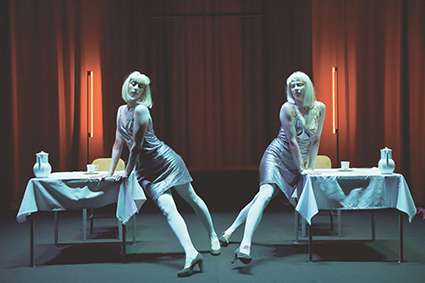 photo Laurent Philippe
Mossoux-Bonte, The Coffee Drinkers
IN THE LAST MOMENTS OF LINDA LUKE'S STILL POINT TURNING, LUKE, LIKE A PENDULUM FINALLY ARRESTED, HOLDS HERSELF MOTIONLESS BEFORE THE AUDIENCE. FOR WHAT SEEMS LIKES MINUTES SHE WATCHES US, SWEAT TRICKLING DOWN HER CHEEKS WHILE A TERMINALLY SLOWING HEARTBEAT FORESHADOWS THE INEVITABLE LIGHTS-OUT.
The closing work in Melbourne Festival's curated dance season, Dance Territories, Still Point Turning's end-point set up a reverberating final resonance within two double-bill programs that rippled and shimmered together in a remarkable interplay of difference and harmony, touching, as their titles suggest, upon the sacred, the profane, rituals and the notion of 'now.'
Tony Yap, Yumi Umiumare and Matthew Gingold's Zero Zero and Belgian company Mossoux-Bonté's The Coffee Drinkers comprised Program One, The Sacred and the Profane. But while Zero Zero has its sacred elements and The Coffee Drinkers its profane, the pairing was anything but 'one of each.'
In Zero Zero, Yap and Umiumare perform in apparent opposition, at either end of a long, white strip; by the end they are both lying on the floor, united, 'sole to sole.' They are each 'channels' of a kind: Yap seems to draw from the chthonic, at times uttering strained half-words or curled foetally on the floor, while Umiumare pays close attention to the everyday—a bowl of water, then a clock radio with chopping, changing stations. Yap's dance strongly echoes traditional Asian forms; at one point he rises on the balls of his feet in a delicate, ritualised walk, hands tilted upward, watching his arms as pulses of life tremble through them. Sometimes he twists inhumanly, fingers spasmed. He seems to both absorb spiritual forces and control them, like a shaman both undergoing and understanding his possession.
Umiumare, in her quotidian world, seems fascinated by the radio blurting out its banal communications. She tilts her head like an animal, thinking but not-quite-thinking. She mimes cleaning her teeth; the gesture morphs into a controlled frenzy of shoulder-tensing, near-robotic movement. The feeling of 'possession' escalates—a possession by forces cultural, technological and other-worldly alike. In a sequence hinting at everything from butoh to ballet she moves like a crazed praying mantis, arms paddling the air; then caught in some invisible wind she begins to saw and flail, breaking into impossibly flowing flings, supplicant one second and dervish the next, ballerina and automaton at once. Throughout the piece, Matthew Gingold's sound design unites the two dancers like a third body that breathes, gasps and sighs with them, incorporating natural and synthetic sounds from rippling water to tinnitis-inducing high tones or pummelling rumblings. Like the dance, the sound binds the profane and the sacred, which merge and are parsed by turns.
Like Zero Zero, Mossoux-Bonté's The Coffee Drinkers (Belgium; concept, direction Patrick Bonté, choreography Nicole Mossoux and Patrick Bonté) evinces an uncanny leakage of the chthonic into the banal, though in a quite bizarre setting. Two (eventually three) identically dressed and bewigged women make, pour and consume their coffee at café tables, in gradually unravelling symmetry. To a part-melodic, part-robotic soundtrack befitting their doll-like characters, they pour, stir and sip, discarding pieces of clothing over time in exaggerated, burlesque moves, comically seductive. Their salacious routine increasingly hints at chaos—a serviette wipes a thick brown smear from an armpit, like menstrual discharge; coffee spills and spreads slowly on a table. As the piece evolves, a third dancer joins them, coming to life in a Frankenstein-like creation scene and initiated into the cloned world of the others. The narrative takes odd turnings: at one point the performers pose curiously in half-naked tableaux vivants redolent of cheap lesbian soft-porn, like three strange 'Graces,' or (who knows?) 'Furies.' Not only does The Coffee Drinkers conjure the 'other side'—uncanny, dark, disruptive and sexual—it could also be read as either a feminism-inspired refusal of gendered stereotyping or a troubling conflation of woman/nature.
Opening Program Two, Rituals of Now, French choreographer Eléonore Didier's Solides, Lisboa is an attempt "to stop dance" (program notes). It almost excruciatingly achieves its aim, creating a potent space for emotional affect. Once again 'the everyday' provides the work's jumping-off point: Didier, attired in corporate skirt and jacket, like Mossoux-Bonté's coffee drinkers, crawls and crab-walks around a bare stage to a soundtrack of city traffic and passing trams, seemingly trapped by her occupation. She appears to cope with the mundane through her deliberate movements; though at times, too, to be pushed and pulled by invisible hands.
In a second scene Didier moves around two props: a large table and a man, passive, who mostly sits at the table with his back to the audience. The light is bright. Didier is naked. She seems to try things out for their own sake: she slowly balls herself up on a chair, moves into a headstand, tilts her legs sideways to rest on the table, and suspends herself beneath it, gripping with hands and feet. Her face shows the stress of repeated attempt, but there's a chasm between her emotiveness and her body, which she controls like an object, positioned seemingly without meaning. Eventually she places herself on the man's lap. He gets up and walks as she clings to his upper torso until, unable to keep hanging on, she slides off.
Minimal and painfully paced, Didier's choreography seems at times almost Dada; uninterpretable. And yet it intensifies something, creating a sequence of 'stuck' emotions in one's own body which resist definition. Not an enjoyable work to watch, but it left a lingering 'felt' experience that became comprehensible as an emotional poetics of attempt, vulnerability, diligence and tenacity.
Finally, Linda Luke's Still Point Turning: a series of collaged scenes, lyrical and strung together by suggestions of both mundane time and the grand cycles of life and death. Luke totters in rocky, uneven shoes like chunks of meteorite, cable-tied to her feet stepping back and forth mechanically to the sound of a voice reflecting on time and stillness. Her costume is part-Baroque and part steam-punk, coat tails and knickerbockers, elegantly ragged. A large pendulum swings back and forth across the stage, its continuity juxtaposed with Luke's ever-changing movement. Over time, a rear screen delivers moving black bars, lushly opening buds and dying blooms or fuzzy, static 'snow.' Shoes discarded, Luke becomes freer, sometimes reminiscent of a curious insect, flower or animal. She turns her coattails out to become bright red petals. Frog-like sounds suggest primordial swamp and seem to subsume her; the pendulum continues to swing.
Ultimately Luke seems to be played by the sounds, natural and unnatural, ticking and spoken alike; she's strangely expressionistic, jerking like a silent film character. Still Point Turning is theatrical, romantic, full of both play and decay—"for tomorrow we die"? It's a lush response to the relentless tick of the clock and, equally, to the finite heart beating—the final minutes stunning, as Linda Luke watches us and sweats; reduced to one living body whose time is slowed right down to nil.
Melbourne International Arts Festival & Dancehouse, Dance Territories: The Sacred and the Profane: Zero, Zero, Yumi Umiumare, Tony Yap; Mossoux-Bonté, The Coffee Drinkers (Belgium), 14-15 Oct; Rituals of Now: Eléonore Didier (France), Solides, Lisboa; Linda Luke, Still Point Turning, choreographer, performer Linda Luke, composer Vic McEwan, video Martin Fox, lighting Clytie Smith, costume Justine Shih Pearson, Dancehouse, Melbourne, 17–18 October
RealTime issue #124 Dec-Jan 2014 pg. 12
© Urszula Dawkins; for permission to reproduce apply to realtime@realtimearts.net