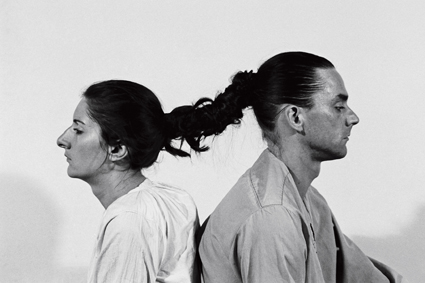 Relation in Time, Ulay/Abramovic, 1977; Marina Abramovic: The Artist is Present, images courtesy of Madman, © 2012 Show of Force LLC and Mudpuppy Films Inc. All Rights Reserved
I FIRST ENCOUNTERED THE WORK OF MARINA ABRAMOVIC IN THE EARLY 1980S WHEN I BOUGHT A COPY OF RELATION WORK AND DETOUR, AN ACCOUNT OF ABRAMOVIC'S WORK WITH HER PERFORMANCE AND THEN LIFE PARTNER ULAY. AT THE TIME, KEITH GALLASCH AND I WERE BEGINNING TO CREATE A SERIES OF PERFORMANCES FOR OPEN CITY BASED ON OUR OWN RELATIONSHIP THOUGH WE HAD NO AMBITIONS TO MATCH THE INTENSITY OF APPROACH OF THESE TWO.
relation in time (1977)
We are sitting back to back, tied together by our hair without any movement. (16 hours) Then the audience come in. (17 hours)
In the documentary The Artist is Present by Matthew Akers and Jeff Dupré we accompany Abramovic in the preparations for her retrospective at MoMA in the winter of 2010. She separated from Ulay in 1988 and it appears they haven't met for some time. The film moves between arrangements for the exhibition and Abramovic's live performance, which will be part of it. Each day of the show's three-month duration, Abramovic, seated on a wooden chair, will face individual members of the public. "The hardest thing to do is something close to nothing. It demands all of you," she says.
Documentation of performance art works is necessarily problematic—how to represent the ephemeral, recast the uniquely personal, preserve the live moment?
imponderabilia (1977)
We are standing naked in the main entrance of the Museum, facing each other. The public entering the Museum have to pass sideways through the small space. Each person passing has to choose which one of us to face. (90 minutes).
We see Marina nervously awaiting the arrival of the 30 young artists who have been chosen to 're-perform' some of the seminal Abramovic/Ulay works. They will be at Marina's home in Hudson Valley for three days—fasting, living in silence, no phones—all to help them empty themselves, to slow down. They have three months to perform and will have to create their own 'charismatic space'—to be 'present.'
Later, watching these young bodies in the gallery standing in for the weathered frames of the artists who had conceived these actions, lived the difficult lives that they reflected, it's hard to see them as anything other than representations in another time. Naked bodies in the museum, however, have a way of attracting attention—though not necessarily the sort you might seek. Fox News' "America Live" alerts its audience to the audacious Abramovic as "some Yugoslavian-born provocateur."
For an artist who creates such intense works, Abramovic projects a cool bemusement in her everyday dealings with people. She cheekily admonishes the catalogue essayist with: "But you haven't asked me 'Why is this art?'" She's justifiably annoyed at her status, "still alternative" after 40 years of work. "It takes such a long time to be taken seriously!" Then again, a retrospective at MoMA is not to be sneezed at and in Givenchy's Spring campaign last year was that Marina's visage up there next to Kate Moss?
art and life with ulay
Intercut with preparations for the retrospective and for her performance are filmed sequences and still photographs of Abramovic's solo works and those she performed with Ulay.
These, together with the reunion with Ulay for the show, provide some of the film's most powerful and poignant moments. When he's told what she's planning for her live performance, Ulay says "Wow! I have nothing more to say. Respect." He recalls Marina's stamina. In one incarnation of their work Nightsea Crossing (1981) they sat inactive, fasting and silent. He exited after 16 days when he'd lost 24lbs in weight and was near collapse. Marina remained at the table.
We gain some insight into the source of this strength in Abramovic's recall of a childhood in which her parents, national heroes from Tito's time, trained her to be a little soldier. The only love in her life came from her grandmother who also provided spiritual guidance. She declares, "The artist must be a warrior, a shaman, must conquer the self and its weaknesses."
Ulay, having swapped the rigours of performance for academe says, "I look like a worker but I do much less work than Marina." Their famous walk (The Lovers, 1988) from opposite ends of the Great Wall of China marked the end of the relationship. "We were burning up," says Ulay. "The better the performances the worse the relationship became."
After the split, Marina headed in a new direction, which Ulay defines as more "theatrical and formalist." After all those years of deprivation, she developed a taste for high fashion and fame, creating a work in which she said goodbye to extremes, ending with "Bye Bye, Ulay."
the performance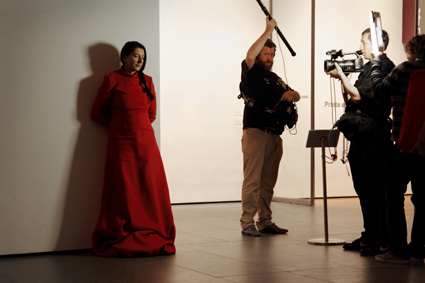 Marina Abramovic at MoMA, 2010, Marina Abramovic: The Artist is Present, images courtesy of Madman, © 2012 Show of Force LLC and Mudpuppy Films Inc. All Rights Reserved
Back in the present, preparations for the performance urgently proceed. There's a brief flirtation with the idea of collaborating with an illusionist who munches a wine glass as part of his pitch (rejected), and scenes of an ailing Marina tucked up in a bed of red sheets calling on the healing properties of blood oranges.
And finally we witness the performance itself as one at a time, thousands of people queue, then enter the charmed space to sit before The Artist. Some return Abramovic's unaffected gaze while others appear desperate to convey something deeper. Many smile, some weep. "So many people have so much pain," says Marina. Those who get short shrift are the ones who try to turn the moment into their own artwork—one tries to demonstrate her 'vulnerability' by removing her clothes. Another reveals a hidden mirror behind an elaborate mask. "I'm the mirror of their own self," says Marina.
The camera is fascinated with faces including Abramovic's, which occasionally admits a smile and some tears (for Ulay). The waiting throng watches silently from the perimeter. The guards are on red alert for unheralded interventions. Museum announcements occasionally pierce the silence. The encounter appears meaningful to the participants—more mysterious for the film viewer. Sometimes it takes on the appearance of religious ritual. Abramovic appears nun-like in one of three heavy woollen dresses (one red, one white, one blue). At other times, it feels just a bit indulgent, as if the provocateur, tired of waiting, has designed her own form of devotion. I guess, as they say, you had to be there.
At the end of each session, however, the 'work' of this art is powerfully manifest in the toll it takes on the body of the performer. The pain of an immobilised body must be massaged, bathed and exercised away each day to prepare for the next. Abramovic is 63 when the film is made and finally admits, "There's a limit, even for me." But when it's suggested that she cut short the performance, she will not hear of it. She may be marking the 736 hours off on the wall but the show must go on.
As the film and the retrospective draw to a close there's a lot of summing up, a lot of it about time and how we are caught in it and how Marina Abramovic aims to slow everything down, to bring the performer and the audience into the same state of consciousness of the here and now.
In 106 minutes Akers and Dupré expose for the viewer something of the emotional, physical and intellectual demands inherent in mounting an exhibition and performance that deal in the power of the present. In the process they also offer insight into the life's work of a remarkable artist.
Marina Abramovic: The Artist is Present (2012), co-directors Matthew Akers, Jeff Dupré, cinematography Matthew Akers, editors Jim Hession, E. Donna Shepherd, original music Nathan Halpern. Distributed in Australia by Madman Entertainment.
RealTime issue #113 Feb-March 2013 pg. 18
© Virginia Baxter; for permission to reproduce apply to realtime@realtimearts.net