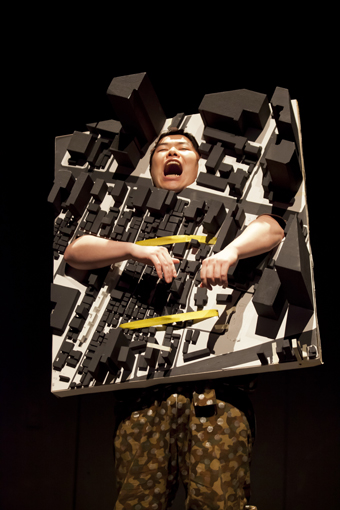 photo Hideto Maezawa
Noriyuki Kiguchi (Akumanoshirushi)
Asakusa, Tokyo. The temples remain but the modern skyline grows: The Tokyo Skytree is the tallest building in the world; and Asahi Art Square, host of the Azumabashi Dance Crossing showcase, makes up for its smaller stature with an ostentatious tear-drop sculpture on its roof. Lit up at night, it is affectionately known as the "golden shit." How the modern and traditional often seem incongruous in Japan.
In previous years the focus was on Azumabashi DANCE Crossing, but with the selection of works by curator Keisuke Sakurai, himself a choreographer and dance critic, the emphasis is now on CROSSING: hip-hop-rakugo, turntable-butoh, Zen-7/11-thrashmetal…in short, hybrid-performance.
The festival's theme was "groovy bodies"—a rather vague and none-too-serious theme for post-tsunami, post-Fukushima Japan. Addressing this issue in local media before the event, Mr Sakurai said, "This 2013 edition of ADX was conceived in an attempt to reconsider not how art can serve an instrumental or practical purpose, but precisely its apparent 'uselessness'—as well as the potential usefulness of this futility, if you will."
The evening began with dance from 21seiki Gebageba Buyodan. It was a wishful and grotesque piece that shifted between mimed daily chores and the movement of addiction in daily life…perhaps a literal interpretation of "groovy bodies." Danced to music best described as Middle-Eastern-ragtime, these abstractions of movement were playful or sometimes monstrous, such as the gathering of all the red-shirted dancers centrestage, standing back-to-back in a circle, to mime the eating of giant onigiri (rice balls). Subtle changes in pace built a tension that was sadly cut short by the allotted 20 minutes.
Next was Noriyuki Kiguchi's irreverent meta-theatre. A man dressed as topographical Tokyo revs up the audience while on the screen behind him entries from Kiguchi's diary explain possible ideas, lack of arts-funding and the difficulties of creating a piece for ADX. Kiguchi himself is called centrestage where he receives a shocking slap for said navel-gazing. This direct yet fractured social commentary is but one example of the influence of Oriza Hirata's colloquial language style of theatre in the 1990s. Kiguchi's final image—of the Japanese Emperor (who made a rare public appearance after the Tohoku earthquake) dancing the salsa while his wife (a man dressed in drag) encourages him with over-polite smiles—seems at first to be naff and inconsequential, but perhaps best grapples with the relationship between public face and private grief.
The offering from Toukatsu Sport was just as fractured in its conception. Projected on the back wall was the opening to Roman Polanski's film adaptation of Carnage. Before we enter the apartment of the sitting-room drama the strings of the soundtrack are faded out and replaced by House beats, the film replaced by turntables, and two women who walk on stage dressed in hip-hop bling, carrying stuffed toys. They begin a rapid-fire monologue of what my +1 would later call "journalism of complaint": about the venue; about recent pregnancy; dissing other theatre groups. Images alternate between Carnage, turntables and traditional rakugo (pithy anecdotes laden with puns and comedy). Language barrier aside—even the Japanese around me were struggling to keep up with the speed of the dialogue—it was enthralling to watch the English, American and Japanese story-telling in mash-up.
After the interval, the band core of bells opened our ears. When a young man walks into a convenience store to trade in his soul for a new one (for Y7400) he is invited to play guitar in a noise-band whose frontman is a growling Shinto God. Ko Murobushi performed butoh, with music provided by Yoshio Ootani's distorted, looped saxophones and chains on turntables. Joined by members of the former's company, each performed their own personal calligraphy of a collapsing city while Ichiro Endo, cheerleader, performed a heartening if baffling motivational dance. The difficult joy of ADX is having all these artists brought together but being unable to create or comprehend a super-narrative.
The evening concluded with Takahiro Fujita's Dots, Lines and the Cube. His company, Mum and Gypsy, has been focused on a form of post-dramatic theatre since its formation in 2007. DLC tells the story of a kidnapped girl from the perspectives of three characters. The actors hopscotch around lines created with masking tape. The energy on-stage is that of a child's wind-up toy; when the energy of a refrain is expended the story is wound up again and told from a different perspective, in uncanny mimicry of the news cycle of a traumatic event. It has all the uselessness of a game, but perhaps, as Mr Sakurai suggested, there is a potential usefulness in the futility.
Azumabashi Dance Crossing, Asahi Art Square, Tokyo, 29-31 March
RealTime issue #115 June-July 2013 pg. 20
© David Maney; for permission to reproduce apply to realtime@realtimearts.net