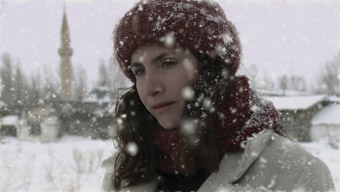 Climates
THE TURKISH POETS COLLECTION WAS ONE OF TWO PROGRAMMING STRANDS AT THE 2007 SYDNEY FILM FESTIVAL PRESENTED UNDER THE BANNER OF A NATIONAL CINEMA. THIS MOVE MAY REFLECT DEBATE IN RECENT YEARS ABOUT THE IDEA OF A RESURGENCE IN THE TURKISH CINEMA SCENE AS A RESULT OF SOME OUTSTANDING NEW FILMS FROM MAJOR DIRECTORS AND THE GROWING PROFILE OF TURKEY'S TWO MAJOR FILM FESTIVALS.
Four narrative features, two documentaries and an array of supporting shorts were dispersed across the festival. Crowd-pulling big names were presented alongside some key debut offerings. Three films in the strand have won International Federation of Film Critics' (FIPRESCI) prizes at major international festivals and in Turkey: the majestic Bes Vakit (Times and Winds), directed and written by Reha Erdem; Takva—Man's Fear of God, the knockout directorial debut of Ozner Kiziltan; and Iklimler (Climates), the intimate new film from Nuri Bilge Ceylan, who won the Grand Prix at Cannes in 2003 with Distant (Uzak).
While the emphasis was clearly on the national, it seems possible both descriptors might have held equal weight in tying these films together under the title "Turkish Poets." In the middle of Times and Winds four children stand on a rocky outcrop and literally shout Turkish poetry they have learned to recite out across a massive valley, their monotone, rapid delivery humorously emptying out any meaning. The task of thinking about how film can be poetic, however, is a much more complex undertaking and the program opened up the possibility of thinking through this complexity across the clustered films.
The poetic sensibilities revealed here emerged out of intricate aural, temporal and spatial juxtapositions, rhythmic modulations and intense attention to environmental and facial specificities. Poetry can also be defined by economy and the verbal economy of Nuri Bilge Ceylan's Climates produces an incredible expressive intensity, but barely anything is said in it at all. Giant close-ups of the broodingly restrained faces of a couple on the verge of a break-up lingered throughout, modulating across the changing seasons of the film. While Ceylan shot his previous three feature films, in Climates he plays the central character, Isa. So, for the first time, he employed a cinematographer, Gokhan Tiryaki, to shoot the film and the results are immaculate. Ceylan's wife, Ebru, plays his wife in the film, extending the filmmaker's habitual use of family members and autobiographical links in his stories. Together in Climates, husband and wife intimately convey an intricate array of submerged emotions.
Tayfun Pirselimoglu's Riza also told a complex story of emotional desolation and restrained disaster with an intense and very pregnant verbal economy. Riza (Riza Akin), a lonely truck driver who learns that he cannot afford to fix his broken vehicle, finds himself in limbo in a dingy boarding house full of lost souls. While the dialogue is sparse throughout, it seems that Riza has even less to say than nearly all of his temporary companions. Instead, the camera looks intermittently out his shabbily curtained hotel window onto the curve of a bright green neon sign that bathes the room in an unsettling tint. Riza's mute sense of devastation only rises on his unwelcome visits to a former lover, Aysel (Nurcan Eren), a fiery woman still clearly hurt by their unspoken history.
When Riza quietly murders an illegal Afghan immigrant from his hotel in the dead of night, taking his money, his wretchedness consumes him. He observes the impact of his clandestine act upon those who surround him as he waits the last few days for his truck, which is being fixed with the money from the crime.
The powerful artistry of cinematographer Colin Mounier is central to the telling of Riza's devastating story. The cinematography accentuates the heightened sense of waiting that fills this film through delicate attention to the shabby details of the setting.
Takva—Man's Fear of God also delineates the emotional trajectory of a lonely older man. Similarly, the combination of an outstanding central performance from Erkan Can as Muharrem and the lavish cinematography of Soykut Turan produce an evocative storytelling style. Under Kiziltan's direction they spectacularly render a parable about one man's journey towards existential crisis.
Muharrem, an intensely polite assistant in a small business, is a very devout Muslim with few possessions and no self-esteem. When his powerful local Imam unexpectedly offers him the job of landlord for the mosque's many properties, he fears he will not be up to the task. His anxieties prove well founded, but not for the reasons he envisaged. Along with the job comes a full wardrobe of suits, a mobile phone and a chauffer-driven Mercedes. As Muharrem's standing in life transforms dramatically, his ability to adhere strictly to his faith is destabilized by the corruption entangled in his occupation. Original music by Gokce Akcelik gives Takva a rhythmic energy that peaks as the stress levels rise and in the breathtaking scenes of worship.
In contrast, the rhythmic modulations of Reha Erdem's Times and Winds are shaped by the prayers of the local mosque. Set in a small Anatolian village on Turkey's north west coast, three children are on the brink of adolescence, struggling, like Muharrem in Takva, to come to terms with the reality of the communal laws they have inherited. The times of daily prayer are interspersed over the course of the film but do not mark out the film chronologically, since they appear to move backwards in time. The film closes with the early morning call to prayer as 12-year-old Omer watches the sunrise from a rocky outcrop in tears. Dispersed, strangely isolated shots of each of the four children lying in the open, eyes closed, limbs sprawled, likewise rhythmically mark Times and Winds, always appearing without warning and suggesting a fate that never arrives—an unsettling kind of parallel universe.
It is worth noting that the short film screened with Times and Winds, The Flag, directed by Köken Ergun, was the only short that truly complemented the feature with which it was partnered. Disappointingly, the rest mostly seemed like time-fillers.
Unfortunately, the two Turkish documentaries in the program were, for the most part, also disappointing given the growing documentary scene in Turkey and some stand-out work in recent years. To Make an Example of, directed by Necati Sönmez, aimed to raise awareness about the death penalty in Turkey through prison footage, testimony, letters from death row, written statistics and quotes. This strategy became intensely repetitive, and the metaphorical poetry generated by such juxtapositions was amateurish. Housekeeper (Gundelikci), directed by Emel Celebi, was more successful in playfully and powerfully conveying its message. Interviews brought to life a community of workers whose occupation is constantly undermined by lack of official recognition and support. The film began to respectfully make visible the complex web of social factors that left these women without rights but did not move much beyond an awareness raising exercise full of talking heads.
Fortunately the narrative feature films on show confirmed the strengths of Turkish cinema. Each wove their own intricate rhythmic modulations and each skilfully honed delicate actions in everyday settings into an intense rejuvenation of sensory perception.
Turkish Poets, Sydney Film Festival, June 8-24, www.sydneyfilmfestival.org
RealTime issue #80 Aug-Sept 2007 pg. 30
© Megan Carrigy; for permission to reproduce apply to realtime@realtimearts.net