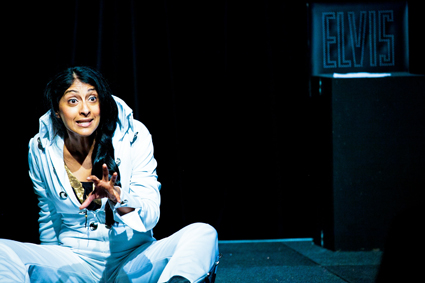 photo Cynthia Sciberras
Ansuya Nathan, Long Live the King
SINCE 2010 PEOPLE OF THE PARRAMATTA REGION HAVE CELEBRATED THE VIBRANT CULTURE OF THE ASIAN SUBCONTINENT AND ITS FAR-FLUNG DIASPORA WITH TREMENDOUS CURIOSITY AND ENTHUSIASM. THE FREE CONCERTS IN A TOWN SQUARE GIRDED BY THE MASALA MARKETS (FOOD, FASHION, HANDICRAFTS) DRAW HUGE CROWDS IN THE EVENINGS AND A STEADY FLOW IN THE DAYTIME TAKING IN NON-STOP PERFORMANCES ONSTAGE AND OUT OF THE BLUE—INCLUDING A VERY FUNNY FAKE FAKIR.
Not having been to earlier Parramasalas and eager to experience a culturally focused festival in a country where, Adelaide's OzAsia excepted, there is little of Asian performing arts on show, not least in our so-called international arts festivals, I booked into a Parramatta hotel for a couple of days of live-in Parramasala.
The Outdoor Stage program, curated by Virginia Hyam, provided some of the more fascinating performances in the festival. It featured traditional dance groups (a superb, young Sri Lankan group displayed traditional Kandyan dancing and fine costumery evoking animals, warriors and gods), individual artists, for example Bukhchuluun Ganburged, an excellent Mongolian throat singer capable of surprising bass runs, and groups, like Layam, building their jazz inflected performance on South Indian tradition. Although not a fan of musical fusion I was entranced by Nafas, a band combining the talents and instruments of musicians from Mongolia (throat singing, horse fiddle), Afghanistan (tabla and harmonium), Guadeloupe (African drums) and Australia (western drumming and keyboards). Nafas' "Into silence" was sublimely contemplative and calming, a nice prelude to my first indoor Parramasala concert, after a fine Punjabi butter chicken washed down with sugar cane juice with Tahitian lime and ginger.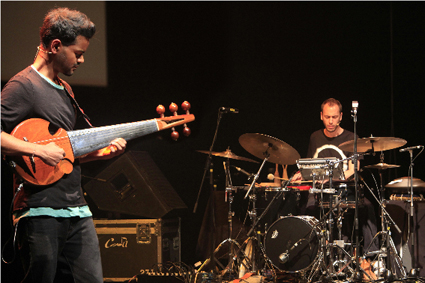 photo David Clare
Soumik Datta, Bernhard Schimpelsberger, Circle of Sound
Sarod virtuoso Soumik Datta (UK), his instrument slung electric guitar-style over his shoulder, was joined by Austrian percussionist Bernhard Schimpelsberger in a powerhouse concert at Riverside Theatre. The musical form was somewhat repetitive, each piece commencing with delicacy, surging into fast picking to an emphatic percussive beat and then overlaid with looping sound, courtesy of guitar pedals, and climaxing with rock band passion. The playing was intricate, although greater variation and a bit more evidence of classical skill would have been welcome; but Datta transforms the sarod into a fascinatingly multi-voiced instrument. Other elements varied the tone of the concert: the voiceover to an opening video projection of mountainous country suggested we were in for some high drama in its account of frostbite, delirium and mortality—a prelude to the first piece, "Quest." Compositions were interspersed with the musicians joking about their show going out to fans 'live' online, and playing for an admiring President Obama. Later they accompanied a melancholy song "The return," pre-recorded by a female singer to a video of gloomy roads and rain on a windscreen. There were moments of aching beauty in the complex final pieces, "Circles of Sound" and "Circles of Light," phrases like "a new awakening" and "You will not beat me" suggesting a return to the show's opening quest motif. Throughout, Schimpelsberger textured and propelled the compositions with inventiveness and some strange instruments.
The theatre program of three performances focused on issues of identity and displacement. The Trouble with Asian Men (created by Kristine Landon-Smith, Sudha Bhuchar and Louise Wallinger), from the UK's Tamasha Theatre, was a rather under-produced affair utilising a similar methodology to the one Roslyn Oades has so expertly and dynamically exploited and advanced for Urban Theatre Projects (Fast Cars & Tractor Engines, 2005 and Stories of Love & Hate, 2008) and Belvoir (I'm Your Man, 2012).
Wearing headphones, the three performers (two from the UK where the performance originated, one a local) reproduce verbatim the recorded utterances of those interviewed about the trouble with Asian men and "what's troubling Asian men." It's pretty much a litany of horrors with sporadic humour and no sense of overall cohesion: there's fear of young British and Australian Indian women's independence and their expectations of wealth; lack of young male ambition; oppressive male behaviour towards wives and girlfriends; a desire to seek refuge in India; and above all men appear trapped by the "invisible umbilical cord" between mother and son (mother's food is best, mother knows best). Men face unfulfilling marriages, claim they 'need their freedom,' and are repelled by their pregnant wives' bodies.
The UK actors overplayed their parts, amplifying the one-dimensionality of the work, which left me thinking what else might trouble Asian men about living in London or Parramatta, beyond girls, wives, mum and dad. What about class, politics, relationships with British or Australian men and women, in the workplace or socially? Or is The Trouble with Asian Men an account of a hopelessly ghettoised male subculture? The show has enjoyed considerable success in the UK over the last decade, but here it seems stereotypical and infuriatingly unanalytical.
Anusya Nathan's Long Live the King (director Guy Masterson) was a more complex work. The LA-based Australian writer-performer and screen actor works to a tightly cued light and sound program, switching roles and changing appearance in an account of the time before and after her parents' (Meena and Francis) arrival in Adelaide from India in 1977—on the same day that Elvis dies. Her mother is obsessed with Elvis Presley whose death the writer has described as the play's metaphor for the sense of loss that comes with migration—and potential marital breakdown. A string of Elvis songs sets the tone for scenes—The Beatles' "Something" for Francis' attraction to Meena and "Are you lonesome tonight" for a growing sense of isolation and putrefaction (such is the intensity of some of the writing) felt by Meena. The vast spaces around suburban Elizabeth, north of Adelaide, the pair's new home, proves too much for Francis. As well, he is made anxious by Meena's pregnancy—"Give me back my wife!" The birth of the child is traumatic but proves to be Meena's salvation. Nathan smiles and weeps at once at the play's conclusion, embodying mother and daughter in the same way that her earlier Elvis impersonation is, in spirit, both her own and her mother's. It's not clear in the play whether or not the marriage of Meena and Francis survives, but apparently it did. The success of Long Live the King in the fringe festivals of Adelaide, Melbourne and Edinburgh is clearly warranted. Asunya Nathan demonstrates physical and vocal versatility and literary ability (if occasionally hyper-poetic), and does a very good Elvis.
Another quick change artist is New Zealand's Jacob Ranga, a master of the mask. Krishna's Dairy (director Justin Lewis; Indian Ink Theatre Company) is a solo performance (with a supporting musician) packed with visual gags, songs, dextrous alternation of masks to create various characters and parallel storytelling about relationships between husbands and wives. In New Zealand, Gobi and Zina run a corner store—the 'dairy' of the title; in Mogul India, the emperor Shah Jahan builds the Taj Mahal for his late wife, Mumtaz Mahal. Gobi's ambition is to fight supermarket culture and provide for his wife and son, but in a surprising reversal it's Gobi who dies, shot by a thief in the shop. Zina, who had always wanted to return to India ("What do you miss?, Gobi asks, "The dirt, the flies?" "Family," she replies) not only keeps the store running, but business thrives. She continues to feel the presence of the man she only met when they married, asking him, "How can you really say you love someone…?" Zina's tribute to Gobi is the success of the store, her modest Taj Mahal. It's interesting that in the Taj Mahal tale Rajan uses the frequently told if historically unsupported story of Shah Jahan's blinding and mutilation of his architects and craftsmen, an indication of the darker side of the testament of one partner's love for another. Jacob Rajan's performance is impressive and frequently funny, but the play's 15 years are showing—it feels quaint, over-wrought and thematically light; some of the youngish audience I saw it with thought it was "like a play for kids." Theatrically it had much to offer, but like The Trouble with Asian Men, there was a claustrophobic sense of a closed circuit, of people not engaging with much beyond their own lives—doubtless a condition suffered by many first generation migrants.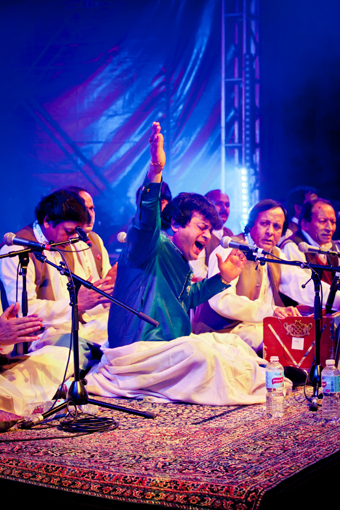 photo Cynthia Sciberras
Asif Ali Khan & Group
Although I couldn't attend the opening night Bollywood Block Party and a tight schedule meant that I had to miss out on Susheela Raman & Band and Pandit Hari Prasas Chaurasia, I caught a large part of the wonderful outdoor concert by Pakistan's leading qwaali exponents, Asif Ali Khan & Group. A huge, rapt audience swayed to the rapidly paced, insistent percussion and the powerful collective singing of the musicians ranging into exquisite high tenor and delivering dynamic call and response. The audience was astonishingly diverse for a concert of such cultural specificity, drawing on Western Sydney's multicultural breadth and depth. The festival's decision to make this concert free was a wise and a generous one. Asif Ali Khan & Group were followed by Melbourne's eccentric The Bombay Royale, an 11-piece band convincingly fusing disco, Bollywood, surf, rock and Ennio Morricone with excellent singers Parvyn Kaur Singh and Shourov Bhattacharya and fun costuming. They had the crowd dancing. I ate too well, took in some of the film program, relished unexpected performances from proud South Asian Sydneysiders and was captivated body and soul by music at once ancient and modern. It was odd but enlightening to feel like a cultural tourist in one's own city. Long live Parramasala!
Parramasala, Sydney, Nov 8-11, 2012, www.parramasala.com
RealTime issue #113 Feb-March 2013 pg. 4
© Keith Gallasch; for permission to reproduce apply to realtime@realtimearts.net