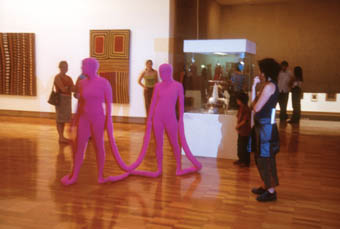 photo Damien Van Der Vlist
Prime Two
Prime Two was like an SMS conversation—fast and focussed. The Queensland Art Gallery was given over to people, movement and multiple performance spaces, with a dynamically different (and younger) crowd than at the openings I've attended. Inside, the noise was louder than at the largest opening, with the boom of the outside stage audible and overlaid with other music, acoustics and percussion. Instead of the usual focus on one event, this more disparate arrangement saw crowds gather around performances. Others flowed past, on their way to other dance, music, sound or performance points.
Prime Two was an ambitious program developed by the Gallery to engage a youth audience (13-25 years) they believe are "up for the challenge of contemporary art." Its focus was hybrid art forms. Short performances from musicians, artists and performers working around and over each other ran from 2 until 8pm. Planning was required if you had an agenda and a wish-list of things to see, although simply following the noise and crowd had its charms.
The central water mall hosted Rock'n'Roll Circus 5 times over the 6 hours, teetering tantalisingly close to the edge of the bridged walkways. But despite acrobatics on precariously stacked chairs, nobody fell in. There were sudden and spectacular fashion and design parades. In an adjacent space, Phat! Streetdancers were synchronicity in motion, building on hip-hop, pop and rap influences, playing to riveted crowds and enthusiastic applause.
There were 5 strands—prime movement, prime art, prime fashion+design, prime interactives, and prime sound—none of which was privileged over the others. Performances and changes were not announced—each just began and ended or morphed seamlessly into the next.
While some strands of Prime were static displays—exhibitions and paintings up to the QAG's usual exacting standards—those with performative and interactive possibilities moved outside the gallery 'square.' Chalk it out by Archie Moore provided a blackboard for graffiti from "the whole class", and the audience shared their views on schools with little inhibition. This was located in the sculpture courtyard within earshot of the Prime stage where DJ Indelible alternated with performers Menno, MC Battle, and the first Australian show by Samoan rap and hip-hop duo Feliti+JP.
A Prime performance that literally intruded into the crowd was Jemima Wyman and her "Body Double". Jemima and sister Aja variously rode, beat, pushed, and kicked an oversized carrot-shaped orange bolster around the space in moves influenced by kickboxing, Kung Fu, mime and slapstick. Any conceptual depth was hard to identify, but the 2 performers clearly enjoyed the catharsis of letting go on a large phallic signifier.
Refuge was available in the Prime rumpus room, designed to celebrate the fads of the 1980s. If you hadn't played Twister since childhood, here was your opportunity. There were also video clips and retro music designed to bathe you in comforting childhood memories and orange light—nostalgia for the young.
As night fell it was standing room only in the sculpture courtyard as Resin Dogs took the stage for the first performance of their national tour. As they exited, a white screen rolled down from the marquee, transforming the space for a mesmerising performance from Lawrence English and Tara Pattenden mixing sound and visuals. It was a fitting finale to 6 hours of stimulation attended by 4,000 young people, it brought the crowd to a brief silence.
Prime Two, Queensland Art Gallery, Brisbane, Apr 5
RealTime issue #55 June-July 2003 pg. 34
© Louise Martin-Chew; for permission to reproduce apply to realtime@realtimearts.net