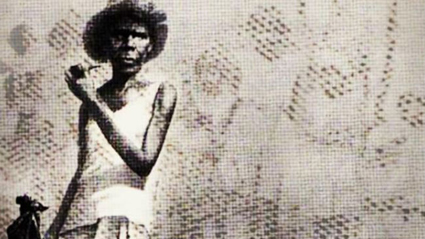 courtesy the artists
Forced Legacy—The Story of Alyngdabu
A tall, thin Aboriginal woman wearing a slouch hat and holding a tobacco pipe in one hand and a cloth bag attached to a stick in the other is the striking central image in Forced Legacy—The Story of Alyngdabu. In a painting by Robert Ingpen she looks assertively at the viewer and, as the play reveals, was a formidable woman of her time. A Kungarakan woman who married Irishman Stephen McGuinness in the early 1900s, Alyngdabu raised five children in Kungarakan country, the Bynoe Harbour area of Darwin.
The play tells her story—her happy marriage to Stephen, their tin mining venture and then how the children were forcibly taken from her and placed in the Kahlin Compound for "half castes" when her husband died. It is a story of love, injustice and survival told with pride by Alyngdabu's descendents Kathy Mills and her daughter Alli Mills with dramaturgical and directorial support from Damian A Pree.
Kathy and Alli are well known Darwin activists, artists and musicians who have been telling their stories through various mediums for many years and campaigning for a shrine of remembrance on the now empty site where Kahlin Compound once kept hundreds of Stolen Generation children. This theatre work is a collaboration with Friends of Kahlin and commemorates the centenary of the compound.
It is an important story to tell and moved some of the Brown's Mart audience to tears. Sitting in front of a scrim used for projecting historical images of traditional Aboriginal life, of Elders and colonial Darwin, grandmother and mother tell the young Alice "Binjak" Mills her family history. In a relaxed conversational style Alice and Alli play themselves. The women talk about Alyngdabu's life with segments re-enacted behind the scrim using a combination of actors and puppets.
The work reveals a positive historical story of Indigenous and non-indigenous connection, contrasting this with the White Australia law of the time which caused so much damage and grief.
Forced Legacy—The Story of Alyngdabu is community political theatre, uniting professional and non-professional performers and using a variety of mediums. A team of four people made approximately 15 near life-sized puppets to populate the stage. Some were occasionally manipulated individually, some in groups by one puppeteer, but many on racks were wheeled on and off stage for scenes behind the scrim representing the Alyngdabu/McGuiness clan. Traditional Indigenous puppets were made by Conor Fox and painted for ceremony by Larrakia man Robert Mills, and others depicted the racist Anglo workers, with voice-over taunts. One of the simplest and most successful moments in bringing a puppet to life occurred when Alyngdabu's husband, Stephen (Tony Rive), carried his baby girl puppet who played with his face as he spoke.
Another medium involved internally lit boxes lowered into the performing space with images of the heads of white colonial leaders. These comic forms bobbed up and down to a voice-over, thus making potentially dry historical information about colonialisation into something more engaging. The company also fleetingly used full-face masks for a couple of characters, though the choice to make these characters soundlessly gesticulate to a voice track undermined the mask form. When creating full-face mask theatre it is important to ask yourself, why use masks?
Eleanor Gapany as Alyngdabu was an authentic presence who created a resonant moment in the Kahlin Compound as she sang a European nursery rhyme in her traditional language. She was supported on stage by strong performances from Tony Rive and Adam Steer. The latter played Stephen's friend, Harry, who promised the dying Stephen that he would marry his daughter purely to keep her from being stolen from her mother and placed in Kahlin.
Kathy and Alli Mills have a powerful true story to tell, one that they are passionate about. This story itself justifies the production—some of the story is widely known, some of it is new to audiences. In the final speech Lynette Lewis (Kathy) tellingly says, "We don't live in the past, the past lives in us."
As Kathy Mills states in the program notes, "Talking about a shared national history can be good for all of us. It's not about blame or shame, it is about truth and justice and what is the right thing to do as a nation. Once the truth is established, justice is a matter of course and other good things can happen for people and for a nation."
Friends of Kahlin and Brown's Mart Productions: Forced Legacy—The Story of Alyngdabu, writers Kathy Mills Alli Mills, Damien A Pree, puppet construction Conor Fox, puppet painters Robert Mills, Alison Dowell, Tony Lee, puppeteer France-Line Pierroy, lighting Chris Kluge, sound & multi-media Angus Robson, multimedia Tim Parish, Huni Bolliger, sound design Lulu Madill; Browns Mart Theatre, Darwin, 1-6 Oct
This article first appeared in RT's online e-dition 6 November, 2013
RealTime issue #118 Dec-Jan 2013 pg. 36
© Nicola Fearn; for permission to reproduce apply to realtime@realtimearts.net