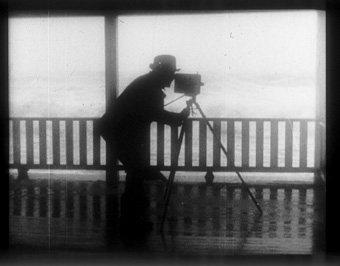 Passio
ONE OF THE DISTINCTIVE FEATURES OF THE PROGRAM FOR THE 2007 ADELAIDE FILM FESTIVAL (AFF) IS ITS EMPHASIS ON SILENT FILM WITH THREE STRONG ATTRACTIONS: PAOLO CHERCHI USAI'S PASSIO, ROLF DE HEER'S DR PLONK AND A SCREENING OF D.W. GRIFFITH'S INTOLERANCE WITH LIVE ACCOMPANIMENT BY LOCAL BAND, THE DEADBEATS. GIVEN THE GRAND CLAIMS FOR NEW MEDIA IN THE DIGITAL LANDSCAPE, IT SEEMS SIGNIFICANT THAT OLD MEDIA ARE SIMULTANEOUSLY RETURNING TO PROMINENCE.
One common thread linking AFF events is the relationship with live music which has sustained the renaissance of interest in silent film. Film theorists, for many decades, have noted that the diffusion of synchronised sound in the later 1920s and the rise of a dialogue driven cinema added to the realism of the image. These three projects, while with very different geneses, employing divergent aesthetic strategies and addressing different publics, all circle around the idea of returning the image to a space where it can interact as an equal with the more abstract structures of music.
Paolo Cherchi Usai is the Director of Australia's National Film and Sound Archive, as well as one of the world's most respected film archivists and historians. Passio, his feature compilation of found footage and calligraphy, accompanies Arvo Pärt's musical adaptation of the Passion from The Gospel of St John. Pärt's music will be performed by the Adelaide Symphony Orchestra with organist Christopher Bowers Broadbent and the Theatre of Voices directed by Paul Hillier.
Cherchi Usai has spoken of his interest in producing a dialogue between image and sound. To the extent that the film has a subject, he sees it as dealing with our society's history of image production. He sees the sum total of our images as a kind of repressed collective memory, and in interviews he has invoked writers such as Mircea Eliade who emphasise the symbolic role of imagery.
He is also interested in the image as image in a very concrete sense. In an attempt to restore what Walter Benjamin called the aura of the individual artwork, lost in the age of mechanical (and now digital) reproduction, only seven prints of the film were struck before the negative was destroyed. Each print is hand-coloured in a different hue, with four cool prints (ruby, violet, indigo and magenta) and three warm prints (vermilion, gold and minimum colouring). No one print of the film is like another, just as no one performance of the work will be like another.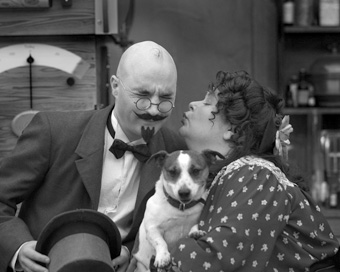 Dr Plonk
From the sublime to the ridiculous. In an industry where the hardest thing is to make your second film, Rolf de Heer was travelling with his tenth feature, the AFI-winning Ten Canoes, while cutting his eleventh, Dr Plonk, which is the AFF's closing night film. By Australian standards, de Heer comes up with some pretty daring ideas. Having made a subtitled film in an indigenous language with a group of non-actors, he has backed up with a silent, slapstick comedy. To de Heer, these aspects of his career are related. "The more radical I get, the easier these things are to finance," he said at a Media Resource Centre talk in Adelaide recently.
His last two films are linked in more pragmatic ways as well. The overrun in making Ten Canoes meant that de Heer needed to make another film relatively quickly. He tells of going to the fridge to get some insect repellent in preparation for a trip north and finding instead 20,000 feet of film stock past its expiry date. At that moment, he knew he had his next project: a film which would invoke the look of silent cinema, where any deterioration in the stock would be immaterial as it would be printed in black and white, and in a genre where we expect films to be far from pristine in condition.
Though the inspiration for Plonk stemmed from these humble beginnings, this was to be no simple project. De Heer says that many of his films "begin first as a contrivance and only after that become a great passion." He decided that his silent film would have to be shot in the style of silent films—the slapstick comedies which he had seen on television in his childhood—but also employing as much of the technology as was feasible. He and cinematographer Judd Overton set about finding a hand-cranked camera to give the image a pulse in the inevitable variations in winding speed.
On first glance the project suggests comparison to Borges' story about Pierre Menard who re-writes Don Quixote word for word in the present day—and in the process creates a completely different work. De Heer insists that the film "has to be its own thing. You can't replicate silent film," he explains, "but it's in the tradition of silent film." Some early attempts at technological authenticity were abandoned. The 1920s camera bought on eBay was jettisoned for a Mitchell modified for hand-cranking; black and white processing and cutting on film were replaced by digitising the negative for editing and then outputting back to film. An early plan to record a soundtrack on a theatre Wurlitzer was also abandoned in favour of an accompaniment by a Melbourne group, the Stiletto Sisters, which will be performed live at the Adelaide premiere (de Heer's The Tracker was presented at the 2002 Melbourne Film Festival with Archie Roach performing live). The experimentation with sound that has characterised de Heer's filmmaking has often taken the form of separating picture and sound as elements in their own right. The multiple strands of sound in Ten Canoes with David Gulpilil's voiceover existing in a separate space to the narrative diegeses is another case in point.
Perhaps the most interesting concession de Heer had to make to an earlier style of filmmaking was the substitution of editing with complex staging. Rather than shooting standard coverage for an editor, the camera is held back in full shot, and like great filmmakers such as Feuillade, Bauer or Keaton, de Heer has to re-discover the craft of the early silent period—learning how to direct and quickly re-direct the audience's attention to the salient dramatic business.
In a film so outlandishly different from Ten Canoes, de Heer has paradoxically come back to the same ground in Dr Plonk, with the need to find the formal means in picture, sound and drama to imagine a radically different time and place. Here is another attempt to regain the past, just as the protagonist of Ten Canoes has to recover the past of his ancestral cosmology before he can die, just as de Heer the image-maker tries to recover the past of anthropologist Donald Thomson's photographs.
De Heer's experiment in re-discovering cinema through anachronism is not an isolated one. In Wisconsin for instance, the university's filmmaking department runs a course in silent filmmaking which tries to replicate as closely as possible the film stock, camera equipment, lighting conditions and processing technology available to filmmakers at the birth of the medium (mywebspace.wisc.edu/dhfuller/web). For film historians, the benefits are a closer understanding of the conditions and constraints faced by the filmmakers, while for those interested in becoming filmmakers, silent film offers a tangible encounter with the material basis of the medium in ways which have been lost by the "point and shoot, click and drag" methods of digital video.
The third silent program at AFF has its origin in the Media Resource Centre's Silent Re-masters series, which has given rise to The Deadbeats' accompaniment to DW Griffith's 1916 classic Intolerance. Re-scores of silent films by rock groups or electronic musicians commonly polarise opinion. Some view it as a refusal to see history in any terms other than contemporary ones. For others, it acknowledges that these films were intensely modern and popular in their historical moment, and that as electronic and rock music occupy an analogous cultural space today, they can help translate the films into contemporary idiom.
Rather than play over the film, The Deadbeats (bass, drums, guitar, keyboard and spoken word picking out key intertitles) provide a spare accompaniment which accentuates the rising patterns of action within scenes. Intolerance, with its four interwoven narratives, stands up well to this treatment which refreshes the audience's respect for the essentially abstract nature of Griffith's achievement instead of facilely deriding it for its lack of realism.
Adelaide is not alone in foregrounding silent cinema within a festival context. The recent Berlin Film Festival programmed restorations of Giovanni Pastrone's 1913 Italian epic Cabiria and Asta Nielson's 1920 version of Hamlet. This rediscovery of silent film is undoubtedly a by-product of Pordenone's Le Giornate del Cinema Muto, an annual festival begun 25 years ago by a group including Cherchi Usai, and which has included strands on 21st century silents, including filmmakers such as Guy Maddin. The lesson here might be that, as much as artists envision the future, there is something both perverse and prudent about turning in the other direction and absorbing the lessons that history has to offer on the production and consumption of screen images.
Adelaide Film Festival, Feb 22-March 4
www.adelaidefilmfestival.org
RealTime issue #77 Feb-March 2007 pg. 18
© Mike Walsh; for permission to reproduce apply to realtime@realtimearts.net