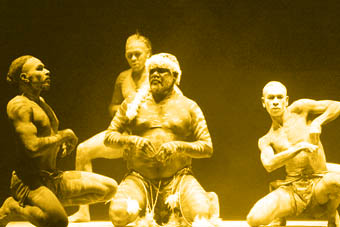 photo Cheng Jianli
Bangarra Dance Theatre, Corroboree
The Monaco Dance Forum is not a festival, but a rambling, multi-faceted event encompassing a multimedia showcase (with performances, exhibitions, installations and workshops), a discrete dance screen festival, a trade show, forums and interviews (the latter recorded onsite for local television), performing art exhibitions, audition opportunities for young dancers, co-production pitching sessions, live performances and an international prize-giving ceremony—the Nijinsky Awards. The Chanel-sponsored event occurs on the beachfront in the shopping-mall sized Grimaldi Forum which contains endless rooms and several theatres. Lagerfeld designed the stage set for the awards and attended several performances and royalty and fur coats made many notable appearances throughout the 5 days.
Hosted by Jeanne Moreau and with presenters including Maurice Bejart and an incredibly healthy-looking Cyd Charisse, the awards were truly jaw-dropping. Not surprisingly but commendably, William Forsythe won best choreographer and from the podium had a subtle dig at the classical ballet-dominated nominations for best dancer. Other nominees included the White Oak Dance Project, Anne Teresa de Keersmaeker and Akram Khan. With an international voting committee and squillions of artists cited (everyone from Darcey Bussell to Kate Champion), the concept of the awards was baffling. Most Predetermined Outcome: Princess Caroline and William Forsythe holed-up in the V.V.V.I.P room at the after-party.
Live dancing
Because the scale of the event was so overwhelming, I narrowed my focus to the Dance Screen events and evening performances, missing the performance showcases and multimedia showings that included Melbourne artists Cazerine Barry and Company in Space. I attended performances by Netherlands Dance Theatre, Rennie Harris, Akram Khan, Bill T Jones and Bangarra. As is to be expected, beyond the glamour, the actual programming lacked an overarching shape and attention to detail. The 2 performances in which the artists spent most of the time on the ground—Harris' hip-hop show and Bangarra's Corroboree—were presented on a raised stage with unraked seating. Bangarra's audience balanced patiently on their seat backs, applauding enthusiastically despite their discomfort. As Barry commented, hearing the didgeridoo echoing through the basement venue of the monstrous Grimaldi Forum was thrilling. The medley they performed showed off dancers like Sidney Salter and Gina Rings, but I'm curious to see more of relative newcomer, Patrick Thaiday. The response to the company confirms that Stephen Page's aesthetic resonates with large dance audiences perhaps exhausted by mathematical structures and hard-edged virtuosity.
Standard 'class-act' company, Netherlands Dance Theatre opened the performance season with a triple bill. Jiri Kylian's Bella Figura is in the Australian Ballet's repertoire but Kylian's company showed up even more precision and lightness in the work. Kylian's neo-classicism with its signature intricacy and swooning tone is emulated by ex-company dancers Paul Lightfoot, Sol Leon and Régina Van Berkel (who choreographed the other 2 works). Lightfoot and Leon's Safe as Houses featured a revolving wall almost the width of the stage turning slowly on a central pivot which 'magically' shifted figures in and out of the space. Bill T Jones also featured in the main auditorium. At 50 he is still a commanding performer, speaking almost as much as he dances, improvising with style if not inventiveness. Jones remains political, commenting on the wealth of the festival and the political bully-tactics of the US, and won me over when he invited an over-excited audience member to join him in a very generous and careful pas de deux.
Harris' Rome and Jewel, a hip-hop reworking of Romeo and Juliet featuring rival B-boy gangs, Monster Qs and the Caps, was too thin on movement and heavy on rapping and posturing and the 'invisible' female characters proved disturbing amid all that unleashed testosterone. Seeing Akram Khan's Kaash again in a theatre slightly too small for the work didn't detract from the compelling choreography. Bewildering speed and razor-sharp precision combine with Indian rhythms and an intricate working of the upper body, all boldly mapped across the square space of the stage. With scenography by acclaimed UK artist Anish Kapoor and a pounding score by Nitin Sawhney, this was the performance highlight for me.
IMZ Dance Screen 2002
IMZ Dance Screen has been running since 1990 at various locations. I attended the 1999 event in Cologne, Germany and this is its second year as part of the Monaco Dance Forum. IMZ Dance Screen included a videotheque with all 260 films in competition, special screenings, forums, pitching sessions and an awards ceremony. It also included a Forum for Festivals which featured presentations by dance screen curators and presenters from around the world: Argentina, Canada, Italy, New York and London. Each presenter discussed organisational and artistic aspects of their festivals and screened examples from their local filmmakers. A roundtable discussion lead to the establishment of a network of festivals, including Reeldance which I curated in 2000 and 2002. It will share information, programs and guest visits as well as plan forums for the various festivals where more presentations by individual curators will occur.
Dance Screen 2002 ended with its own awards ceremony. One of the judges was Vincent Paterson, choreographer of Michael Jackson's Smooth Criminal video and Lars von Trier's Dancer in the Dark, making Paterson, along with Charisse, the sort of dance screen royalty you would expect to see in Monaco. Australian Sue Healey's film Niche scored a nomination for 'Screen Choreography not longer that 15 mins.' This category was won by Minou, a magical short directed by UK filmmaker Magali Charrier, featuring a girl interacting with 'animated' objects in her home. Other winners included a stark and riveting 'camera re-work' of Moebius Strip by brilliant Spanish/UK choreographer Gilles Jobim, a sci-fi/fairy-tale featuring the remarkable Wayne McGregor, Chrysalis, and the wonderful documentary on Maya Deren screened at the Sydney Film Festival last year, In the Mirror of Maya Deren. The overall winner was The Dancer's Body, a 3-part BBC series that I did not see, but which apparently "breaks new ground in creating a bridge between science and the performing arts."
Most of my time was spent in the videotheque sifting through the unculled submissions, mainly the shorts. UK filmmaker Shelly Love has created 2 fascinating films with puppets, Little White Bird and Scratch. Since the remarkable puppet-dance sequence in Being John Malkovich, the possibilities for inanimate figures 'moved to dance' have increased and Love's poetic and sometimes dark approach is intriguing. Another UK film, The World Turned Upside Down featured dancing dogs and in Rosemary Butcher's Undercurrent a large woman was made ethereal by the process of shooting underwater.
Where novelty was combined with finely tuned aesthetics, the emphasis on physical performance was handled deftly in other films. New productions by Jan Fabre (The Warriors of Beauty) and Wim Vandekeybus (In Spite of Wishing and Wanting and Silver) feature compelling performances and the surprising situations and images we expect from both artists: a mouth covered in cockroaches, exploding pillows, men running through fields like horses. Wayne McGregor featured in another short, Horizone directed by Gillian Lacey, his spindly physique set against a desert/alien landscape which paralleled the sci-fi setting of Chrysalis. Measure directed Gaelen and Dayna Hanson is a neat film set in a corridor of an empty building. A man and woman perform to the soundtrack of their own feet, not tap or Irish but something blending the playfulness and precision of both. Divadlo, by Spanish director Guillem Morales, draws its aesthetic from Czech photographer Jan Saudek. Set in a brothel, the film is thick with sexuality of a theatrical kind with the polish of a music video. Australian submissions included Shaun Parker's NO and Dianne Reid's Luke and Reeldance finalists Arachne by Narelle Benjamin and Mathew Bergan, Frocks Off by Rosetta Cook, In Absentia by Margie Medlin and Sandra Parker and No Surrender by Richard James Allen.
–
Monaco Dance Forum, Grimaldi Forum, Monaco, Dec 10-14, 2002.
RealTime issue #53 Feb-March 2003 pg. 8
© Erin Brannigan; for permission to reproduce apply to realtime@realtimearts.net