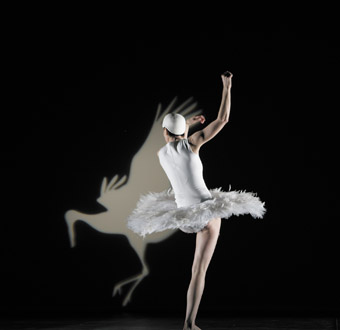 photo Jeff Busby
Ros Warby, Monumental
ROS WARBY IS WITHOUT DOUBT ONE OF AUSTRALIA'S MOST IDIOSYNCRATIC DANCERS. HER CREATIONS CONVEY AN INTENSE SERIOUSNESS INFUSED WITH DROLL WIT AND FLASHES OF SILLINESS. THE TOTALITY OF HER LATEST WORK, MONUMENTAL, IS NOT EASY TO SUMMARISE BUT IT COMPRISES A MAGICAL, HUGELY SUGGESTIVE UNITY THROUGH THE INTERPLAY OF DANCE, PROJECTIONS AND A CELLO-BASED SCORE.
Margie Medlin's projections generate the performing space for Monumental, a place both intimate and, yes, monumental, filled with black and white archival film images—close-ups of individual birds and vast, sweeping flocks of them. The age of the films suggests an earlier time, as does the first appearance of Warby as ballet dancer, rather child-like in tutu, as does the inherently reflective melancholy of Helen Mountford's recorded cello.
What follows is a very lateral series of transformations: from Warby in ballet whites to Warby in stylish, dark-side blacks; from onstage performer to shadow dancer; to Warby dancing with video Warby; to Warby as off-kilter mock-marching pre-20th century soldier shouting out gruff French-ish instructions; to Warby as dancer-cum-bird. Throughout, the cello changes mood, from lyrical to pulsingly minimalist to stridently orchestral and then elegiac as dancer and bird images begin to fuse.
Warby's distinctive physiognomy lends itself to juxtaposition with a beautiful close-up image of an owl. Staccato moves in her choreography likewise heighten the connection, suggesting our deep kinship with other species. The anti-gravitational appeal of dance is, of course, like our dream of flight and winged selves, but here the embodied connection goes deeper. The audience become birdwatchers who, by way of Warby-Medlin-Mountford alchemy, suddenly sense not only the dancer's 'birdness', but also their own, and, as they cast their minds back to Monumental's opening image, the birdness (and not just swans) of ballet. Meanwhile the interpolated world of shouted orders and marching bizarrely parodies the soldier figure in classical ballet, here a wounded containment of dance, a restriction of all that sings, flies and flows.
–
Monumental, conceived, directed, choreographed, performed by Ros Warby, lighting, projection, design Margie Medlin, music Helen Mountford; Performance Space, CarriageWorks, Sydney, Feb 19-21
RealTime issue #90 April-May 2009 pg. 38
© Keith Gallasch; for permission to reproduce apply to realtime@realtimearts.net