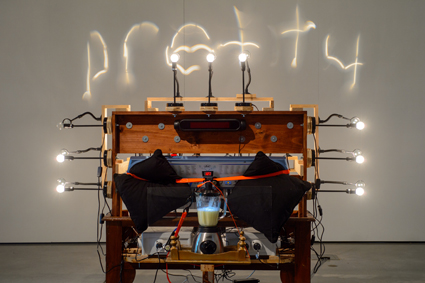 photo David Lawrey
Ian Burns, Blender (2014)
My favourite work in Dark Heart, the Adelaide Biennial, was by Ian Burns—a fantastically large, ramshackle wooden construction, which through seemingly primitive analogue magic, projects images and texts while playing little ditties to itself. Thus, a few weeks later I was very happy to discover that the assorted materials that had been piling up in the UTS Gallery had transformed into an Ian Burns solo exhibition, Too Much is Real.
The pieces in Too Much is Real use similar methodologies to the Dark Heart sculpture but are displayed as smaller, single units. One construction, Blender (2014), presents just that—a domestic blender that sporadically activates, along with a keyboard that plays fragments from the Sex Pistols' "Pretty Vacant" and ABBA's "SOS." A signature technique of Burns is the use of magnifying glasses and light bulbs to project squiggly lines and texts; here he alternates between lyrical fragments from both songs—but timed with the alternated tune. It's a kind of analogue mash-up. (The exhibition title is also taken from the same Sex Pistols' anthem.)
Another assemblage, Martha's Shadow (2010), is an earlier work that uses old household lamps and magnifying glasses to create a static light projection illustrating the primitive outline of a ship—a homage to the one that ran aground while discovering Lake Macquarie, the area from which Burns hails. The third assemblage, Strange Cloud Above (2012), offers a fine example of Burns' trompe l'oeil technique. A monitor on the front of the assemblage shows a simple landscape scene with drifting clouds, but as you move to the back you see that the image is being created in real time from analogue materials—a strip of carpet, a fan and light refracted through a dimpled salad bowl. The combination of process and product in these assemblages makes them enclosed systems, self-contained micro-universes that are conceptually satisfying yet imbued with poetic ambiguity.
The final work is Breath (AC) (2014), a video which depicts a monstrous corridor at Bunnings hardware store with a single fluorescent light gently swaying in the breeze of the air conditioning. While markedly different from the other assemblages it deftly summarises Burns' preoccupations with light, simple actions, the found object or experience and a DIY ethic.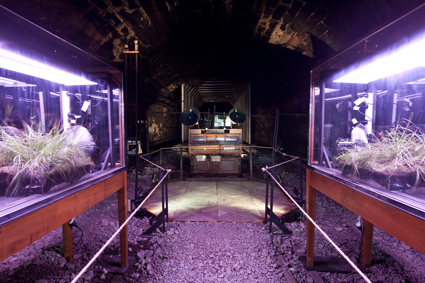 photo Alex Davies
Ian Burns, Extended Stage (2014)
But there is even more to the Burns experience. Delayed by red tape, Extended Stage, a site-specific installation in the rail tunnel behind UTS Gallery, was finally mounted just after the gallery instalment was over. Running down either side of the dark tunnel are four pairs of antique china cabinets. Those on the left contain medium-sized electric pianos which activate in sequence, playing single notes like slowed down Morse Code, amplified by large gramophone horns mounted on top. The cabinets on the right become tiny stages for a series of what Burns calls phenomenological actions: a vacuum cleaner on reverse suspends ping pong balls in the air; a cabinet begins to gush with water; another manifests puffs of smoke; the fourth quietly and patiently freezes. The elemental nature of these images is undercut by the mechanical means of their generation.
This corridor leads you to a final alcove, flanked by terrariums containing grasses blowing in the breeze from a fan. An old ship's piano forms an altarpiece and as you step onto the scrap wood parquet floor you activate pistons and motors which depress keys rendering a wonky atonal tune. The entire installation is in fact driven by sensors and, rather than using cables, elements are activated by lights, with sequences flashing up and down the tunnel. While outwardly it appears purely mechanical there's some significant digital programming involved here.
In Extended Stage, Burns' affinity with objects and materials, his nostalgia for domestic furniture and appliances combined with his mechanical acumen create a wonderful wabi sabi world, one in which machines come with their own rituals. But there's also a sense of melancholy surrounding these objects and their actions, as though they feel misunderstood, their poetry unheard in the bright daylight beyond the tunnel. I leave Extended Stage feeling for these machines, wondering if there might be something very important to learn from their curious communications.
Ian Burns, Too Much is Real, UTS Gallery 10 March-12 April; Extended Stage, The Goods Line Tunnel, 8-17 April; http://art.uts.edu.au/index.php/exhibitions/ian-burns-exhibition/
RealTime issue #121 June-July 2014 pg. 49
© Gail Priest; for permission to reproduce apply to realtime@realtimearts.net