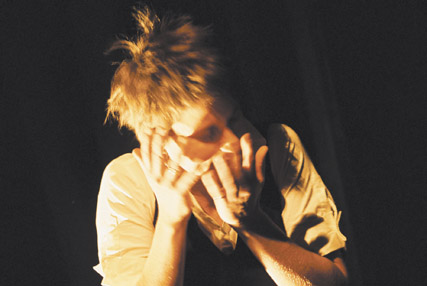 photo Heidrun Löhr
Rosie Dennis, Heidrun Löhr
"EARLIER THIS YEAR I PRESENTED A SOLO AT NRLA 06. I PERFORMED BEHIND A SEATING BANK WITH A COUPLE OF HUNDRED PEOPLE CROWDED AROUND ME—HUDDLED IN A SEMI-CIRCLE. IT WAS THE FIRST NIGHT OF THE FESTIVAL AND I WAS THE FIRST LIVE EVENT. I REMEMBER FEELING LIKE I WAS GOING TO VOMIT RIGHT UP UNTIL THE AUDIENCE WALKED THROUGH THE DOOR. AT THE END OF 20 MINUTES MY SHIRT WAS WET WITH PERSPIRATION. OVER THE NEXT FEW DAYS I MET ARTISTS FROM ALL OVER THE WORLD, TALKED TO PRESENTERS ABOUT FUTURE POSSIBILITIES AND WATCHED LIVE ART FOR 10 HOURS A DAY. AS AN ARTIST IT WAS ONE OF THE MOST EXHILARATING EXPERIENCES I HAVE HAD TO DATE."
These are the words of Sydney-based performer Rosie Dennis, who appeared in the 2006 National Review of Live Art (NRLA) as part of the Elevator program which highlights the work of emerging artists. For the 2007 program Dennis has been kicked upstairs to the One Year On program which keeps close track of artist development.
Dennis will premiere Hitting a Brick Wall Since 1984 which she describes as "examining the emotional fragility of a woman's identity that has been fractured and fragmented under the strain of success. It explores the theme of long-term disappointment and the frustration and fatigue that can come with ongoing failure." If this sounds a bit too much like a variation on the agonies of A Star is Born, the festival brochure also offers a corrective glimpse of "A school fete. A diamante tiara. A standing ovation and a girl lost in the glorious success of her own dreaming."
The National Review of Live Art is a pioneering, 26 year-old annual festival of live and time-based art, an enriching, diverting and sometimes infuriating celebration of performance manifest in many forms and a multitude of bodies from around the world. In February 2006, the RealTime team caught a couple of days of NRLA in its new home, Glasgow's Tramway, originally a public transport facility. Previously the festival had been presented in the Arches in the centre of the city beneath the main railway station. Artistic Director Nikki Millican (whose New Moves International runs the NRLA and the impressive New Territories dance festival) has a deep fondness for the Arches and its demimonde appeal describing it as "always night-like."
If Tramway lacks the ambience of the Arches it certainly makes up for it with convenience, comfort (it was zero outide), big flexible performance spaces, numerous studio and exhibition areas, and a couple of cafes. Nor is it a slick venue; the internal architecture is mostly functional and the feel is all accessibilty—it's not surprising to meet suburban locals and their children.
The comfort counts when you're dashing between shows or queuing to see if you'll get into one that word-of-mouth has pronounced a must-see. Aside from very intimate, small audience works you can't book for NRLA shows, the result being a hit-and-miss festival experience. However, the NRLA's appeal is also to be found in its open-ended relationship with time. While shorter performances are tightly timetabled and the daily printed program awaits you on arrival, durational works once commenced operate on their own terms for hours, a day or the length of the NRLA. You visit, you stay, you return, you witness or you miss the drama of an interruption—a fire alarm triggers evacuation of the building or an artist is suddenly unwell—or the completion of a work. (Poor Ron Athey had to be released from the many hooks in his skin as firemen hurried artists and audiences out of the building).
NRLA was well attended, many of the audience in it for the duration, student numbers strong (tickets are cheap), plenty of European visitors and a few from the US, and a contingent of key figures in UK live art infrastructure.
The main components of the NRLA are the Residency Artists and Invited Artists programs. Resident artists work throughout the event, making themselves accessible to other artists and audiences, as did photographer Manuel Vason who exhibited and spoke about the images (of performances no one but he witnessed) created in collaboration with leading practitioners (www.artcollaboration. co.uk). Live art duo FrenchMottershead orchestrated massive group photographs of audiences and artists in A Daily Ritual to Capture the Presence of Everybody (www.frenchmottershead.com). Shot and subsequently displayed in the Tramway foyer, these highly detailed images compounded the sense of community that was a feature of the event.
NRLA also runs The Winter School, an annual program of professional skills development and research projects open to artists, emergent and experienced, working in live art and related practices. Often the mentors will the artists featured on the Resident and Invited Artist programs.
The 2006 Invited Artists program included both established works and others commissioned by NRLA. Sekou Sundiata's Blessing the Boats (US) was a poetic meditation on a life of poetry, drugs, racism and kidney disease: a time capsule from the 70s opened by this eloquent writer-performer. In Death is Certain, Eva Meyer-Kellers (Germany) conducted a quiet aesthetic assault on a punnet of strawberries as we gathered around her. She tortured, injected, burned and drowned the fruit, one piece at a time, producing a droll commentary on art practices along with some more disturbing resonances. Additional performances were staged to meet audience demand. Geraldine Pilgrim's Sea View (www.corridor.eu.com) was like a stay at an eerie bed & breakfast, its wallpapered hallway punched with holes that reveal underwater swimmers returning your stare, its bedroom offering a vista of a tilting ocean horizon and, worse, a slow leak over the bed, a steady plop, staining the bed rusty red. Elsewhere, Sarah Potter invited her audience to be touched and cradled, to challenge our increasing sense of separateness and consequent lack of compassion, and her own feeling of being "detached all the time, like I'm sending information to the printer, but it isn't connected." At the entrance to this meditative event, a printer churned out Potter's evolving thoughts.
One of my favourite NRLA pastimes was to visit Lisa Wesley & Andrew Blackwood's (UK) growing maquette creation in a glass house in Tramway's backyard. The all white modelling of buildings and objects and the artists' play with perspective, revealed the sheer oddity of growth and decay in contemporary urban landscapes. Ron Athey's Incorruptible Flesh (il luminous) was erogeneity writ large. Stretched out before us in a small dark space, face fish-hooked, scrotum massively ballooned with saline solution, anus tattooed and bared, flaring with its image of the sun, Athey's HIV positive body was essentially a still image of pain as art and art as pain. Jennie Klein, writing on the NRLA website felt that the work was "unbearably beautiful, evoking in many viewers a feeling of profound tenderness and protectiveness towards Athey," Some accepted the invitation to rub oil onto his body.
I admired NTGent's Omvallen (Flemish for "to turn over") by writer-director Sanne van Rijn. This fast-paced surrealist domestic farce for two masked female performers was staged in a small, magical wall-papered bourgeois home, a perfect companion piece for Pilgrim's Sea View. The minimalist turnover of obsessive actions and murderous powerplays was grimly engrossing and exhilaratingly well choreographed. NTGent will be in the 2007 Sydney Festival collaborating with director Christoph Marthaler and ZT Hollandia on Seemanslieder.
I've only been able here to offer a glimpse of works from a huge program which included artists from Thailand, Japan, Taiwan, Philippines, Pakistan, India and Poland. Artists that attracted attention in the Elevator program included Rosie Dennis, Nic Green and Rajni Shah. Shah's long overlapping performances included transforming from an Indian bride to Elizabeth I in an investigation, sometimes deft, sometimes awkward, into Englishness where costumes were lowered onto the performer by stage managers and the deployment of cloth, a salt border and makeup created an intriguing installation. Shah and Nic Green are also in the 2007 One Year On program.
nrla 2007
NRLA 2007 will take place again at Tramway with the Black Market International collective and Anne Seagrave as resident artists. Seagrave will perform a major work comprising a one-hour daily performance, Jamais Vu, a staged self-portrait publicly erased by the artist herself over five consecutive performances. The 11 member renowned international artist collective Black Market will occupy one of Tramway's large spaces for the duration of the festival, creating a five-day "life installation" with audiences welcome to drop in at any time.
NRLA's 2007 Invited Artists again come from around the world and with an astonishing range of projects that vigorously defy conventionality. The UK's Simon Raven and Aaron Williamson present The Dawn of the Deli, which they declare "the realisation of a new 'slow slapstick' genre" with monks "attempt[ing] to answer the growing demand for monk-brewed condiments, authentic moon-dried tomatoes, goat's brie…" to an accompanying Gregorian/Death Metal mix. From Quebec, performance poet, sound and live artist Alexis O'Hara offers herself as The Sorrow Sponge. Mistermissmissmister, from Portugal's Ana Borrahlo and Joao Galante, is about the "erotic imaginary, confronting the viewer "with characters whose bodies are extremely exposed and that show a very obvious gender/sexual ambiguity."
Chumpon Apisuk's (Thailand) SilenceSilence is a meditative response to the disappearance of a human rights lawyer Somchai Nilapaijit. The program also includes, curious, the UK duo (Leslie Hill and Helen Paris) familiar to Australian audiences, in a new work, (be)longing. Guillermo Gómez-Peña & La Pocha Nostra members Roberto Sifuentes and Gabriela Salgado will boldly "create a poetic interactive ritual that explores neo-colonization/de-colonization through acupuncture and the re-enactment of the post-9/11 'body politic'."
Gwendoline Robin from Belgium will be explosive in a different way, triggering small bombs on her body in the manner of stunt men but with poetic intent. The UK's Richard Hancock and Traci Kelly present Dermographia, drawing on the Devils of Loudon, Genet, and the Deleuze and Guattari notion of 'becoming-animal', all "written through the skin of a static performer, a silent observer, and a solemn witness."
On the multimedia front, there's Res Publica from France in man in |e|space in partnership with Belgian collective LAb[au], creating a four-screen interactive environment with live dancers who, "under the cover of darkness, will be reduced to glowing lines emitted by costumes whose long light sticks will outline their body movements, captured and processed in a 3D digital environment, then projected onscreen."
A strand of contemporary music works makes a distinctive and apt addition to the NRLA agenda. Daan Vandewalle (Belgium), in a work of pianistic endurance, plays the Alvin Curran marathon piece, Inner Cities, in which audiences can come and go at will. Electronic music pioneer, playwright and director Giovanni Fontana will present Electronic and Sound Mask. Jan Kopinski & Reflektor will play Kopinski's Mirrors. This Opera North commission features the composer on saxophone, plus piano and soprano, in a work about "dislocation, memory, and transition" embodying reflections on Polish history using visual imagery and the country's musical traditions. (NRLA 2007 also includes Poland's Kazmierczak and Rybska, see p39.) The Panacea Society featuring leading European performance artist Andre Stitt on vocals and Matt Cook on guitar and laptop will play FREAKBEAT-PSYCHE-GARAGE-PROG-TECHNO-MUSIC with visuals from VJ Jacuzzi Junta.
The above is just a sampling of a packed NRLA 2007 program, enough to illustrate the astonishing range of work that falls into the encompassing live art ambit, an ample, fecund space for shows high budget and low, innovative, silly and outrageous, meditative and, not least, politically charged.
The National Review of Live Art, Tramway, Glasgow, Feb 7-11, 2007, www.newmoves.co.uk
RealTime issue #76 Dec-Jan 2006 pg. 44
© Keith Gallasch; for permission to reproduce apply to realtime@realtimearts.net