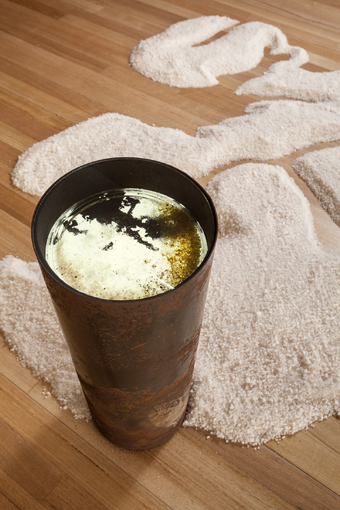 photo James Field
Liz Butler, Lunar flow 2014 (detail)
There are many users of the waters of the Murray-Darling basin and Adelaide is a major one, having long been dependent on water piped from the Murray River to supplement its meagre rainfall. Two large pipes convey water to Adelaide, one of them originating in the town of Murray Bridge, 75 km southeast.
The river basin has also long been home to numerous communities, preceding and since European colonisation. Same River Twice, a joint exhibition mounted by the Murray Bridge Regional Gallery (MBRG) and the Australian Experimental Art Foundation (AEAF) in Adelaide, is an essay in two forms: a collection of artworks by past and present artists and a catalogue detailing the history of the river and its pivotal role not only in Australia's economy but in its culture, including artists' essays focused on the river and the broader environment.
Curators Melinda Rankin (MBRG) and Fulvia Mantelli (AEAF) chose the exhibition title to allude to the river's ever-changing nature. The catalogue includes a transcript of a 2012 speech by late Ngarrindjeri elder Tom Trevorrow on the relationship of his community with the river. Writer Ken Orchard's essay outlines the importance of artistic and photographic depictions of the river in tracing pre- and post-colonial settlement and in informing debate on its usage and management, thus establishing an historical context for the artwork in the exhibition.
Each gallery's exhibition opening was preceded by a ceremonial welcome to country from the local Indigenous community. AEAF exhibition openings now routinely include a welcome ceremony from the Kaurna community, inviting recognition and appreciation of the region's Indigenous culture, as well as signifying openness to dialogue and reconciliation.
Central to the exhibition is a selection of work by Ian Abdulla (1956-2011) who grew up on the river's banks near Murray Bridge and whose paintings and screen prints give unparalleled insights into what such life was like and how abundant the river once was. Nici Cumpston, of the Barkindji community of the Darling region, exhibits her well-known hand-coloured photos of the Murray wetlands and discusses her search for evidence of Indigenous occupation and her documentation of significant sites.
Wiradjuri/Kamilaroi artist Jonathan Jones (NSW) shows Untitled (Murray-Darling River Catchment), a set of graphite rubbings mapping the Murray-Darling's catchment areas as defined by the Australian Department of Environment. He notes in his essay how the river system was home to 40 Aboriginal nations, over which catchment management has been superimposed. He suggests the system's recovery requires acknowledging the cultural values of the Murray Lower Darling Rivers Indigenous Nations and Northern Basin Aboriginal Nations groups. Ellen Trevorrow (SA) shows Seven Sisters Mats (2009), traditional items woven from sedges and housed in the Camp Coorong museum established by the Ngarrindjeri community to record and teach Ngarrindjeri history and culture.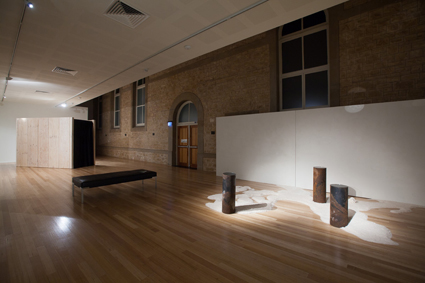 photo James Field
Heidi Kenyon, Liz Butler, Same River Twice, AEAF + MBRG 2014-15, installation view Murray Bridge Regional Gallery
In Heidi Kenyon's (SA) Everything Flows, Nothing Remains (I & II) (2014) dark, curtained rooms house small, backlit jars of 'transposed' water—cleansed Adelaide water at MBRG and muddy Murray water at the AEAF. Images projected through the jars show dripping taps, as if connected to the pipeline, accompanied by the sound of water endlessly dripping away. The crucial importance of water management is further highlighted in Dryland base 2 (2008) by Pamela Kouwenhoven (1944-2014, SA. It's the base of an old rainwater tank covered with degraded malthoid, a protective coating applied to the underside of iron tanks to prevent corrosion. Hung like a painting, it symbolises the constant need to collect water.
Josephine Starrs and Leon Cmielewski (NSW) show works from their Incompatible Elements series, including A living body, a scrolling aerial photograph of the Coorong, the long lagoon adjoining the Murray mouth that is so endangered because of the reduced flow of water through it. The title refers to Tom Trevorrow's description of the river as a living body. They also show And the river was dust, an aerial map of the Murray-Darling's winding streams photo-shopped to spell out the work's title, a quotation from Judith Wright, poet and environmentalist who characterised the Australian imaginary so acutely. Kay Lawrence's (SA) No Words for the River is a series of small watercolours bearing phrases used by European explorers to describe the river, betraying their ignorance of its nature.
At the AEAF, Fiona McGregor (NSW) shows a video documenting a 2011 performance entitled Water #1 Descent in which she lies motionless on a table for several hours, covered in salt, while rainwater drips onto her forehead from a bladder above her head. The bladder contains her own body weight in water, collected from various sites between Lake Eyre and Sydney following a flood. Her gathering of water suggests homage. She writes, "The image is one of torture and wastage, the performance an extended study of stillness and thirst" (catalogue). Performance art like McGregor's dramatically focuses our attention and it's a pity Water #1 Descent could not have been re-enacted here.
The physical presence of salt is taken to extreme levels in Liz Butler's (SA) two works—at MBRG, she shows Lunar Flow (2014), in which mounds of salt crystals, laid out like a dried lake-bed, lie on the gallery floor surrounding three rusted metal tubes engraved with images of aquatic fossils. At the AEAF she shows Detritus (2014), a bed of salt crystals arrayed like a grave with rusted steel plates lying across it and dotted with containers looking like discarded drink cans but made from architectural film bearing designs for housing. Above the salt-bed is a video of salt pouring from her cupped hands—she urges that we understand the land before building on it.
Jonathan Jones worked with Tom Nicholson (Vic) to produce an artist's book, Murray-Darling Views—Evening Shadows. Bound tête-bêche as a single volume, Jones contributes a collection of images of paintings selected from the Art Gallery of SA's extensive collection relating to the Murray, and Nicholson provides an account of the Yorta Yorta protest at Cummeragunja in 1939 with a parallel account of the historical and cultural importance of Henry James Johnstone's well-known painting Evening shadows, backwater of the Murray (1880, SA), the first painting ever acquired by AGSA.
Same River Twice is not overtly activist but it forcefully reminds us of crucial issues to which solutions are long overdue and implicitly asks how a complex community can act collectively to restore the environment. The Murray Bridge-Adelaide pipeline graphically illustrates the dependence of the city on rural provisioning, but supporting cities with both water and farm produce can deplete rural areas catastrophically. Rather than proposing solutions, the exhibition explores the personal dimension of the river's life and history, especially the idea of the river as a multicultural home. The exhibition also demonstrates the power of the curator-historian in highlighting a political issue by assembling a collective of otherwise unconnected voices. Indigenous and European stories are intertwined and the curators open a new, discursive connection between metropolitan and regional centres, challenging the validity of binaries.
In his opening address, incoming AEAF Board Chair Professor Ted Snell said that artists are at the edge of change and spoke of the role of art in reflecting, critiquing and shaping society, indicating that this exhibition is about how our survival has to be built on partnership. It is perhaps optimistic to think that cooperation between the communities represented in this exhibition might encourage restoration. But if the condition of the river is the result of the 'tyranny of small decisions,' a concept applicable to many environmental and social issues, then this exhibition is a collection of highly articulate responses, and perhaps the solution will emerge from the aggregate of such small, corrective actions.
Same River Twice, Australian Experimental Art Foundation, Adelaide, and Murray Bridge Regional Gallery, 5 Dec 2014-7 Feb 2015
RealTime issue #125 Feb-March 2015 pg. 46
© Chris Reid; for permission to reproduce apply to realtime@realtimearts.net