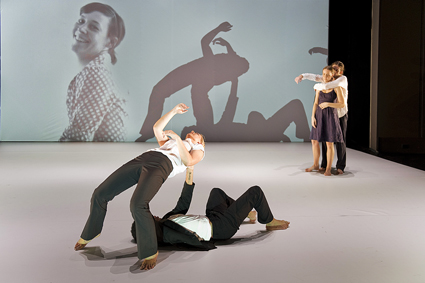 photo Christophe Canato
Reflect, Sue Peacock
Five sets of clothes lie at rest on the extended strip of white floor, the fall and crease of polka dot skirt differentiated from the over-patterned confusion of an Hawaiian shirt and the bold stance of red overalls. Are they garments in waiting for their danced transformations? Bottom-drawer memories saturated with faded desire?
The assorted fabrics signal such ideas while announcing the arrival of the ordinary. Slippage occurs as young people appear, walking effortlessly into a dance of gesture and imaginative play in which intricate story-threads weave a cloth of reflection and memory. These ordinary people morph into magicians of performance who wear unstable identities of the everyday with the privileged audacity and awkwardness of youth.
Whether intentioned or the result of investigation with the dancers, choreographer Sue Peacock has guided the construction of Reflect with a canny attention to how age shapes (and is shaped by) the human potential to reflect upon actions, feelings and the puzzling collisions of identity across time. A more established group of performers would wear and shed those sets of clothes quite differently, exuding nostalgia or unwanted beasts to banish into forgetfulness. With this group, the trial and error of re-entering yesterday's garb is refreshingly matter-of-fact. Indeed, the most seasoned performer, Kynan Hughes' pronounced desire to understand the unstable nature of tease and twist forms a touch-stone for the swapped gesture and identity of the others. His Hawaiian shirt speaks volumes, its imagistic loudness at odds with his unassertive performance character.
To gain some idea of the reflective nature of choreographic and character construction, the overlays of scenic design need acknowledgement. Dancers on stage, their dark and looming shadows and the light-washed projections of the same personalities in rehearsal inter-reflect, jostling like random memories for attention. Indirect pulses of recall slip between present and past. Shadows, which in the everyday imagination are insubstantial, acquire indelible definition, at times blocking the dancers and their filmed reflections.
The signature Peacock structures arise and dis-assemble across time, with motif and fractional patterns playing games of intimacy and rebuttal within and between the members of the group. For example, the head lifting of another elicits a gesture of compassion which shifts and belongs, fleetingly, to each and every individual. Against that shared response (their common humanity?) individuals do develop: Tyronne Robinson has his moments of display, Bernadette Lewis her frivolity, Storm Helmore her insularity, Jenni Large her powerful latency and Hughes his disorientation. In this way, Peacock opens readings of her ordinary grouping of young people to fluctuations of manipulated movement which align with human emotions and the scenographic composition.
Structure and elusive sensitivity alternate, like the presence and past that drift through the performance. Each performer possesses a personality but that personality is multiple and is subject to changes of clothing. Reflect emerges like a fantastic hall of mirrors onto the white and blank canvas of its floor. The telling reflection lies in its capacity to reveal the magic of the ordinary. I think it does, quietly and subtly.
Performing Lines, Reflect, choreographer Sue Peacock, design Andrew Lake, sound Ben Taaffe, Studio Underground, State Theatre Centre of WA, 3-11 May
RealTime issue #115 June-July 2013 pg. 34
© Maggi Phillips; for permission to reproduce apply to realtime@realtimearts.net