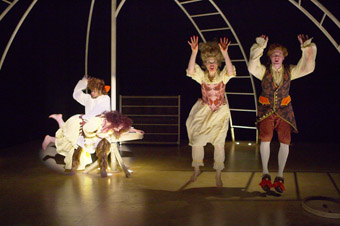 photo Jon Green
Memmie Le Blanc Deckchair & Vitalstatistix
THE WILD CHILD RAISED IN NATURE WAS A PARTICULARLY ENLIGHTENMENT FIGURE, SEEN AS A LIVING EXEMPLAR OF 'NATURAL MAN' UNGOVERNED BY REASON, AND DEBATED BY HOBBES (WHO SAW SUCH ESSENTIALLY SELFISH BEINGS LIVING A LIFE "NASTY, BRUTAL AND SHORT") AND ROUSSEAU (WHOSE "NOBLE SAVAGE" REPRESENTED A PRELAPSARIAN IDEAL WHICH MANKIND HAD LOST THROUGH THE OPPRESSIVE ACCRETIONS OF FEUDAL SOCIABILITY). ONE FAMOUS WILD CHILD WAS MEMMIE LEBLANC, A GIRL CAUGHT IN THE WOODS OF CHAMPAGNE IN 1731, AGED 10. MEMMIE IS THE SUBJECT OF HILARY BELL'S LATEST PLAY.
Directed for Adelaide's Vitalstatistix and Perth's Deckchair Theatre by Angela Chaplin, Memmie Le Blanc is a strong, subtle four-hander which riffs on the girl's teens, when she was passed from the local Marquis to the (fictional) Duchess Catherine Michel (Netta Yaschin). The production benefits from a wonderful design by Andrew Lake, evoking both the sparseness of Bell's straightforward narrative treatment while also hinting at the rich excesses of Rococco lifestyle.
On the simple, cream coloured stage floor is a domed climbing frame on which the prime actions are performed, while two holes bounded by jute on the floor act as perforations through which stage elements such as candles, soil and mice appear and descend. Isaac Lummis' costumes are a particular treat, dresses bulging out in an echo of the frame above them, and each waistcoat, skirt and jacket decorated with ochred orangutans.
Memmie (Anni Lindner) initially appears in a simple white shift, but is entranced by the Duchesses' coiffure and stitched clothing. An early sign of Memmie's apparent socialisation is when Yaschin forcefully straps Lindner into new corsetry, each pull of the bindings signifying the social strictures which 18th century theorists recognised as the necessary cost of the 'social contract' which prevented men and women from murdering each other. The audience is encouraged to ask itself if the orangutans (an ape attracting much interest in Europe at the time for its supposed facility at imitating humans) sewn onto these dresses really lay outside or within the characters. With the arrival of Dr Legendre (Adam McGurk) and his orangutan companion, Robert (Sete Tele), the question became moot.
Bell based her portrayal on Michael Newton's Savage Girls And Wild Boys (2002), an erudite but popular account of feral children which historian James Steintrager notes lies uneasily between a "trade book and a work of scholarship" (Eighteenth Century Studies, 38.4, 2005). Although Newton and the play give due attention to historical context, both slip into an ahistorical interpretation of the Wild Child as a universal symbol of the impenetrable depths of human emotion. In the end, Bell and Chaplin are not principally interested in the implications which this attempt to civilise a subject like Memmie—who was explicitly identified as someone of low class—might have for the founding of modern colonialism, racism, capitalism and patriarchy. Robert the orangutan is after all a prize of empire, and played by the only black actor in the cast.
These concerns are not however absent and are played out in a wonderfully creative, abstract fashion as a series of near 'blackface' song'n'dance routines accompanying 1920s exoticist and primitivist popular song like "Get Cannibal" and "The Princess Of Poo-Poo-Ly", during which a deeply ironic but still apelike Robert spanks a delighted Duchess. The spectres of dangerously unleashed, primitive sexual appetites, of empire and of Britain's Enlightenment hero Captain Cook, seem implied if not named in these actions.
In the end though, Bell and Chaplin are chiefly concerned to reject Hobbes' construction of humanity. The critical sign of Memmie's socialisation is that she loves the Duchess. Some of Le Blanc's contemporaries like Louis Racine had imputed lesbianism to her, seeing this as another sign of her monstrosity, and although the production hovers close to allowing this reading, in the end Le Blanc's gesture of affection is read in filial rather than erotic terms. In short, although it could perhaps benefit from more forceful treatment, this is a wonderful, suggestive production
Deckchair Theatre and Vitalstatistix, Memmie Le Blanc, writer Hilary Bell, director Angela Chaplin, performers Anni Lindner, Netta Yaschin, Adam McGurk, Sete Tele, choreographer Sete Tele, designer Andrew Lake, costumes Isaac Lummis, sound Phil Bailey; Deckchair Theatre Fremantle, Nov 8-Dec 2
Memmie Le Blanc can be seen at the Adelaide Fringe, Queen's Theatre, Feb 15-March 8, 2008
RealTime issue #82 Dec-Jan 2007 pg. online
© Jonathan Marshall; for permission to reproduce apply to realtime@realtimearts.net