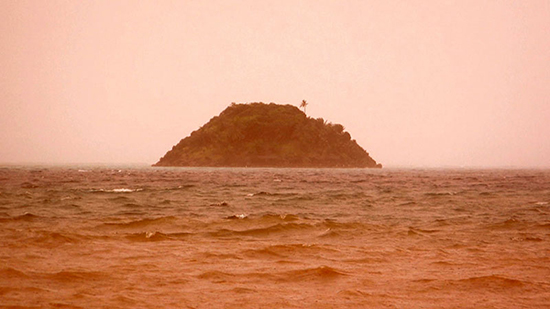 courtesy and © the artist
Ocean After Nature: Ursula Biemann, Subatlantic, 2015, video still
Lauren stumbles on a rich review in Artlink by Sasha Grbich of two exhibitions at Samstag Museum, Adelaide, diving into maritime life in the age of the Anthropocene. Countercurrents and The Ocean After Nature mix political economy, migration politics, art history and natural history, and this review features strange images from both shows, summoning a vision of rising tides, mountainous creatures and a threatened oceanic sublime.
"2016 closed as the most recent hottest year on record globally. In its wake continents and islands continue to surrender to rising tides as dusty bodies to a warming salty bath. The Ocean After Nature, curated by Alaina Claire Feldman (ICI, New York), delves ambitiously into the task of exploring life in the Anthropocene. Feldman agrees that humans have superseded nature and the exhibition provides an intricate and expansive collection of critically contemporary presentations on the ocean that yet manage to retain the qualities of wonder and incommensurability intrinsic to its amorphous fluid history."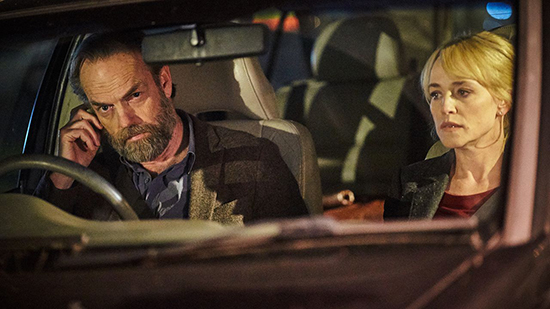 Hugo Weaving, Susie Porter, Seven Types of Ambiguity, ABC TV
In the context of a screen industry obsessed with remakes, Keith is convinced by a devastating structural analysis by Inside Story's Jane Goodall of ABC TV's new prestige drama, Seven Types of Ambiguity. While Elliot Perlman's original novel promised a suspenseful psychological thriller, something went wrong in the process of adaptation, suggesting a deeper problem in the ABC's approach to its house dramas.
"For a novelist, going over the same sequence of events from several different perspectives is a technical challenge to be met through changes of focus and narrative voice. In television, repeated footage is repeated footage, even if the camera angles change or the scripting is differently edited. This means the episodes must engage more fully in the personal storylines of the six characters, filling out the details of their own relationships. As we are drawn successively into the stories of Joe, Alex, Gina, Angela and Mitch, the emotional overload becomes suffocating. Rows break out in every scene; every shot seems to be a close-up of someone tearing up or letting rip."
Video essay: Did a 1980s action movie predict Donald Trump's wall?A two-minute video essay on Fandor about John Carpenter's 1981 dystopian sci-fi film, Escape from New York, reveals a prescient world of paranoia, over-policing and criminal overlords. The only thing that seems out of date is the eerie silhouette of the Twin Towers floating over the NYC skyline like upright coffins.
"Situated in New York, this post-apocalyptic film predates a fierce irony in the future, where walls separate Americans not from immigrants, but from its own prisoners."
–
RealTime issue #138 April-May 2017