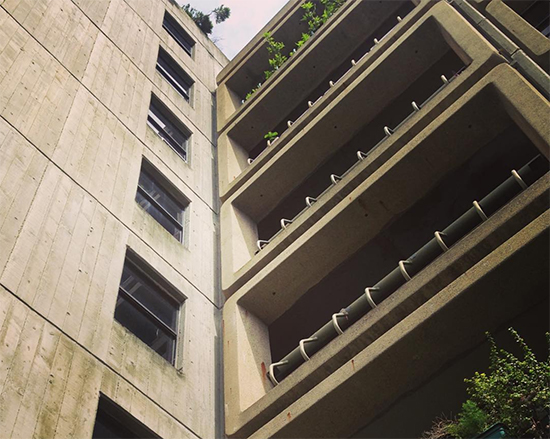 by @colinbisset88
Sirius building Sydney
From the Adelaide Fringe, an article by occasional RealTime contributor Jane Howard blends personal narrative with theatre criticism in a response to UK company Patch of Blue's play about autism:
"We Live By The Sea isn't my story. It's nothing like my story. But it joins my life at the edges, just a little, stitching something of me together. For some in this audience, their experience will be of this: a reminder, or a reflection. For others, the artists ask them to sit for an hour, to spend time with a story and a family they haven't seen before, to perhaps expand their understanding of the world. And as I watch, I feel the old fear rush back into every inch of my body."
On the cinephile 4:3 website, Lauren finds a thought-provoking review of Iranian master filmmaker Asghar Farhadi's The Salesman, the perfect antidote to the latest onslaught of blaring, oversized blockbusters:
"The Salesman is bookended by distinctly theatrical motifs, drawn, as the title implies, from the Arthur Miller play in which its central couple are involved. Plays within a film can herald hack thematic signposting, but Farhadi is on an elevated game here. Consider his carefully composed intro: a stage-bound empty marital bed, lit with the sickly glow of pre- or post-intimacy, a deserted battleground or one waiting to happen. He swiftly cuts to construction work threatening to collapse an apartment building, from which married theatre couple Emad (Shahab Hosseini) and Rana (Taraneh Alidoosti) are forced to flee; blunt, perhaps, but effective shorthand in establishing his film's slippery domestic terrain. That his final image puts his two leads in tight close-up as they apply stage makeup is both more and far less intimate—layers of disguise caked onto faces reduced to empty reflections."
Photos in Hyperallergic's review of a new guide to Paris' overlooked Brutalist buildings bring to mind the threatened Sirius building in Sydney's The Rocks.
These images of Paris' Brutalist architecture, all of it outside the city's centre, prompted Lauren to search Instagram for the Sirius building, recently opened to the public for an art tour. She found #saveoursirius, an astonishing, spontaneous collective effort at documenting a near-extinct piece of the city's history of public housing.
A current if curious resurgent interest in Brutalism, says Keith, is documented in a terrific review, "The Brutal Dreams That Came True" by Martin Filler in the New York Review of Books of a host of new books on the subject.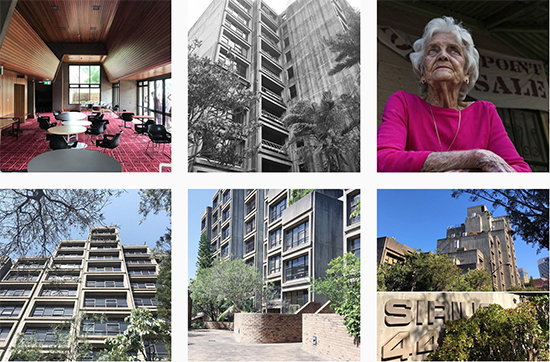 photos: (clockwise from top left) @saveoursirius, @meganblakeirwin, ABC RN/Tiger Webb, @maynardarchitect, @housesmagazine
selection of images from #saveoursirius on Instagram
RealTime issue #137 Feb-March 2017