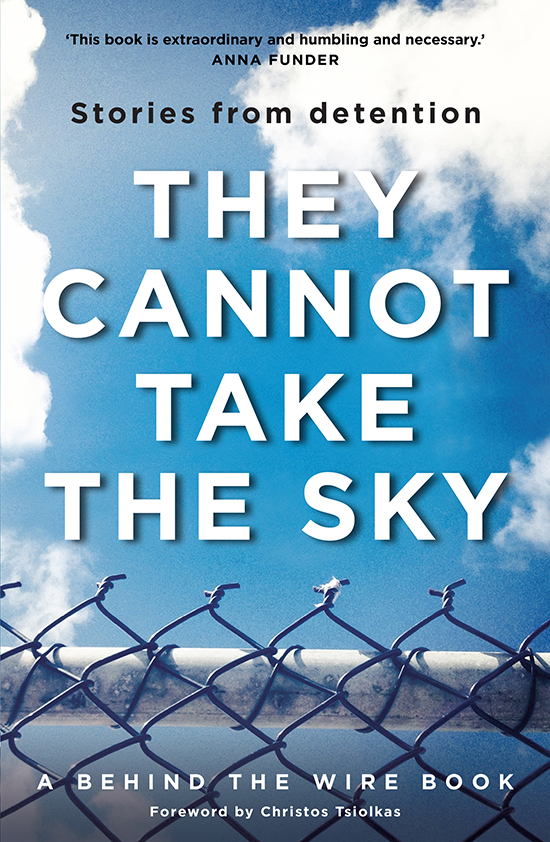 The refugee issue has burned through Australian politics for two decades now, but how often do we hear from those in detention? Could their voices help shift the national conversation? In The Monthly, Virginia finds a book review by Maria Tumarkin that also looks at projects in which refugees in asylum tell their own stories—historical documents as a form of literature:
"[The publication] They Cannot Take the Sky is part of Behind the Wire, a multi-platform oral history project documenting the lives of asylum seekers detained by the Australian government. The project comprises a podcast called The Messenger (co-produced by, and available through, The Wheeler Centre), and an exhibition at Melbourne's Immigration Museum until 2 July. Behind the Wire's team, helped by hundreds of volunteers, has been working nonstop for two years. Their mission is a sustainable infrastructure that lets asylum seekers narrate their experiences and exercise control over what is talked about, which bits enter the public domain, when, in what form."
image courtesy Instagram
Beijing Silvermine, Thomas Sauvin
Photos: Beijing Silvermine. A creative project thrown onto the global art stage by Thomas Sauvin and drip-fed onto Lauren's Instagram a week at a time, offering tiny, intimate snapshots of everyday Chinese lives through the 20th century to today.
A woman dances on a stage with a red fan, a family poses at a giant Buddhist monument while on holidays, a sullen child in a raincoat waits for their parent to take the photo. It's a personal approach to lost mass history. An archive of half a million negatives salvaged over the last seven years from a recycling plant on the edge of Beijing.
Video art: Peter Campus. The latest edition of Flash Art Online alerted Keith to Video Ergo Sum, the first major solo retrospective in Paris of American photographer, video and installation artist Peter Campus. He is regarded "as one of the central artists in the history of the transformation of video into an art form," above all for his play with perception.
The show at Jeu de Paume features "a selection of video works beginning in the early 1970s and includes Campus' most recently commissioned project in ultra-high-definition. In his now-classic video Three Transitions (1973), Campus utilized chroma key postproduction to alter the rules of perception and invert the medium's claims to objective reality. Exploring the duplicity of the interior subject and exterior object, he pursued phenomenological experiments and questioned the fragmentation of the self until incandescence."
Read Bill Viola's appreciation in Art in America of Campus' seminal role in video art making. On Three Transitions (above), he writes:
"One of the 'transitions' uses chroma-keying to show a burning sheet of paper being replaced with Campus's own live image—so that the artist observes an illusion of his face being burned—a combination of Magritte-like Surrealism and self-referential minimalism."
–
RealTime issue #138 April-May 2017