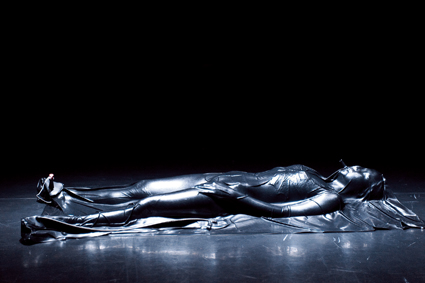 photo Alain Monot, courtesy Montpellier Danse
Sylphides
ANNIVERSARIES ARE A TIME TO LOOK BACK. SOME SIFTING THROUGH THE PAST, ALBEIT IN AN EFFORT TO CLEAR A PATH FOR THE FUTURE IS INEVITABLE. THE 30TH EDITION OF MONTPELLIER DANSE FOUND THE FESTIVAL IN PENSIVE MOOD; CELEBRATING A BRIGHT FUTURE IN THE PROGRAMMING OF FRESH NEW WORK, BUT ALSO RUMINATING, IN WORKS WITH DARKER SUBJECT MATTER, ON DEATH AND THE LEGACY OF DANCE ITSELF, IN AN INDUSTRY THAT HAS LOST MANY BRIGHT STARS SUCH AS PINA BAUSCH AND MERCE CUNNINGHAM IN RECENT TIMES.
bengolea & chaignaud
In the vein of young and fresh came several works by Cecilia Bengolea and François Chaignaud, a French duo currently enjoying a meteoric rise in France. Their first work, Sylphides, inhabited the darker end of things; body bags in fact. Opening on a stage strewn with three large inflatable pillows, it wasn't long before these seemingly inanimate objects were deflated to reveal the contours of human bodies claustrophobically encased, as if smeared in tar. It was just possible to make out tiny mouthpieces protruding from each body, which allowed a small but vital flow of oxygen. Save for this, the dancers were blinded, pinned down by swathes of fabric, and doubtless restricted in hearing too. Despite these impediments, the prone bodies began seeking out one another, navigating by touch. Sinuous squirms gave way to a slow progression to standing, and finally, to extravagant pogo stick bounces throughout the space.
The success of this work arose from the improbable situation in which the dancers found themselves, and the sinister connotations of bodies helplessly trapped within a physical form. Smothered in bags resembling the receptacles into which many of us will be zipped at the end of our lives, Sylphides shrank things, both literally and metaphorically, to a matter of life and death. Watching the Pompeii-esque tableau unfurl, it was difficult not to fixate on the potential for catastrophe, if a dancer were to faint and drop their mouthpiece. It was hard not to scan for zips (there were none), and exit strategies, and in all this, notions surrounding the entrapment and limitations of the human (and dancing) body hovered. Death, it seemed, was never far away but rebirth too, especially at the work's end when slowly, gingerly, bags were prised open to reveal a man and two women, quite alive and staring impishly out into the auditorium.
Similarly conceptually captivating, but somewhat limited in realisation was Castor et Pollux, also by Bengolea and Chaignaud. Inspired by twin godheads in Greek and Roman mythology, Castor et Pollux occupied not the stage of Montpellier's plush Opéra Comédie, but the vast tract of space in the flies above it. Naked from the waist up and smeared in garish body paint, Bengolea and Chaignaud hung 50 feet in the air, knotted together in a sensual clinch. Movements were languid, with bodies fusing to create indefinable shapes. Initially exciting, with dizzying perspective afforded through the staging, Castor et Pollux veered unceremoniously towards the camp and mawkish. The initially ominous score became saturated with squawks and shrieks, relegating the climactic low swooping of the dancers to the category of cheap thrill. Visually arresting, this work seemed to exhaust itself and appeared overly burdened by the mythological depth which its title conjured.
william forsythe: installations
In an entirely different aesthetic vein was a series of videos by renowned choreographer William Forsythe which populated the white gallery space of the Pavillon Populaire. Through visual trickery, and intimate video depictions of Forsythe dancing and interacting with objects, the installations questioned the placement and legacies of choreography. Where in conceptual space does choreography exist for instance—at the moment of execution through movement, or previously? And what remains of choreography once enacted? In pondering the transience of the art of choreography, Forsythe's installations became tinged with a mildly morbid air, with similarities between the nature of choreography and of human mortality itself all too evident.
One video saw Forsythe enacting a virtuosic solo in black and white. Camera angles varied, closing in on the moving body, severing limbs out of shot, then panning back to reveal the precision of the feet, or the attack and arrest of the torso. This was dancer-as-vessel of the choreography: there was wholeness to the image, a sense of the moving body as the endpoint of a choreographic train of thought. Travelling to the next screen however, one was greeted with a small monitor bearing a recognisable image of Forsythe's face. To the saccharine lyrics of "Dancing" from the musical Hello Dolly, the mug-shot of Forsythe was severed; fading into sections which disappeared into a haze, only to slowly reform. There was a mesmeric quality to this, with comment gently provided by the incessant lyrics questioning "Now that we're dancing who cares if we ever stop…"
In a later video, Forsythe abandoned the traditional dance canon to bind himself meticulously in heavy black rope. Two camera angles allowed differing viewpoints of the scene as he entrapped first his torso and then, more disturbingly, his neck, head and face, with imagery becoming increasingly violent. Yells, either for help or of defiance suddenly punctured the space, before the process was laboriously undone; ropes unwinding to release their captive. Albeit in a more confrontational manner, this sequence pursued the line of questioning which the preceding videos began. It attempted to open up the spaces before and after choreography, to question whether it is possible to dislocate the body from the act of choreography, and whether the idea of choreography can in fact exist in and of itself. By pushing his body to physical extremes it seemed Forsythe was testing not only physical capability but the life expectancy of the choreographic act.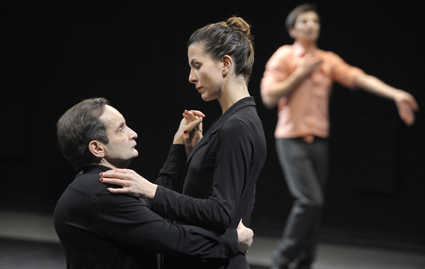 photo Rosa-Frank.com
Raimund Hoghe, Astrid Bas, Emmanuel Eggermont, Si je meurs, laisser le balcon ouvert
raimund hoghe
From musing on life and death in Sylphides, to the intangible traces of choreography and existence in Forsythe's installations, came Si je meurs, laissez les balcons ouvert (If I die leave the balcony open), by Raimund Hoghe. Conceived originally as an homage to the late Montpellier choreographer Dominique Bagouet, Si je meurs was an exercise in learning to say farewell, in a world in which, according to Hoghe, "we have the lost the way to say goodbye".
Often in Hoghe's work, emotion hovers in the ether, abstracted through an oblique layering of music and deadpan gesture. Here however, it exploded outwards in contorted facial expressions and frenetic choreography. Movement was carved by gestures of defiance rather than wistful doodling, with dancers whirling about the stage in angry or mock-comic froth. A moment halfway through the piece found Hoghe coaching dancer Ornella Balestra in the art of expressing grief. Demonstrating with hands placed on his ribcage, aggressively pushing for more, more, more, Hoghe was eliciting not demure sniffles but vast, wracking sobs and gulps of air from the unfortunate Balestra.
Tracing a progression of loss and grief, the work operated at times on the cusp of frenzy: that wired, angry edge of bodies grappling with insurmountable emotion, seeking oblivion and balm. It seemed an homage not to Bagouet but to grief itself; and to the many ghosts in the dance world. Journeying from funereal tristesse and pious ceremony to the kitsch and wistfully romantic, Si je meurs finally found a bittersweet resting place. During the last moments of the work, the backdrop doors were thrown open to the night, flooding the space with twilight sounds of crickets and the pall of a lone street lamp. One dancer, Emmanuel Eggermont, remained in the fading light. Ever moving, ever dancing, he offered an indelible trace of humanity, and of choreography.
Montpellier Danse.10, Cecilia Bengolea & François Chaignaud, Sylphides, Studio Bagouet, June 30-July 1; Bengolea & Chaignaud, Castor et Pollux, Opéra Comédie, June 27-28; William Forsythe, Installations, Pavillon Populaire, June 22-July 2; Raimund Hoghe and company, Si je meurs, laissez les balcons ouvert, Théâtre de Grammont, June 3-July 1; Montpellier Danse.10, June 18-July 7
RealTime issue #99 Oct-Nov 2010 pg. 29
© Mary Kate Connolly; for permission to reproduce apply to realtime@realtimearts.net