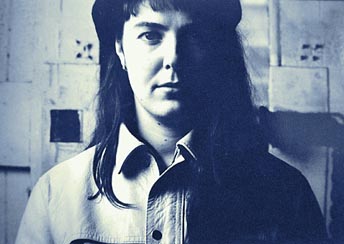 photo Rohan Smith
Janet Merewether
Janet Merewether is a screenwriter/ director and curator, and a designer of motion graphics and film title sequences for feature and documentary films. Her short films and videos, including the recent award-winning Cheap Blonde and Contemporary Case Studies, arebeing screened in Australia and internationally at a wide range of mainstream and experimental festivals, including the 2001 New York Film Festival. Her design work has featured in The Boys and The Diplomat. She lectures in Design and Experimental Film at AFTRS, UTS and UWS, and has just returned from travelling with a program of short experimental films by Australian women directors, Eye for Idea, which screened in Tampere (Finland) and Berlin.
I saw very few films in childhood. I can only remember the Marx Brothers and Jacques Tati. As a high school student I took myself off to the WEA (Workers Education Association) Film Group, so my first film experiences were not commercial cinema but sitting there as a 16-year-old seeing Godard, Eisenstein, an Esben Storm film; a whole mixed bag of Australian and European art house films, and later Surrealist and Dada cinema at art school. I didn't grow up watching American cinema at all.
I didn't set out to make films. I did a one year design course at AFTRS after art school where I'd been working with computers as design tools since the early Macs came out in 1985. I started to see the potential of the camera as a design tool, playing around with multiple exposures and the design and animation processes within the camera. Making video clips, I explored the use of an Oxberry Rostrum animation camera and realised it was an interesting bridge into making films which worked on an intensely visual level. During an exchange with a design school in Paris I spent a year in the Cinemathèque/ Videothèque, viewing screenings at the Pompidou Centre and video art installations. It was a huge education in classic cinema—directors such as Agnes Varda, the French New Wave, Bresson; contemporary American video artists like Gary Hill and Bill Viola. I developed a very different vocabulary of films as my reference points and thought about film in a much more sculptural way. Unable to make an installation work as a major project at film school, I spent 6 months working with the Oxberry animation camera on a stills-based animation, shot with actors, and exploring the possibilities of working with slides, cut-ups and rear projection (A Square's Safari, 1992).
What I wasn't seeing in international avant garde or experimental work was a history of women (Maya Deren aside) working with experimental forms or using language in a different way. Political thought or pure abstraction in avant garde cinema is wonderful in itself, but although I was interested in the visual and aesthetic explorations they were making, I wanted to work with performance and language and comedy. In a lot of political or left wing cinema comedy is demonised as trivial, and I take comedy quite seriously.
Across 10 years of stylistically varied work, comedy is the continuum. Tourette's Tics (1994) is based on some of Freud's case studies—ideas about hysterical women. I remember in the research project becoming incredibly depressed and upset by the material—the cocaine treatments and the pathologising of women's bodies as diseased—it's very intense and upsetting. Yet somehow, in a perverse way, Tourette's Tics became a comedy. This also happened in my latest film, Contemporary Case Studies (2001)—a script with big, current, pressing issues for women and men. Even if I'm making something serious it often comes out as comedy. I don't seem to have much control—it's probably how the Dadaists worked with comedy.
With Cheap Blonde (1998), I was interested in the idea of a game, of using a very limited number of materials—I have 12 words and one image of a woman, and the image is a very short-looped section but the background changes. I gained permission to use the image of the cheap blonde from a company at a trade fair who were selling chroma key broadcast equipment. I'd been planning for a while to use the sort of imagery that you find in TV broadcast equipment trade shows. I'd often seen the models hired to sit on motor bikes. For the Sony stand, for example, you'd have lines of TV executives testing out new cameras on hired blondes. The assumption is that the blokes are the 'tech-heads', that the viewer is male. I've always struggled with that neutralising male gaze because it's never my perspective, and I constantly found that I became very engaged with looking at men as they are looking. Also, I was interested in how illusions are built up in films and broadcasting. The illusion in Cheap Blonde is presented first—a woman in front of a waterfall. It's only after a while that you realise she's shot against a blue screen, that there's probably a fan blowing her hair, and the constructed nature of the image is exposed. I was drawing a parallel in the soundtrack where there's a similar construction demonstrating the artifice of cinema: the sentence, "A famous filmmaker said 'Cinema is the history of men filming women'", is repeated 22 times, as the 12 words are rearranged.
I was interested in the strangely subtle shifts of meaning in language. I used a synthetic voice in order to demonstrate the emotional qualities to be found in computer-generated voices. The sampled voices weren't without emotion, and I wanted to know whether we listen differently according to whether it's a male or female synthesised voice. I found the sound of the computer voice quite mesmerising, and the looped image of the woman was quite mesmerising as well. It sets up a strange conflict—even while we intellectually critique the blonde woman selling us a product, shampoo or a camera, we're still drawn in by the gesture of the image.
In Contemporary Case Studies: An unromantic comedy, I wanted to work with performers again, in a proper studio, construct an ambitious mise en scène, construct a stage design. I wanted the artificial look of showrooms. Contemporary Case Studies is a showroom of emotions where each section of the film contrasts documentary, fictional and experimental genres in a very artificial, highly stylised space to cut out any attempt to read it naturalistically. The non-professional actors' performances allow for ambiguous readings. I'm responding to the world, to texts, to media, or following models like language lessons (Making Out in Japan, 1996) and then playing with structures. Purely working with the visual quality has never been enough. My work is often included in mainstream festivals—they actually want new forms in Edinburgh and New York. Australian audiences don't get a chance to see new work due to lack of distribution, with the exception of SBS.
Both these activities give me a way of working with other people. Through my titling work I can stay abreast with new technologies, work with other directors, and participate in the mainstream industry. The program I recently curated (Eye for Idea for Finland and Berlin) featured work by women filmmakers from the late 80s and early 90s crucial in making Australian cinema known (eg Jackie Farkas's Illustrated Auschwitz). Coming after the feminist essay and documentary films of the 70s, these short, formally challenging films have won awards all over the world, but are already lost to viewers here. They play with the formal qualities of cinema and extend it to critique social, political and gender issues—a very different avant garde from the Ubu group in the 60s who were parodying or making purely aesthetic experimentations. Meaning can be communicated through the image—the current state of filmmaking treats the image as the window and not the producer of meaning.
RealTime issue #49 June-July 2002 pg. 13
© Cassi Plate; for permission to reproduce apply to realtime@realtimearts.net