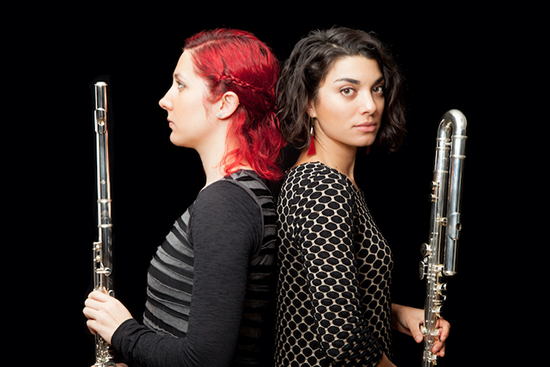 image courtesy Judith Wright Centre of Contemporary Arts
Hannah Reardon-Smith, Jodi Rottle, Kupka's Piano
Kupka's Piano perform four works in an all Chris Dench show: two solo works from when London-born Dench was in Europe in the 1980s and two recent ensemble pieces written since his move to Australia in the mid-90s.
The performing space has been reworked for the night, the usual sound-deadening curtains drawn back to reveal an old roller door and hipster brick. Gives the room a bit more bounce and reverb. Dench and the other "complexists" (Ferneyhough, Finnissy, Barrett, etc) often layer highly complex individual parts into dense textures. One can listen for the individual lines but also listen to all that activity as a sonic mass. By setting up a livelier space Kupka's Piano let the room acoustic subtly impose itself on each instrument in support of the "sound mass" interpretation of Dench's work.
The first work is Flux (2016), specifically written for Kupka's Piano and premiering tonight with composer attending. Flux beautifully illustrates the tension between individual line and ensemble coherence. It is as though the instruments each express their own agency yet somehow coalesce their individuality into periods of profound cooperation. Throughout there is a sense of anticipation, instruments waiting for a cue or maybe their own need for expression, and then bursting into action when the time is right. I think of summer, bobbing in the water with dozens of others, singular in our thoughts as we wait for that perfect wave. And when the perfect wave comes, we ride the wave together, each in our own way.
The other large piece, eigenmomenta (2001), makes more use of massive, warm and embracing bass sonorities and, rather than the individual agency of Flux, I hear lots of follow-the-leader as parts begin on one instrument to be picked up and elaborated by the others.
photo courtesy Judith Wright Centre of Contemporary Arts
Chris Dench
For many, eigenmomenta and Flux (and the "new complexity" works generally) are the definition of rhythmically fiendish, yet I'm bouncing in time with the conductor so the musical pulse is clear. The performers are also nodding their bodies so maybe the difficulty of the work—see the scores on Dench's website for examples—leads the performers to signal a strong pulse for themselves and each other as a deliberate performance strategy. There is no doubt that any underlying complexity is in complete service to a musical purpose deep with feeling.
Vier Sarmstädter Aphorismen (1989), four short and very lovely pieces for flute, was written when Dench was living in Europe. Shared between two performers, the works stretch and repeat fragments into longer lines. The mood shifts from pastoral lyricism to melancholic interiority, the tone of the performers rich and subtle. Masterful writing and a showcase for Dench's fondness for flute. A perfect contrast to the works for full ensemble.
Sometimes reviewing a concert can be a drag—maybe the work is just not that interesting, or the performances not that good and it is hard to think of anything to say. But sometimes reviewing is difficult because the concert is such a pleasure that I really don't want to be listening-to-write, I just want to sit back and enjoy the unfolding moment. This was that sort of concert.
–
Kupka's Piano: Singular Vectors: A Chris Dench portrait concert, performers: flutes Hannah Reardon-Smith, Jodie Rottle, clarinets Macarthur Clough, violin Lachlan O'Donnell, cello Katherine Philp, percussion Angus Wilson, piano Alex Raineri; Judith Wright Centre of Contemporary Arts, Brisbane, 2 Dec
RealTime issue #136 Dec-Jan 2016
© Greg Hooper; for permission to reproduce apply to realtime@realtimearts.net