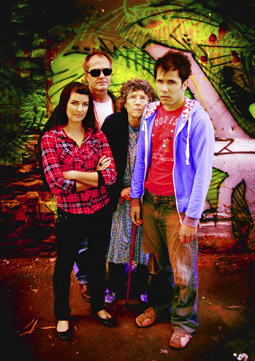 photo Francesco
The Yum Yum Room, The Professional Collective, Stephen House second from left
"I CAN'T AVOID IT. MY HISTORY AND BACKGROUND DRIVES MY WRITING", SAYS ADELAIDE-BASED PLAYWRIGHT STEPHEN HOUSE ABOUT HIS WORKING CLASS ORIGINS, LEAVING SCHOOL AT 14 TO WORK IN A FACTORY. WITH LITTLE EXPERIENCE OF THEATRE UNTIL HIS 20S, HOUSE BELIEVES THAT, 15 PLAYS DOWN THE TRACK, HIS WRITING EMERGED FROM HIS STORY-TELLING ABILITIES RATHER THAN ANY INHERENT SENSE OF DRAMATIC STRUCTURE. WHATEVER HIS BEGINNINGS, HOUSE HAS BECOME ONE OF THOSE RARITIES IN AUSTRALIAN THEATRE, A PLAYWRIGHT NEVER SHORT OF WORK.
The stuff of his writing, House thinks, is "the theatre of hanging out on the streets" and "having a keen ear for the way people are and speak." Theatrical influences have been few, save Tennessee Williams after the young labourer and part-time waiter found himself at a production of The Glass Menagerie, "tears streaming down my face. Then I devoured every play he'd written." House didn't go on to emulate Williams (although there's a poetic streak in the heightened realism of his dialogue), but he'd discovered the power of theatre.
House explains the chance way his playwriting began. "I used to chat with director Geoff Crowhurst at the Exeter Hotel about storytelling and how I was going to be a poet. He told me to see plays. I did, and did some acting, and I wrote Cracks in the Wall (1993). And he surprised me, said he was going to direct it. It packed out and got a good review!"
a life for the theatre
House had no problem finding subjects for his new passion. "I write about the underclass, the abused and the marginalised. I'm fascinated by stories of struggle and survival. I never thought of myself as a political writer until someone said, 'You're one of the most political writers I know because you represent in your plays an unrepresented part of the population.' There are some middle class characters in my more recent plays but I drag them down to a place of survival."
It's not simply a matter of observation; House says that some of his own life has found its way into plays like Miss Blossom Callahann (2006, adapted for the stage from an earlier radio play) and Vin (2005, commissioned and premiered by Jigsaw Theatre Company, Canberra). Miss Blossom Callahann is a grim, fast-paced account of a desperate hour or so in the lives of an ageing prostitute and two men driven by the need for money that will buy alcohol and junk and fuel dreams of unlikely escape. Empathy is pretty much out of the question but you get to know the deficiencies and rationales that drive these lives. In Vin, House also pushes his young characters towards despair but, with great subtlety, allows them to work through it to the beginnings of maturity, understanding the world and themselves as more complex than imagined. It's a lesson in empathy, for the characters and audience, without ever being didactic and, for a play written for young audiences, wonderfully adult. The dialogue is spare, but equally rich and the dramatic structure assured.
community commissions
House never planned a playwrighting career. It happened, he says, "because other people saw something in my work. The strength came from the audience." A rush of plays ensued including many commissions. "A surprising turn in the last five to six years is being commissioned to write in response to certain issues. It's like being handed a puzzle. The Yum Yum Room, emerged from a talk House gave in Mount Gambier about theatre for social change. A council health worker approached him to discuss the high rate of youth suicide in the region and soon the writing of a play was funded by the City of Mount Gambier Council. Out of that came a production managed, directed and performed in by House, opening in Mount Gambier, playing soon at the 2009 Come Out festival and then in Whyalla. But this is no simple touring production. House has created a distinctive model for working with communities.
"I live in your community, I research, I hang out. In Mount Gambier I spoke with a couple of hundred people. I ran workshops. I have a box there where people can leave anonymous statements. In three months I have a first draft which will be close to the finished play." The play got a strong response in Mount Gambier ("eight sold-out shows and seven high schools") and, for Whyalla, has been funded by Country Health SA with support from Country Arts SA in a co-production with local company D Faces of Youth Art.
Other than his own role, House cast the Mount Gambier production locally: "I don't want to bring in an elite group of city artists. In every community there are talented artists." When he goes to Whyalla, he'll again use locals, working three days a week with them over a seven week period. For Come Out he's cast Adelaide professionals.
House thinks the totality of the model he's developed is ideal for non-arts organisations, with its direct community engagement and his own involvement, "which provides stability"—although he points out that he'll get a director in for a production if needed. Ticket sales for Whyalla, he says, are already strong, and his program also includes the mentoring of two young performers. His goal is for the community to own their version of the Yum Yum Room.
multimedia
Although House describes his income as low, he's happily been a full-time artist for many years. He's written radio plays for the ABC and for local radio and he's had three commissions for text and image exhibitions. For the City of West Torrens, House took photographs of locals and "recorded and reconstructed their words into poetic form." For Whyalla, "my floor is currently covered with studies of 30 people for a public art show." He's also just finished recording readings of his poetry to accompany images from a trip to India. The photographs will appear on plasma screens in the Adelaide Festival Centre foyer as part of the 2009 OzAsia Festival. House is in love with making multimedia work, "because of what it reveals about the artist's process", and with public art, because it's free.
india
I ask Stephen House why he went to India. He declares his interest in its antiquity, its spirituality, its emerging power and the irony of poverty juxtaposed with new wealth. An Asialink grant allowed him to vist India for two months, which he extended to six across 2007-08 (save for a quick trip home to direct a play he'd written for Hepatitis Australia). He largely based himself in northern India "at the holiest of sites" and came home "so thin, people would not mention it." The OzAsia commission is the first outcome of the Asialink visit, the next will be his first novel, a third of it set in India. House will return to India later this year and live in an ashram.
the yum yum room
The Yum Yum Room focuses on the tense relationship between a dope smoking 14-year-old, Tom, who wants to drop out of school and become a DJ, and his disapproving father. House didn't want to write a play directly about suicide. He didn't even want to use the word 'suicide' in it. It would be a play, he decided, "about young people in the same way that Vin is about them, not about drugs…and it transcends sex." He wanted to write "a finely tuned theatrical experience", focused on "how 14-year-old Tom can or cannot talk to people, including his father."
As a single parent, House again drew on his own experience. The Yum Yum Room, he says, is about "the young person in the here and now." True to the immediacy of his writing, there's no dwelling on history or back story. A particular focus is on the relationship between generations; one of the characters is an 80-year-old. "Sometimes we miss it: I try to jolt the generation thing into reality." The bottom line of the play, however, remains suicide, and the puzzle the commission handed House is how to deal with it without being didactic, how to address what might prevent suicide. So, The Yum Yum Room "is about finding someone to talk to, anyone. It's like providing a range of options."
The challenge of writing for commissions with a social purpose, House feels, is "having to honour so much: drugs, sex, single parenting, crime, being ashamed of bad parents…You put all of them in a mixmaster, take the mix out and flick it lightly over the page, rather than smear it on." And above all, there's the dialogue: "You need to make language beautiful." It's a distillation of the voices House hears in communities and on the street. "It's the language that makes you think."
From his continuing career as a playwright, Stephen House has generated an entirely unanticipated life as a full-time artist, integrating into it multimedia work, production, direction and literary exploits. On the way are a new radio play, the OzAsia commission, the publication of The Yum Yum Room, projects with communities in the Riverland and Kangaroo Island, a possible project with young Aboriginal and African men, and a production of Vin in the USA. Hail the jobbing playwright!
Come Out 2009: The Professional Collective, The Yum Yum Room, writer, director Stephen House, performers Jamie Harding, Justine Henschke, Stephen House, Chrissie Page, original sound Neumeria, originally commissioned by City of Mount Gambier; Adelaide, May 26-29
RealTime issue #90 April-May 2009 pg. 20
© Keith Gallasch; for permission to reproduce apply to realtime@realtimearts.net