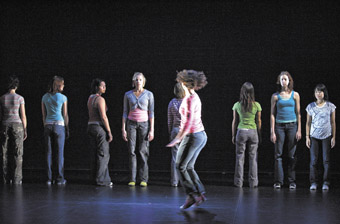 photo Jon Green
LINK Dance Company Production, Oscillate, Mountains Never Meet, choreographed by Martin del Amo
DANCE GRADUATES FROM AUSTRALIA'S TERTIARY COURSES ARE POSSIBLY MORE PREPARED THAN THEY HAVE EVER BEEN FOR THE REALITIES OF THE WORKING WORLD. TERTIARY COURSE LEADERS, DRIVEN BY EVER TIGHTER BUREAUCRATIC RESTRICTIONS, ARE FOCUSED UPON DELIVERING STRONG EMPLOYMENT STATISTICS AND INDUSTRY STAKEHOLDERS, SUCH AS FUNDERS, COMPANIES AND CHOREOGRAPHIC CENTRES, ARE KEEN TO CHANNEL YOUNG TALENT INTO A DIVERSITY OF CAREERS.
waapa
All the major institutions share a focus on improving the interface with the professional world. At Edith Cowan University's Western Australian Academy of Performing Arts (WAAPA) Nanette Hassall, coordinator and senior lecturer, says, "We have tried to develop a number of different 'pathways' for students beyond graduation. We spend considerable time in the last year of both Diploma and BA courses to facilitate transition. In the BA there are opportunities for performance overseas and third years take secondments and industry placements here and overseas. Related classes examine the industry in Australia and specific opportunities for graduates. Students choreograph a public season and work with media students to produce a high quality online bio. There are units in both courses that cover dance teaching methods. Units enable students, with some additional training, to engage in allied health areas, particularly yoga and Pilates. BA students can move directly or at a later stage into the one year Graduate Diploma of Education at Edith Cowan University."
qut
This focus upon a diversity of career outcomes is common, with strong results for non-performance careers. At Queensland University of Technology (QUT), discipline leader Shaaron Boughen says, "We have a very good rate of success in placing our dance education graduates: 95-100%. Performance focused students can take at least 12 months to transition into full time work. The percentage fluctuates from 60-75% going into performance jobs, 15-20% into postgraduate study and the remainder into private studio teaching and other areas of the industry. Our 2008 intake into the Dance Education strand of the Bachelor of Fine Arts is the first year to experience training for three years in a vocationally focused dance degree. We have increased performance opportunities for our Education students and offer a broader range of dance genre and style training to better prepare them for dance teaching in high schools. Their curriculum studies are offered intensively in a fourth year as a Graduate Diploma. We are always updating and adjusting our course offerings in response to industry and student needs."
Reinforcing this emphasis on diversity, Julie Dyson, National Director of Ausdance, noticed upon a recent visit to Queensland, "QUT dance graduates working as social workers and in police departments."
vca
At Melbourne's Victorian College of the Arts (VCA), head of school Jenny Kinder says, "VCA students are supported in a variety of ways to face the inevitable uncertainties of a dance career. Recent curriculum changes have focused on career sustainability. Subjects such as Performance Management include improved training strategies which embrace dance science as well as performance psychology, injury prevention and management. A huge advantage for VCA students is the vibrant Melbourne dance scene and the involvement of practicing dance artists such Rebecca Hilton, Phillip Adams, Carlee Mellow, Gerard Van Dyck, Linda Sastradipradja as teachers and/or choreographers in the program. Bedrocks, a VCA-wide transition program, assists graduating students to kick start their careers as independent artists. Graduating dance students are also supported through ongoing training in their first year out."
adelaide centre for the arts
The incorporation of practicing professionals into the teaching cadre is a strength of institutions where the focus is upon performance. Sally Collard-Gentle at Adelaide's Centre for the Arts, says, "The Bachelor of Dance Performance trains dancers for a wide range of settings, including theatre, independent production, film and television industries. The thrust is professional training with dance industry elite choreographers. Teaching staff are sourced from national and international dance companies and have a minimum of seven years professional experience. Industry plays an active part in the evaluation of technique, training and production performance."
link dance company
The last word in preparation for a performance career in Australia is WAAPA's LINK dance company, which simulates the professional performance career within the university setting and includes dancers from most of the national undergraduate courses. Michael Whaites, Artistic Director of LINK says, "All 2007 dancers from LINK are currently working in the industry. I am constantly seeking new ways to give the dancers real experiences in the industry and the confidence to steer their careers proactively. Two initiatives for 2008 extend our scope. The dancer in residence program employs an experienced professional dancer to join the company for a season. Students observe real world studio practice, extend their networks and discuss the realities of being a freelance artist. The Room To Move project offers local choreographers space and time with the company to research and develop ideas without production pressure. In 2008 we are working with nine choreographers. We are about to do a workshop in Amsterdam, a residency at Rosas in Brussels, perform at Laban in London, and possibly in Berlin."
ql2
Outside the universities, institutions such as QL2, the former Choreographic Centre in Canberra, have a range of projects for graduates and graduating students. Soft Landing is an annual program preparing graduates for professional practice. In 2007 Solon Ulbrich worked with 11 graduates to produce a showing in the theatre and a forum with audiences. Soft Landing 2 in 2009 will culminate in a site specific season with choreographer Brian Lucas at the National Gallery of Australia.
QL2 also offers the On Course program for current tertiary students, primarily ex-Quantum Leap youth group members, to develop their choreographic ideas in a supportive environment and present work to Canberra audiences. In their Visiting Dancer program, tertiary students and interstate dancers work in a QL2 project and secondments enable students to join Quantum Leap projects in supporting roles.
dancehouse
At Melbourne's Dancehouse there are a range of opportunities for graduates, including the annual open presentation season, Coming Out! and Learning Curve, the mentoring residency that gives graduates the opportunity to work with an established choreographer. In 2008 15 graduates worked with Russell Dumas and Dancehouse is currently considering opening the program up to include a mix of graduates with established and mid-career artists. Dancehouse also offers Summer, Winter and Spring Training Intensives, two weeks of classes for professional and advanced dancers, which include recent graduates.
ausdance
Ausdance offices around Australia engage with graduating dancers in space initiatives, presentation platforms and projects such as Dance Week. Ausdance works with the Tertiary Dance Council of Australia to present the biennial Options festival of career options for graduates and last year facilitated a joint meeting between the Tertiary Dance Council of Australia (TDCA) and artistic directors to encourage dialogue and joint projects.
company support
Regularly funded contemporary dance companies offer a range of secondments to graduating students. Lucy Guerin Inc and Force Majeure accommodate around 30 per annum, Chunky Move between 50 and 60. Generally companies report positive experiences. Larger institutions such as WA Ballet with its Young Dancer program encourage young talent but emphasise the dwindling number of full-time dancer positions and the growth of the independent sector. While many course leaders cite prestigious alumni lists in companies across Australia and internationally, there is another trend in the opposite direction, which finds mid-career and mature artists returning to university to acquire new skills to supplement their performance and choreographic careers.
a creative australia
On a positive note, A Creative Australia, the Rudd Government's new $6.6 million fund for young and emerging artists, supports companies to offset the income that would otherwise be earned from presenting better known or more commercial works; projects that support young and emerging artists in developing professional skills, expertise and networking; and projects that engage young artists and audiences.
RealTime issue #86 Aug-Sept 2008 pg. 31
© Sophie Travers; for permission to reproduce apply to realtime@realtimearts.net