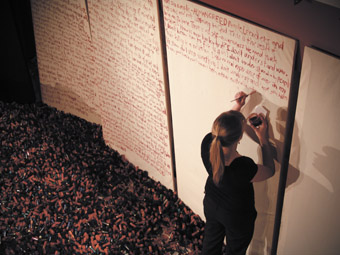 photo Sharka Bosakova
Rebecca Cunningham, 1 litre of Blood, 1000kgs of Bullets
OVER THE LAST DECADE THERE HAVE BEEN A RANGE OF POLICY INITIATIVES TO SUPPORT YOUNG AND EMERGING ARTISTS TO DEVELOP INNOVATIVE PRACTICE, FOR EXAMPLE THE DEDICATED FUNDING CATEGORIES AT THE AUSTRALIA COUNCIL AND MENTORING SCHEMES SUCH AS YOUTH ARTS QUEENSLAND'S SPARK PROGRAM. WHAT APPEARS UNEXAMINED IN THIS FOCUS ON ARTIST EMERGENCE IS THE UNIVERSITY SECTOR, FROM WHICH MANY OF THESE YOUNG ARTISTS BEGIN THEIR CAREERS. SUPPORT PROGRAMS FROM FUNDING BODIES OFFER PATHWAYS INTO PROFESSIONAL PRACTICE, BUT HOW DO YOUNG ARTISTS FIND THEIR WAY TOWARDS THESE PATHWAYS IN THE FIRST PLACE? WHAT ROUTES DO PERFORMANCE GRADUATES TAKE FROM UNIVERSITY STUDY TO PROFESSIONAL PRACTICE, AND WHAT STRATEGIES HAVE UNIVERSITIES ADOPTED TO ASSIST THEIR GRADUATES TO PREPARE FOR AND MANAGE THIS TRANSITION?
the university of wollongong
Professor Sarah Miller, Head of the School of Music and Drama at the University of Wollongong, is understandably cautious about employment prospects in the arts: "The way we think about it is that it is a flexible job market." Despite this, in her view Wollongong graduates have had a very good retention rate in the arts, though not only as performing artists. Miller concedes that her school needs to better monitor graduate career pathways, but she is also attempting to involve graduates more thoroughly in the ongoing life of the school, using their career trajectories to inspire students about future possibilities. Miller stresses the importance of fostering artist self-reliance among Wollongong students: "Survival as an artist requires tenacity and commitment as well as onstage flair. We hope we're not training actors to wait for the phone to ring."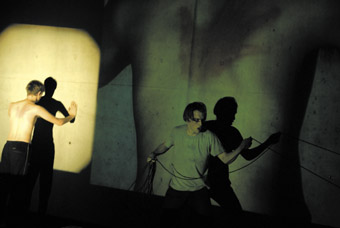 photo Heidrun Löhr
Team Mess, Killing Don
One of the strategies to achieve this is to include within coursework the submission of mock applications to the Theatre Board's Young and Emerging category and to the Next Wave Festival. Malcolm Whittaker of Team Mess, a performance group of recent Wollongong graduates who recently completed a residency at Performance Space, described this as an invaluable process, involving as it did "writing something that you might very well use the next year." For Whittaker, this early grounding in the reality of professional life "widened the possibilities of arts practice, and also showed how this might be realised in the professional world." As the school's staff includes several former peer assessors from funding bodies, feedback from these trial applications is of immediate value as professional development. Strong linkages with Illawarra Performing Arts Centre, and the professional profiles and connections of teaching staff (including Tim Maddock, Margaret Hamilton, Janys Hayes and Chris Ryan) combine to give students a strong grounding in a wide range of contemporary performance practice. As Miller points out, "We want to make the pathways that are already out there able to be accessed."
james cook university
At James Cook University Cairns, Russell Milledge is highly conscious of the need to prepare students for the challenges of professional practice. A new degree in Media and Performance, offered for the first time in 2009, promises to be "practice-integrated" and to "harness the strong history of artistic innovation in far north Queensland." For Milledge, this program intends to produce graduates who "have already been inducted into the contemporary arts arena" through formal partnerships between the university and professional performance companies such as JUTE Theatre, KickArts, End Credits and Bonemap. Additionally, Cairns' annual hybrid arts festival, On Edge, will link into the degree program, providing both a vehicle for coursework and a pathway for graduate practice.
queensland university of technology
For Zane Trow, Associate Professor of Performance Studies at QUT's Creative Industries Faculty, "contemporary performance in Australia is a misunderstood and much-attacked beast." Preparing students to pursue a career in this field clearly has many challenges. "We want to empower them to know their way around at least the initial stages of the maze, to demonstrate to them that it is possible to make this work in the world." This process involves training students to clearly articulate their own practice and the core concerns animating it, and also to articulate how this practice might fit within the field and policy frameworks. Not simply seeing the artist as a small business, this approach examines how artists have been able to survive and continue producing radical work. Involving case studies and performance projects, the approach Trow describes is as much philosophical as practical, aiming to produce graduates with that rare combination of "project management skills and critical thinking." In recent years these have included live artist Rebecca Cunningham, Brisbane Festival's Under the Radar associate producer Fiona MacDonald, and Indigenous installation and performance artist Alicia Jones.
Trow regards as one of the program's greatest strengths its practice-led postgraduate research, in which "serious mid-career artists" return to the university to produce "both excellent performances and exciting research." For Trow, the presence of strong practice-led research within QUT further enriches the exposure of undergraduates to possible career pathways.
flinders drama centre
For Anne Thompson, Head of Flinders Drama Centre (and co-director of Melbourne's Eleventh Hour Theatre), producing artists who can be self-starters is essential. As well as teaching students artistic skills, Flinders aims to prepare students for professional practice by "encouraging all students to work as conceptual as well as interpretive artists and develop skills in creating, producing, and marketing their own work." As Thompson states, coursework introduces students to "contemporary arts practice and thinking", making them "well versed in film, video, TV and live performance so they can cross effectively between these."
Professional connections are brokered with local industry representatives through audition workshops, and also through meeting graduates who have set up their own companies, the most recent guests being Sam Haren and The Border Project (appearing soon in the Sydney Theatre Company's Wharf2Loud series). Keeping abreast of current opportunities is critical as "the job market morphs in relation to previous graduates' successes, new people in positions, new funding opportunities and the interests and energies of graduates."
Thompson stresses the importance of developing dialogue with funding bodies, with students not only introduced to grant writing but also meeting with Arts SA staff and local arts companies. Thompson also notes that Flinders "offers space and facilities to graduates" and "whenever possible we offer space to companies and individual artists to work on site", creating the possibility for student secondments with artists in residence.
victorian college of the arts
Head of VCA's School of Drama, University of Melbourne, Richard Murphet makes it clear to his students that "the future for theatre is kind of a lean one" and that they "can't just sit around waiting for the agent. Gotta get up, gotta get moving and that's the best way to get visible." Much of VCA's coursework focuses on equipping students with professional skills (including occupational health and safety, arts law and basic business skills) that will enable them to make their own work. VCA's combination of directors, animateurs, actors, writers and technical production means that students can collaborate and "get a feel for people that they can work with."
Perhaps unsurprisingly, many of Melbourne's exciting small companies are effectively teams of VCA graduates, including The Hayloft Project, Stuck Pigs Squealing, and Ranters. Students are also introduced to professional networks, including unions, producers, agents and casting directors, making the available pathways "very real for them", and preparing them for the challenges ahead. Past graduates remain in close contact and are "constantly working in the studio spaces and coming in for advice." Murphet feels that this ongoing connection is an essential part of VCA's culture, believing that "it's very important that we don't just leave them at the end of three years."
Despite limited resources for both arts practice and arts education, there is clearly an exciting blend of energy and pragmatism within university performance programs. The pathways that graduates take from university to professional arts practice are diverse, but it is heartening that university programs regard these issues of artist emergence as pivotal and are actively preparing their students to manage this transition. Heartening also is the recognition of the need to maintain contact with graduates, both to offer mentoring possibilities and to inspire current students with an expanded sense of available opportunities. The flourishing of young, innovative performance groups across Australia over recent years is a sure indication of the success of these initiatives.
RealTime issue #86 Aug-Sept 2008 pg. 2-3
© David Williams; for permission to reproduce apply to realtime@realtimearts.net