Phoxai Pholsavatdy (South Australian School of Art student), Untitled, constructed print [2006]
"AUSTRALIA'S VISUAL ARTISTS DOUBLE IN NUMBERS." THIS WAS THE BLUNT HEADLINE OF AN AUSTRALIAN BUREAU OF STATISTICS MEDIA RELEASE ANNOUNCING THE FINDINGS OF THEIR APRIL 2007 STUDY WORK IN SELECTED CULTURE AND LEISURE ACTIVITIES. THE 2006 CENSUS, ON THE OTHER HAND, INDICATED A DECLINE IN THE NUMBER OF INDIVIDUALS WHO IDENTIFY THEIR MAIN OCCUPATION AS VISUAL ARTIST. LOOKING AT THE VARIETY OF STATISTICS THAT ARE REGULARLY ROLLED OUT IN DISCUSSIONS OF THE CULTURAL SECTOR, IT QUICKLY BECOMES CLEAR THAT THERE IS A LOT OF INCONSISTENCY AND UNCERTAINTY SURROUNDING THE DATA—DIFFERENT QUESTIONS GENERATE DIFFERENT RESULTS.
The confusion increases even further when we begin to consider the nature of the job market in the visual arts. For while it is clear that the number and range of jobs in the sector has increased over the last few decades—as a result of significant development in the visual arts infrastructure—the impact of this on the nature of employment as a visual art practitioner is less clear. Just what does it mean to talk about 'the job market' in the visual arts? As my brief survey of some half a dozen art schools demonstrated, it all depends on how you understand the job of being an artist.
"If it is to be considered as an employee/employer relationship", says Victorian College of the Arts (VCA) Head of School, Su Baker, "I think the 'job' concept is not helpful." Artists, she suggests, are more "like entrepreneurs setting up new companies or projects…more like primary producers than industrial workers." In this context, they function as sole traders or small businesses. "Most fine artists would be termed micro businesses", says Queensland College of Art's (QCA) director Paul Cleveland.
Some institutions—like QCA and the University of Tasmania's School of Art (UTAS)—identified a distinct difference in the employment prospects for fine art students when compared with those graduating in fields such as design or photography, or even the broader field of 'visual communication.' While opportunities for employment in these latter fields are identified as being generally strong, as Noel Frankham of UTAS put it, there are "few jobs as artist." Amanda Lawson, Dean of Arts at University of Wollongong, takes a similar position, noting "very few of our graduates will go into full-time art practice." However, opportunities are seen to improve for those who undertake further studies in areas such as teaching or arts administration.
"I don't think the job market in Australia has ever been strong for artists", says Edith Cowan University's Clive Barstow, who also notes that "industries that employ people for their creativity are relatively limited in comparison to the USA and Europe."
But the view that the employment market for art school graduates remains weak is countered by others. Jan Davis of Southern Cross University takes the view "that it is stronger than it has ever been for our graduates." RMIT's Elizabeth Grierson places art school graduates firmly within the booming creative economy: "The job market for creative innovative knowledge workers—which includes art graduates—is extremely strong. The old idea of the artist only working to produce paintings or sculpture et al and exhibit in galleries is now superceded by a wider spread of possibilities for art graduates. The marketplace is not a 'means-end' site of art labour. This 19th and early 20th century idea has passed and with it we witness the reinvention of the marketplace and new possibilities for art graduates to be productive leaders in the cultural knowledge field."
Such a position involves a rethink of what might be involved in an artist's career, and perhaps also how artists might define their occupation. Certainly, it suggests that artists may now be far less likely to describe themselves by way of a single medium or mode of practice.
As Su Baker points out, in the period immediately after graduation artists may "work at a number of jobs to get their careers started", but this mix of jobs might well continue, with artists developing a "portfolio approach to their earning capacity." Thus, artists may well find that their career involves undertaking work within a number of different occupational categories at the same time. This notion of the 'portfolio career'—a term coined by Charles Handy in the early 1990s—is now seen as an increasingly important trend in employment generally. As Jan Davis notes, "I think that other fields of employment are becoming more like the arts (in terms of short term project employment etc)."
One further possibility is that the 'portfolio career' of many artists might not only be structured around earning capacity. Instead, it involves a mix of professional activities not all of which are focussed on income generation. In this respect, it may well be that much primary art making activity—particularly for emerging artists, but also for many more established artists—is actually cross-subsidised by other income earning activity, which may, or may not be arts based.
Significantly, many professional development activities undertaken by students and emerging artists are voluntary or not-for-profit in nature. So while Kay Lawrence from the University of South Australia (UNISA) notes that the "job market is weak for visual arts graduates in South Australia", she also points out that "on the whole our graduates are pretty adept at making opportunities for themselves, setting up artist-run-spaces and galleries [and] art zines." What is less clear is how these activities translate into paid work. For example, it needs to be noted that many exhibition opportunities—in artist-run spaces, as well as contemporary art spaces and regional galleries—do not always generate an economically profitable outcome for artists. However, as Su Baker notes, "when you ask an artist how their work is going, or if they are working, they will take this as meaning their art work, even if it isn't making them any money."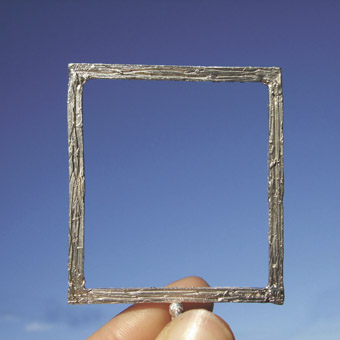 Helen Mok (Sydney College of the Arts student), A place to belong (blue sky), [2008]
Support for professional development activity is common across the arts schools, as is marketing and promotional support for graduate exhibitions and other activities and, increasingly, the development of programs that involve in-the-field experience. Some art schools, such as those in SCU, RMIT and UNISA, have developed specific internship programs. All the art schools who responded to our queries also offer courses in 'professional practice.' While these vary in their approach, most make use of material developed outside the university sector by service organisations such as the Arts Law Centre or the National Association for the Visual Arts (NAVA).
NAVA's range of information sheets on key issues in the visual arts have been used extensively in the teaching of professional practice within art schools for well over a decade. About five years ago NAVA, working with the Australian Council of University Art and Design Schools (ACUADS), developed a model curriculum for professional practice units, which has been taken up to varying degrees by art colleges around the country. "Most art colleges draw from it, cherry picking what they need", says NAVA director Tamara Winikoff, "sometimes as part of studio practice, rather than as a separate unit."
However, this does not seem to have eliminated the demand for professional and business related information and training from either emerging or established artists. Part of the problem appears to be that the importance of business and professional skills and knowledge is not always apparent to students at the undergraduate level. "When artists are a few years older, they realise they do need it", says Winikoff. NAVA's most recent development in this area is a web portal focussing on professional arts information and exchange. The site—www.artistcareer.com.au—has been developed in partnership with the Australian Business Arts Foundation (AbaF).
In 2006 AbaF were allocated federal funding to deliver specialist business training to visual artists, with the objective of assisting them to "increase income from their art practice." Over the last 18 months some 1100 artists have participated in the program. According to AbaF CEO Jane Haley, the response to the program from artists has been very positive. However, she notes that discussions with representatives of some artist-run initiatives and contemporary art galleries have not always been so positive. "They took a fairly dismissive position regarding artists acquiring business information", says Haley, "They expressed the view that artists didn't want and didn't need the skills to be business people."
Such a position is in sharp contrast to the position that is increasingly being articulated from within Australia's art schools, although as Jane Haley notes, there have been limitations to the delivery of professional practice modules within university based visual arts programs. "We're meeting with artists five years out, and they just don't have the knowledge", she says.
But as these indicative comments from SCU's Jan Davis suggest, art schools do appear to be addressing the issue: "Our most recent review of the Bachelor of Visual Arts was centred around addressing issues of employability—in terms of embedding particular skills in the curriculum such as taxation and marketing knowledge, of increasing knowledge about the arts industry, but also of encouraging an increased level of professionalisation and awareness of the nature of employment in the arts."
RealTime issue #86 Aug-Sept 2008 pg. 44
© Peter Anderson; for permission to reproduce apply to realtime@realtimearts.net