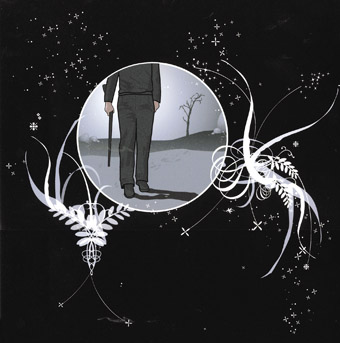 Phip Murray (RMIT Masters graduate), The Floating World (animation still), 2007
GIVEN THE HIGHLY COMPETITIVE CULTURE OF TERTIARY STUDIES, TRAINING INSTITUTIONS ARE HAVING TO LIFT THEIR GAME, EQUIPPING STUDENTS WITH SKILLS IN PROFESSIONAL PRACTICE AND TRACKING THE CAREER TRAJECTORIES OF GRADUATES. IN MEDIA ARTS, HOWEVER, MANY STUDENTS ARE ALREADY TECHNICALLY PROFICIENT, SOME ARE LIKELY TO HAVE BEEN OR ARE CURRENTLY EMPLOYED, IF PART-TIME, IN THE INDUSTRIES OF THEIR CHOOSING AND OTHERS ARE ALREADY INNOVATORS AND MIGHT EVEN HAVE THEIR OWN BUSINESSES. ABOVE ALL, THEY ARE NETWORKED. THEREFORE, INSTITUTIONS NEED TO RE-ASSESS THE ROLE OF PROFESSIONAL PRACTICE COURSES AND WORK EXPERIENCE, JUXTAPOSING THESE WITH STRATEGIES RELEVANT TO THE SKILLS, NETWORKS AND PROSPECTS OF THEIR STUDENTS.
rmit
Ian Haig, Lecturer in Media Arts at RMIT, believes that professional practice schemes have lost their formality, and that students now instigate their own projects and networks whilst at university. He comments, "Media art is constantly in a state of flux and is quite malleable, students must be entrepreneurial, and it's difficult for institutions to teach this. Students tend to carve out a living on freelance projects that have developed through networks within the industry."
Seen as a highly successful program in its day, an RMIT professional practice program simply titled 'Internships' was once offered to undergraduate media art students. Each class was conducted by an industry professional across disciplines such as animation, gaming and sound. Now internships are negotiated in an informal way but are often salaried and invaluable in forming long-term networks with media arts organizations and companies.
murdoch university
Mark Cypher, Senior Lecturer and Program Chair for Interactive Digital Design and Game Art and Design at Murdoch University believes it is far more useful to teach first year students strategies for self-learning. From first year, students are encouraged to learn the software themselves. Cypher argues that "there is no point in teaching students how to use Flash, for example, when by the time they graduate the scripting language is redundant. It is seen as a far more useful technique to teach students strategies for self-learning…Being aware and intrinsically motivated to learn about innovation is just a fact of life. What other option is there?"
Internet spaces such as Facebook, YouTube and MySpace offer students an easy and accessible way to negotiate marketing and management opportunities. Cypher believes that "once an artist gets enough people interested in their work and it's posted on enough blogs, the work becomes viral. Curators will then see it and the artists will be invited to exhibit or pitch for a job." In terms of university training, 'real world' units involving client projects (basically project management), are core units for the Media Art courses at Murdoch. Cypher then takes this one step further by "offering lectures on how to get the best 'sponsorship licence' for your Flash web and mobile games. The market for new forms of media is changing quickly and for those students who are technically, aesthetically (and to use an old term) street savvy enough, there is a brave new media world to be leveraged to their advantage."
Cypher also believes there is a decreased need to offer meaningful in-the-field experience during media arts training within academic institutions. "Once upon a time students would jump at the chance to do volunteer or professional placement work to boost their CVs. But at the moment students are not interested in doing anything for free, nor are they interested in doing paid work." Interested employers often ring with work opportunities for students. Attempting to turn these opportunities into professional placement units Cypher often finds that students aren't interested. He suspects there are several complex reasons why this is happening: "Students may be burdened with uni work and feel that to take on anything extra would unbalance the situation. Some students are already in the field whilst going to uni. Some have expectations that work is easy to find and thus they can shop around for the right job! Most of my colleagues in the industry who are looking for applicants would agree that they are the ones being interviewed." There is also a rise in interest from students taking up double degrees, for example art and computer science. Nowadays it seems students are much more interested in jobs and double majors that increase specific skill sets and thus employability.
swinburne university
According to Darren Tofts, Chair of Media and Communications at Swinburne University, a high percentage of his students enter employment in media arts jobs such as radio production, animation and communications research. He says although not studio based, and focused much more on academic learning, Swinburne is committed to professional learning strategies, but similarly to RMIT and Murdoch University, Swinburne puts an emphasis on student-initiated professional practice. For example, graduate placement opportunities used to be negotiated by the faculty and only a selection of students could take up the opportunity. Now all students take up placement opportunities but must negotiate for themselves. This is done as part of the Industry Based Learning program (IBL) and Media Communications and Games and Interactivity postgraduate programs.
Swinburne also holds an annual presentation evening of students' work for graduates in the areas of sound, video, radio and communications. To add value to this event, Tofts is also committed to the introduction of an annual prize promoting to industry the quality of student work.
uts
At the University of Technology (UTS) in Sydney, students undertake production projects each semester. They can elect to participate in professional placements and are encouraged to develop their portfolio and publicly display their works throughout their study through events such as the biennial UTS Golden Eye Awards and other events and competitions. Gillian Leahy, Associate Professor and Program Director of Media Arts and Production at UTS, highlights the importance of collaboration: "All our students learn to work collaboratively and to take an idea through all stages into a completed media project which can be publicly exhibited in some way. Apart from the critical thinking and media skills they also learn, it is this ability to organise a project through all stages which makes them highly employable."
disciplinary mergers
New media arts courses and departments set up in the 1990s have not all enjoyed consistent support from their universities, and some have been shut down or merged with other departments. Martyn Jolly of the ANU School of Arts reports that the Australian National University's Centre for New Media Arts "was disestablished (in 2007), its teaching and research have been folded into the School of Art and a new department formed along with Photomedia, which I headed, so I now head the new Photography and Media Arts Department." The University of Sydney used to offer a Bachelor of Arts (Digital Technology and Culture). Now, says Chris Chesher, director of the Digital Cultures Program, "We offer an undergraduate major in the Arts degree from the Digital Cultures program in the School of Letters, Art and Media in the Faculty of Arts." But both Jolly and Chesher see advantages for their students in their multi-disciplinary departments, Chesher, like Mark Cypher, noting the attractiveness of the double degree.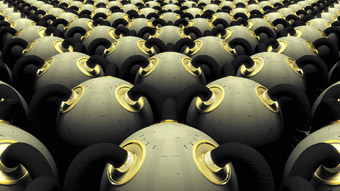 Michael Bongiorno (ANU graduate), PHOTON (animation stills)
anu school of art
Martyn Jolly reports that the Photography and Media Arts Department has developed a new Digital Media major which incorporates sound, networking, programming and physical computing along with video and animation in a single major. "We've just started with our first cohort of students, and we think the course is fairly unique in the Australian educational context. We have also just begun a Master of Visual Effects degree which focusses on the CG industry."
Students are encouraged to participate in exhibitions and performances, and the recording, publishing and performance of new media and time-based arts. The school offers hands-on work experience, in Canberra or interstate, for students in their final year. There's also a Professional Practice unit, which involves learning the basics of marketing, copyright and tax. Students are expected to go through the process of applying for a grant, including preparing a proposal, budgets, support letters from peers or host institutions and the preparation of support material. Martyn Jolly assesses the proposals as he would in his capacity as Chair of Arts ACT. The school's graduates go on to be filmmakers, animators, sound and new media artists and teachers or to set up their own businesses or go on to higher degrees, like the Master of New Media Arts. The school's staff includes composer and media artist Alistair Riddell.
university of sydney
Chris Chesher describes the Digital Cultures program as "something like a small department" within in the School of Letters, Art and Media in the Faculty of Arts. "We are an interdisciplinary, critical humanities program focused on relationships between information technologies and cultural change." As well as the Bachelor of Arts, the faculty offers the Master of Digital Communication and Culture degree as a one year full-time postgraduate coursework program, which is also available as Graduate Diploma and Graduate Certificate. Chesher reports that "Digital Cultures undergraduates tell us they have been surprised at the level of interest from employers…look[ing] for graduates who demonstrate an understanding of new technologies and their creative and strategic values, but also have the contextual knowledge of a broadly-based arts degree. In many places, this combination competes well against narrow specialism."
To this end, Chesher says that the program's teaching "focuses consistently on the social contexts of information technology, and therefore intersects with a wide range of traditions: in fine arts, media and popular culture, sociology, cultural studies, philosophy, history, and so on." Students can also select electives from Education, IT, Design Computing and also the Sydney College of the Arts.
Indicative of the push towards cross-disciplinary learning and practice, in 2009 the university is introducing a new program Bachelor of IT/Bachelor of Arts (BIT/BA). Chesher expects the degree to be very competitive, producing graduates with an even higher level of technical proficiency along with the breadth provided by the arts: "our strengths really lie in these areas of multi-skilling and the appreciation of innovation. Our newest postgraduate unit of study, Remixable Media, will be taught by Michela Ledwidge, a world leader in the field." (Ledwidge mixes extant film material, re-playing it like video games. In her VJ performances with films, she treats each like a musical instrument. See RT 87).
Clearly there has been a substantial shift in attitude towards work experience and professional practice course as necessary approaches to preparing students for their careers. While the older model still holds, extending to trial grant applications and increased public performance and exhibition, there are expectations that students will be (if not already) autonomous—self-learning, entrepreneurial and seriously multi-skilled. It is just as clear that university media arts departments are, equally, adapting to a new generation of students.
RealTime issue #86 Aug-Sept 2008 pg. 26
© Nina Stromqvist; for permission to reproduce apply to realtime@realtimearts.net