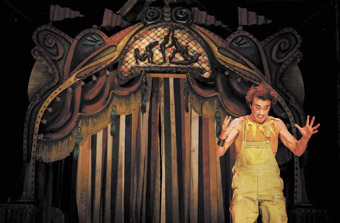 photo Lisa-Maree Williams, courtesy of NIDA
Josh McConville, The Servant of Two Masters
AN AMAZING 40% DECLINE IN THE NUMBER OF PEOPLE CALLING THEMSELVES 'ACTORS' BETWEEN THE AUSTRALIAN BUREAU OF STATISTICS' 2001 AND 2006 CENSUSES RAISES A FEW QUESTIONS. GIVEN THAT ACTING WOULD HAVE HAD TO BE THEIR 'MAIN JOB' IN THE WEEK BEFORE CENSUS NIGHT, IS THIS JUST A CASE OF THE 90% WHO WERE ACTUALLY WAITING ON TABLES OR DRIVING A TAXI THAT WEEK NOT HAVING THE CHUTZPAH TO INSIST THEY WERE STILL 'ACTORS'? OR HAS THE DRASTIC DECLINE IN FILM AND TV WORK OF THE LAST FEW YEARS ACTUALLY DRIVEN THEM RIGHT OUT OF THE PROFESSION? OR COULD IT EVEN BE THAT THE RELENTLESS ATTACKS BY GOVERNMENTS OF ALL ILKS ON THE 'ELITISM' OF ARTISTS HAS FORCED ALL BUT THE COURAGEOUS 1,213 WHO CALLED THEMSELVES ACTORS TO RE-IDENTIFY ELSEWHERE AS 'CULTURAL INDUSTRY WORKERS' OR 'VISUAL MERCHANDISERS'—WHATEVER THEY ARE? (BOTH OF THE LATTER CATEGORIES INCREASED, BY THE WAY.)
Another figure has to be considered, though. People still want to be artists. The recent Anticipating Change report for the Australia Council's Major Performing Arts (MPA) companies counted no fewer than 61,178 students studying to be artists of all sorts in 2005. Clearly many of them don't make it if the census figure the following year of only around 200,000 people in the whole country identifying as artists or their 'support workers' is accurate.
And with actors the most depressed group of all, one has to ask whether those optimistic students are being adequately prepared for a life that's not actually all about acting. A recent interview in The Australian with the new CEO of NIDA, Lynne Williams, saw her admitting that the almost 50-year-old institution needed to track down partners in creative industries to make their courses broader in the future. Williams also acknowledged changing 'performance contexts' within theatre itself.
Now NIDA has always marketed itself as 'the star factory'—the place that produced Mel and Judy and Our Cate. If they broaden their studies, will they become more like the 21-year-old Actors Centre (ACA) in Sydney which specialises in preparing its students for proactivity in the broadest sense, and less like the 16 year old Actors College of Theatre and Television (ACTT) which boldly says, "We take on people who want to be actors, and don't offer courses in management and marketing"?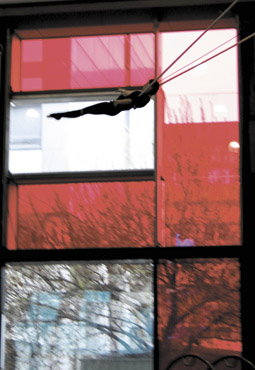 photo by Matt Woodruffe, courtesy of NICA
Catherine Clarke at NICA
So, where does that place Melbourne's eight-year-old National Institute of Circus Arts (NICA)? For one might argue that it has even more skills to impart than an acting school, yet still has a Business Studies teacher, still offers studies in corporate and community work, and allows its students to gain teaching experience on the job.
Could this be one reason why NICA was by far the most optimistic of the institutions about the employment of its graduates? Or is it just, as the institute's director Pamela Creed touted, "The spectacle just won't go away—we're looking at world-wide growth. Right at the moment it's in Macao's casinos, but it'll go from there into China"—a pretty confident statement about the nation with the greatest physical theatre on Earth!
NICA has the advantage of a recent survey of its five years of graduates, done at the behest of Swinburne University, of which NICA is a subsidiary. Forty-eight of 100 responded—a statistically significant figure, though it may just reflect the happiest of surveyees, for 95.3% of them have worked in their chosen profession since graduating and 86% were working at the time of the survey. This is partly proof of Creed's 'spectacle' factor—with demand from the Commonwealth Games and FINA in Melbourne, the Asian Games in Doha (employing 40 graduates) and Cirque du Soleil in Las Vegas etc. But it's also, says Creed, a reflection of the absolute need of a circus artist to maintain their physical skills, "They have to work."
Graduates also have to leave NICA with an ABN, insurance, a business plan and a company structure all worked out. And they'll already have had experience teaching up to 300 external students who come in for evening classes, and met up with participants in the Training of Trainers course for community circus teachers working across the country. Last year graduands presented Divino in the Melbourne International Arts Festival involving commedia, dance and a capella singing; this year they're turrning their hands to a digitally based work about the narcissism of circus artists on MySpace as a final production.
Graduating students at Sydney's ACTT may well also go out buoyed by the professional optimism that founding director Lesley Watson believes is associated with now having their own theatre to perform in. She's taken over Performance Space (now called the Cleveland Street Theatre) to both up the profile of her organisation and to give even more opportunities for "skill sharing between fresh young artists and experienced ones" invited in to mentor, develop projects and direct plays. NIDA directing students also come in to work with ACTT student actors, developing useful links for the future. And, in that future, Watson is hoping to start an ACTT graduate company to present plays professionally at Cleveland Street.
"Acting is less a job than a life commitment", Watson believes. "But students do need a career aesthetic—knowing where they want to work so that they can take charge and not be at the whims of the job market , whether it's writing, producing pub theatre, offering role-playing services or corporate training."
Both Watson and Dean Carey, founding Artistic Director of the Actors Centre, see positive signs of a recovery in both TV drama and the local film industry. "The death of Big Brother gives Channel 10 $30m a year to spend on drama", estimated a joyous Carey. "And that was reflected in the fact that agents didn't just come politely to our recent graduating class shows—they were actually taking people on!"
Just in case this doesn't all happen, ACA graduates have met up with casting directors, Equity reps, voice-over specialists, worked on their audition skills and at the Australian Film, Television & Radio School (AFTRS), taken away a CV on disk, a showreel and a folio of 8×10 shots, and are "ready to open their own business", says Carey. He's planning to add a weekend program on self-management for graduates and build up his new alumni page on ACA's website.
But of course, it's to NIDA that a company like the STC turns when they need eager young bodies for its production of Nigel Jamieson's Gallipoli. All 23 third years are involved and design and technical students regularly get attached to professional companies during their courses. "But there are so many different sorts of theatre", says Head of Acting, Tony Knight. "We can't aim everyone at the STC, especially as it's shrunk compared to film and TV. Aboriginal work in the Pilbara may be the dream—certainly no one wants to be 'The new Cate Blanchett'!—community service is drummed into them at school these days."
NIDA graduates might also utilise the institution's good links with other schools in the US, Europe and India. "We can introduce them to Bollywood", says Knight; "and Singapore's just invested $500m in its film industry. It's gone way beyond the David Williamson world today."
Which is not only true, but worrying those Major Performing Arts companies reliant on access to the cream of the Aussie crop. In fact, the 2006 Securing the Future report quite specifically noted that the MPA companies' financial stringency had squeezed out their role in skills development for artists. The 2007 increase in their base grants was the government's response. So the Anticipating Change report's discovery of "a mismatch between the growing number of cultural workers and the skill sets required by MPA organisations" suggests that the gap between sound tertiary training—especially in theatre—and the professional life should be filled by them.
Music already does it, says Tony Grybowski, the Australia Council for the Arts' MPA companies Executive Officer—with the Australian Youth Orchestra (which he used to run), Australian National Academy of Music (ANAM), the Sydney Symphonia, Australian Chamber Orchestra etc. "In theatre, somebody needs to be thinking about that gap, which is one reason why we commissioned the Anticipating Change report, to help MPA boards look 10-15 years ahead. It's unreasonable to expect the highest refined skills immediately out of training. And that's particularly true in the case of support areas like directing, design and tech-ing—there's such a shortage of them, graduates are snapped up straight away. But actors really do need more than self-funded theatre to develop."
RealTime issue #86 Aug-Sept 2008 pg. 4
© Jeremy Eccles; for permission to reproduce apply to realtime@realtimearts.net