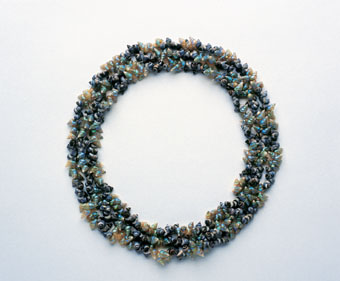 photo Peter Whyte
Lola Greeno, Maireener, 2003
Tasmanian Indigenous artist Lola Greeno is making her mark on the Australian art world, acclaimed for her tradition-based, finely crafted shell necklaces and bracelets, as well as the splendid fibre water containers and other objects that she makes from bull kelp. This large brown seaweed is found washed up on coastal Tasmania's beaches at certain times of the year. The fibrous material has been collected on a seasonal basis by Indigenous Tasmanians for a very long time and is well suited to making objects of both utilitarian and artistic significance.
Born in 1946, Lola acknowledges her mother, the late Val MacSween, as teaching her the closely guarded secret methods and relevant cultural knowledge of the Tasmanian Indigenous people associated with making these gracile necklaces and bracelets. There are strict rules associated with this pre-contact Tasmanian artistic practice and Greeno is observant of these, while at the same time showing a willingness to innovate within the parameters permitted: "Families usually design the shell necklaces and one must closely follow these [designs]. In my case, I re-create my mother's patterns. Today I am developing new designs to tell a story…for instance I have just finished a shell necklace that relates to the Cape Barren Goose, an original bird from my birth island. The water carriers have been a revival that I learned from a cultural workshop on the East Coast of Tasmania with a large group of women."
Today, Lola Greeno actively mentors the younger generation to ensure the continuation of this demanding artistic practice, where preparation of materials and fastidious attention to detail is paramount. Greeno's approach to her artistic practice is both visionary and generous. With characteristic altruism and humility, she sees herself as predominantly "…a Tasmanian Aboriginal woman interested in developing contemporary Aboriginal arts in Tasmania and providing opportunities for emerging artists to advance their skills and talent to assist them to another level or to be recognised nationally so they can become involved with Indigenous brothers and sisters across the land…I am also highly focussed on my cultural relaying of stories of importance to my daughter and grand children so that my heritage is recorded."
Part and parcel of Lola Greeno's approach is her emphasis on promoting greater awareness in the wider community about Indigenous intellectual and artistic copyright issues "…mainly to prevent people from making the shell necklaces who are not entitled to do so."
From her beautiful island home, Lola Greeno creates luminous shell necklaces in much the same way her ancestors did. The very names of these shells, the raw materials of Greeno's art, are immensely seductive and suggestive of an under-watery world of voluptuous otherness: stripey buttons, cats' teeth, toothies, rice shells and maireeners—little bluish-green pearl-like shells that are of great cultural significance for Aboriginal Tasmanians.
In all, Greeno makes use of 11 types of shell in her work. She says, "…the labour is all in the preparation. The maireener shells take up to 8 weeks preparation prior to threading. The few makers return to the islands at least once a year to collect maireeners. This takes a good 2 to 4 weeks, although some people can only go for a few days. You may need to spend 2 to 3 hours just collecting one type of shell…"
Citing her career mentors as Gail Greenwood, Glenda King, Doreen Mellor, Brenda Croft and Julie Gough, Lola Greeno also acknowledges the inspiration of her mother, Judy Watson, Yvonne Koolmatrie, Brenda Croft, Julie Gough and Greg Leong.
Fellow Tasmanian Julie Gough, an admirer of Greeno's work, writes: "…Lola's shell necklaces are intricate responses to place. They reflect where, when and with whom shells are collected. They are often made in memory of her mother and of other co-inhabitants of her island homelands, such as the Cape Barren Goose. These relationships are reflected in the patterning of the strung shell lengths."
Lola Greeno's work constitutes a unique historically and aesthetically important form of cultural expression that is increasingly and deservedly achieving significance in the art market. Greeno makes stunning contemporary jewellery. At the same time she brings real cultural and historical depth to her work, contributing to an authentically Tasmanian cultural future.
–
Lola Greeno is showing with other contemporary Tasmanian artists in Design Island: Contemporary Design from Tasmania, Sydney Opera House, March 23-May 16
RealTime issue #60 April-May 2004 pg. 36
© Christine Nicholls; for permission to reproduce apply to realtime@realtimearts.net