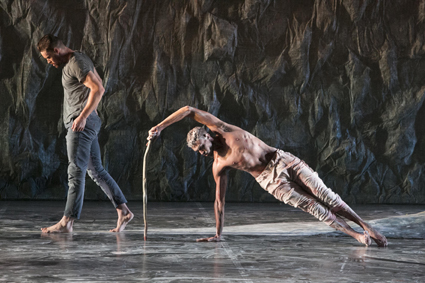 photo by Jess Bialek
Thomas Greenfield, Leonard Mickelo, Patyegarang, Bangarra
Patyegarang is Bangarra Dance Theatre's newest work, inspired by the relationship between the young local Aboriginal girl who shared her language, local Eora (Sydney) lore and knowledge systems with first fleeter botanist and astronomer William Dawes, unwittingly leaving a legacy for her people in centuries to come, through meticulous notes taken by Dawes.
Bangarra's reckoning of Patyegarang is presented like a contemporary song cycle in short episodic vignettes. The performers don ochre and move in procession into the narrative, as we would coming/entering the dance ground in a more 'traditional' or community cultural context. The core narrative is presented in the manner of a dreaming, where time is expressed as abstract information or data, and although the sequence of events occurs in chronological order, the actual period is not as crucial as the events depicted.
From the beginning the movement differs slightly from the usual Yolngu inspired locomotive stepping. The women's torsos still bend low toward the ground, heads slightly bowed, but the footwork brushes forward, away from the supporting leg, as opposed to the brush up flicking motion of sand toward the supporting shin/ankle. The men stamp in a simpler singular motion, or shunt, being propelled forward from the back foot, which is sickled with hip and knee slightly rotated outward, instead of an alternating Yolngu drop stomping motion. These subtle nuances may be lost on mainstream audiences, but are crucial, an indication of the different land and relationship to it, as is the local language featured in David Page's score which is peppered with place names that have been appropriated since settlement.
I am pleasantly surprised by the intricacy of this contemporary vocabulary, which has definitely evolved over the past two decades with Stephen Page at the helm. His use of compositional space is most elaborate, busy, mirroring his use of the individual moving body.
Jacob Nash's set is the yellow brown of sandstone, both cliffside, which appears to hold bodies in bas relief, and shore mound. This is broken up periodically by blood red banner/sculptures which fly in and loom large like ominous chandeliers. The shape of these objects is reminiscent of the NSW Aboriginal possum skin patterns burned into hides, which also remind me of visual artist Brook Andrew's geometrically adorned caravans, Travelling Colony (RT107).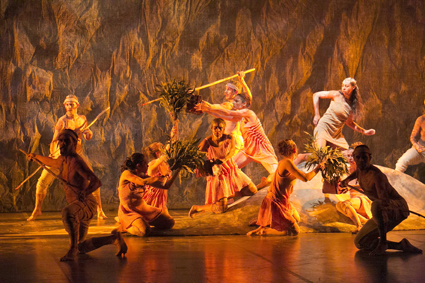 photo by Jess Bialek
Patyegarang, Bangarra
The young dancers are beautiful technicians. Every now and again I catch a glimpse of the embodied performer: most notable was Tara Gower, the true fisherwoman, whose eyes look right down the barrel of her imaginary spear to catch her prey, among a cast performing a convincing dance about fishing, while simultaneously becoming the fish themselves in clever costumes which double as fishing baskets, created by longstanding Bangarra costume designer Jennifer Irwin.
Luke Currie Richardson impressed me with his lightning speed when shifting/transferring weight, now and then integrating a subtle quick flick of the head to emphasise the footwork when emulating the perennial hunters, in flight or fight mode.
It is the body in readiness and the eyes that focus with such intensity, penetrating the construct of the contemporary fourth wall between stage and audience, connecting with sincerity, believing and embodying, which I know from my training in cultural community dance, and am blown away by when I recognise its employment in the contemporary Indigenous form—although I was disappointed its presence was not as consistent in Patyegarang as in previous works .
I appreciated the textural shift as two bodies were scrubbed of paint, changing the dynamic, pedestrian in juxtaposition with the highly stylised vocabulary, the analogy perhaps referring to Patyegarang's declaration that if she scrubbed she would never be white, or that we are the same underneath the colouring. Maybe it was a little too didactic to paint the bodies at all, along with the blood red cross symbolising death (from plague or massacre), or the holding of hands in assimilation. But some audience members found the metaphors mysterious and elusive.
Nick Schlieper's lighting was epic, a constant wash of differing intensities, bathing the whole stage at all times. I couldn't help but think that my empathy for Patyegarang and Dawes' ill-fated relationship could have been intensified by creating a more intimate setting with pockets of light that only they inhabited.
This is a beautifully picturesque ballet, which serves a great purpose, to introduce Indigenous contemporary dance to a general public new to Bangarra while reintroducing an historical event which deserves acknowledgement. The work is a catalyst to pique curiosity, and if that curiosity is acted upon, if people are prompted to investigate further, then this show is well worth their seeing.
–
Bangarra Dance Theatre, Patyegarang, choreography Stephen Page, music David Page, set design Jacob Nash, costumes Jennifer Irwin, lighting Nick Schlieper, dramaturgy Alana Valentine; Sydney Opera House, 13 June-12 July
RealTime issue #122 Aug-Sept 2014 pg. 33
© Vicki Van Hout; for permission to reproduce apply to realtime@realtimearts.net