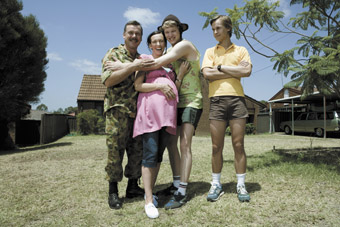 photo Mark Rogers
The Black Balloon
THE BLACK BALLOON IS A COMING OF AGE STORY ABOUT FAMILY SET IN THE AUSSIE BURBS. IT'S ALL RED BRICK BUNGALOWS, CYCLING ON THE FOOTPATHS, HILLS HOISTS AND PATIOS. EVERYONE IS WHITE, MIDDLE CLASS AND APPARENTLY CONTENTEDLY ORDINARY. THIS IMPRESSION IS REINFORCED BY CASTING RHYS WAKEFIELD, BEST KNOWN FOR HIS WORK ON THE SOAP HOME & AWAY, IN THE CENTRAL ROLE. BUT THE BLACK BALLOON SUCCESSFULLY EXCEEDS A SIMPLE REHEARSAL OF TIRED AND CONVENTIONAL STEREOTYPES ABOUT YOUNG AUSTRALIANS GROWING UP IN THE SUBURBS. THIS IS NOT JUST BECAUSE THE BLACK BALLOON TAKES ON THE RARELY EXPLORED SUBJECT OF AUTISM AND ITS IMPACT ON FAMILY LIFE.
This first feature film from Australian director Elissa Down made headlines earlier this year when it was awarded the Crystal Bear for Best Feature in the Generation 14 programme of the 58th Berlin International Film Festival. Produced by Tristram Miall, also behind successful Australian titles such as Strictly Ballroom and Looking for Alibrandi, The Black Balloon has already made almost a million dollars at the Australian box office.
The Black Balloon invites us into the wild world of fifteen-year-old Thomas Mollison (Rhys Wakefield) and his family—Mum (Toni Collette), Dad (Erik Thomson) and Thomas' autistic brother Charlie (Luke Ford), plus a baby well on the way. When we enter the story, the Mollison family is moving into yet another new house, relocated again because of Dad's army job. A bit of a loner, Thomas meets Jackie (Gemma Ward) who surprises him by taking the impulsive antics of his brother in her stride. Thomas' family is an essentially strong and happy unit but always under pressure because of the constant unpredictability of looking after Charlie. As they settle into their new home, Thomas begins to come to terms with his feelings towards his brother, mixing frustration and acceptance.
Central to The Black Balloon's success is its tightly honed script, crafted by Down and Jimmy Jack (aka Jimmy the Exploder). Everything in this film is told with a powerful and carefully judged economy. The film resists constant and explicit explanation, instead allowing the story to grow through intimate attention to small everyday exchanges and interactions. It appears to be structured as a series of vignettes. The narrative is entirely linear and yet, as we jump from one scene to the next, it is as if we are not moving anywhere, just settling in and immersing ourselves in the daily moments of this family.
The performances cultivated from this script are rich and intimate. Ford is absolutely impressive as Charlie, a character who has almost no lines at all and, in distinct contrast with Wakefield's Thomas, a very limited range of available facial expressions to communicate his character. Collette (who also executive produced this film) extracts a beautifully strong, joyful quality from her character, a homely suburban Super Mum resolutely committed to the wellbeing of her children.
Rhys Wakefield's carefully nuanced performance is captured beautifully. The subtlety of his responses and actions is allowed to speak for itself, without extraneous dialogue. We regularly engage with his character through gentle close-ups. The camera takes the time to watch him slowly and awkwardly stumble to Jackie's house after a major bust up with his brother. We lie in bed with him in the mornings soaking up the familiar, repetitive sound of Charlie beating the concrete with a wooden spoon.
The exquisite opening title sequence captures all the understated qualities of the film, setting the audience up to be attentive to the intimate details to come. As each credit appears and disappears over images of the family moving into their new home, the names of all of the objects in the image are simultaneously spread across the screen, labelling everything we can see. They disappear with each credit, only to appear again and name everything in each room of the house.
This strategy, which makes reference to the later revelation of Thomas's disappointment at Charlie's losing the ability to speak, created a curiously beautiful intimacy. Sitting back to take pleasure in the overall effect of this superimposition, I was at the same time moved to constantly and carefully scan each image in an attempt to consider each word in relationship to the thing it named.
This attention to detail gives the vignettes continuity, allowing the film to move, even in its last moments, from a delicate double dancing monkey act to the final scene in a bathtub. Ultimately, it's what makes The Black Balloon get under the skin.
The Black Balloon, director Elissa Down, writers Elissa Down, Jimmy Jack, cinematography Denson Baker, editing Veronica Jenet, music Michael Yezerski, producers Tristram Miall, Sally Chesher, Toni Collette, Jimmy Jack
RealTime issue #84 April-May 2008 pg.
© Megan Carrigy; for permission to reproduce apply to realtime@realtimearts.net