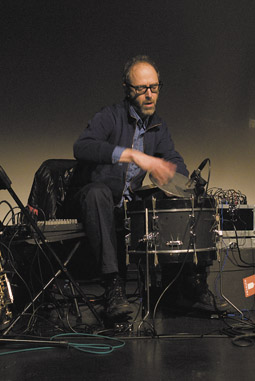 photo Randy Yau
Jason Kahn, Activating the Medium Festival
JAZZ CRITIC IRA GITLER COINED THE TERM "SHEETS OF SOUND" IN DESCRIBING JOHN COLTRANE'S SAXOPHONE TECHNIQUE OF LONG, CASCADING, RAPID-FIRE LEGATO SOLOS. ULRICH KREIGER'S OPENING PERFORMANCE AT ACTIVATING THE MEDIUM, AN ANNUAL SOUND ART AND EXPERIMENTAL MUSIC FESTIVAL BASED IN SAN FRANCISCO, BORE LITTLE RESEMBLANCE TO COLTRANE'S FAMOUS TECHNIQUES –THIS WAS ANOTHER TYPE OF "SHEETS OF SOUND" ALTOGETHER.
Krieger's set was not about harmonic sophistication, melodic filigree, soulful lyricism or any of the traditional saxophone signifiers—this was a punishingly loud and unrelenting barrage of noise. Kreiger achieved this critical mass through an effects set-up which might more conventionally be employed by noise guitarists—primarily heavy distortion and long delay. He shaped the sound by layering clouds of sustained blowing into a dense mass of sound. By moving as he played he was able to generate squalls of microphonic feedback which further added to the dissonant mix. The set was short, extremely intense, and all the more powerful for its 15-minute concision.
Now in its eleventh year, ATM is hosted by the 23five organisation and curated by local sound artists Randy Yau and Jim Haynes. Each year it focuses upon a particular aspect of sound art, with past themes investigating field recording, sound and architecture, sound and simulation, sound and performance, the acousmatics of sound with film/video, and the Californian noise scene. This year's festival theme was "The Instrument", focussing on "the parallel strategies that [sound artist and experimental musicians] employ in using conventional musical instruments alongside refined conceptual agendas and technological applications."
I was glad to have picked up a set of the earplugs given away in the foyer. Francisco Meirino (aka Phroq) was up next and he was also very loud. Meirino used a harmonica to generate samples on his laptop and further processing these: looping, regenerating and pitch shifting his harmonica until its sound was vast and organ-like in its breadth. Occasionally he would gesture in mid-air with the contact-miked harmonica, setting off plumes of feedback or fusillades of harsh digital glitching. For those in the audience interested in the performative aspects of the show there was more to see than your average laptop performance—Meirino was busy at work with harmonica playing, feedback controlling, expressive gesturing and hands-on signal processing. Most, however, were content to simply sit, eyes closed, letting the massive waves of sound wash over them.
Jason Kahn is one of an increasing range of percussionists who utilise electronics in their live performances. His drum set is amplified by a number of microphones, which allows him to create and control feedback, using both percussion and the resonant frequencies of the space. Kahn also uses a synthesiser to further enhance and process these resonant feedback loops. In fact, his primary instrument is not percussion, but the room itself. His set began slowly with a swirl of white noise. This seemed static for a time until it became obvious that the surging white noise was in constant but muted flux, gradually modulating in density and timbre. At various points in the performance Kahn could be seen brandishing a cymbal above the drumhead. Controlling feedback with it, he gradually introduced a range of controlled frequencies until he'd generated a layer of sub-bass submerged beneath the white noise with which he'd begun. After a while these deep bassy tones became the dominant sound, filling the theatre with their sonorous resonance before being slowly faded out. Kahn told me, "I want to create an immersive sound experience for the listener; to hear the sound from inside and to feel the sound with one's whole body." At this performance he definitely achieved his aim.
Zbigniew Karkowski's piece began with three wind players seemingly free-blowing as fast and as loud as they could. Acoustically this was like a free jazz freakout, however both saxophone and flute were running through loud distortion pedals giving them the dynamic range and attack of hard rock soloists. This distortion emphasised the instruments' upper harmonics, giving them a rasping, brittle tone. Xopher Davidson was further processing the ensemble as they played, adding sine waves, ring-modulation and a deep low-end bass tone. All of the musicians were playing hard and fast, evidenced by the accompanying range of grimacing, facial tics and bodily contortions. However, all of the instrumental articulations and gesturings were barely liminal—ghostly artefacts, subsumed within the body of massive noise. There was a strange disconnection between the frenetic physicality and the mostly monolithic mass of sound being produced.
The performance gradually ascended in pitch and density before coming to a sudden stop, revealing a low volume bed of white noise percolating underneath. This layer of sibilance was being slowly modulated and filtered by Davidson. At least that's what it seemed like—the overall effect could have been the sort of hyperacuity common after prolonged exposure to very loud sounds. Think of the hiss and ringing in your ears after a rock show without earplugs. After a few more minutes of white noise the piece ended with a short coda reprising the harsh noise of the first section. Simple in form and precise in its execution, Karkowski's piece left many noise fans in the audience shouting for more. I would have preferred more subtlety, timbral variety and instrumental interplay, but it seems that would have been missing the point.
The remit of this Activating the Medium festival was pitched more towards the noise/drone axis of contemporary experimental music. Even so, many of the familiar techniques, technologies and methodologies common to other sub-genres of experimental instrumentation were present: extended technique, electronic processing, instrument preparation, live sampling, use of feedback and room sound, found objects, computer processing, mechanical playing devices and so on. A comprehensive overview of "The Instrument in Experimental Music" would be well nigh impossible for a small festival, nevertheless ATM signposted many of these current instrumental tendencies in a provocative, entertaining and dynamic presentation.
Activating the Medium, Eleventh Annual Festival of Sound Art : The Instrument, Feb 2: performers Ulrich Krieger, Francisco Meirino, Tim Catlin, Zbigniew Karkowski with Suzanne Thorpe, Andy Strain, Ulrich Krieger, Xopher Davidson, Feb 23: performers Phill Niblock, Thomas Ankersmit; San Francisco Art Institute, www.23five.org/activating/atm2008info.html
RealTime issue #84 April-May 2008 pg. 43
© Tim Catlin; for permission to reproduce apply to realtime@realtimearts.net