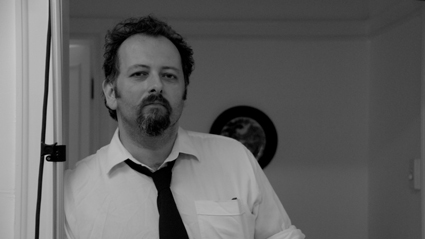 photo Alex Munt
Jack Sargeant
The opening night of the 17th Revelation Perth International Film Festival is fast approaching. In recent years Rev, as it is affectionately known by its fans and audience, has become for me the most exciting and innovative film festival in the country.
Last year's program was as challenging as ever, with a world premiere-screening of Ben Wheatley's A Field in England, Italian prog-rock band Goblin playing their soundtrack to Dario Argento's Suspiria live in front of a pristine new print of the movie, Shane Carruth's almost impenetrable Upstream Color and a smorgasbord of experimental short films, documentaries and non-Pixar, non-Disney children's films.
The festival website announces that in 2014, "We look forward to sharing our unique perspective on the world…" But what makes Rev unique? I strongly suspect that a big part of this difference lies in the person of its Program Director, Jack Sargeant. For example, Jack is responsible for at least one 'first' in Australian film festival programming. He tells me: "We focus on a lot of independent cinema and there's always a handful of underground movies in there too. We have the academic conference which is now entering its third year, and that certainly marks us as different—I don't believe any other Australian film festival does that."
Unlike most academic film conferences, RevCon places no limits on possible topics for discussion. Last year papers ranged over Russian vampire movies, Iranian cinema, the contribution to film culture of Australian horror 'zines and a deconstruction of the politics of The Lion King, as well as a special session run by Pozibles on crowdfunding for independent filmmakers. This year the call for papers seeks, among other topics, papers on new and emergent genres, neglected histories and alternative perspectives on any aspect of film and film theory. It is this explorative, experimental spirit that distinguishes Sargeant's take on cinema. For him, "Cinema should seek to push people into a space in which they are unfamiliar. I don't think art should be a predictable safety net for vacuous thinking. I enjoy the chaos of possibility."
Sargeant has been the Program Director of Rev since 2007. There was a lot of excited talk among cinema aficionados when festival director Richard Sowada first announced that Sargeant was going to take on the role: high expectations of challenging cinema, of cinema with an edge. After all, Sargeant is the author of such cutting-edge books as Deathtripping: The Extreme Underground and Naked Lens: Beat Cinema. He has published essays on Richard Kern and Nick Zedd, pieces on J G Ballard and essays on topics ranging, he notes, from "obscure grindhouse movies through to theoretical pieces on body hair that have been published in various academic publications." Our expectation was that Sargeant would show us films that would jolt us out of our seats, or at the very least cause our parietal lobes to vibrate at a significantly higher rate. Thankfully, these expectations have been well met. Perhaps this is because Sargeant sees his role as that of a curator rather than a program director. I asked him if this is what makes Rev different.
"I think that a program director programs films—choosing movies that reflect what's going on in the industry and so on. But a curator has a wider conversation, it's not just about a snapshot of the moment, but about the works and the events around the festival (whether they are talks or conference papers or whatever) and the ways these works are in conversation with each other or perhaps even with works from previous years. We eschew the red carpet culture and we really emphasise the idea of community and sharing ideas."
This inter-media conversation at Rev is a reflection of Sargeant's wide-ranging involvement in music, film and the visual arts, something that he has continued to pursue since settling in Australia after moving from the UK. In 2012 he co-curated a photography exhibition at Alaska Projects in Sydney with artist Linsey Gosper, with whom he is presently developing another collaborative performance/photographic work. The creative challenge of such collaborations ensures that Sargeant maintains his 'edge':
"As a writer…I feel that it is exceptionally liberating to think in a different medium, because it forces you to engage with practice differently, and it forces you to think differently, which is probably healthy. Over the years I've worked in photography and so on, but not in this way."
He has also started writing a libretto for a 'noise opera' with music to be composed by Cat Hope. The libretto is "part of an ongoing process of forcing myself to think in a different manner and pushing myself in a new and challenging way. The process of writing a screenplay and libretto, and simultaneously thinking about cinema or staging, demands a visual imagination and a different application of language."
And just to prove that too much is never enough for Sargeant, he has been developing a script for a 'body horror' movie, "but not like anything people have seen before." Perhaps this should not come as a surprise; he admits, "when visiting a new town I search out medical museums and outsider art galleries before the established institutions." Sargeant began this screenplay "to see if I could do it." When the opportunity arose for him to pitch his horror movie to an audience, evidently "a lot of people felt it went too far. I took that as a positive sign," he says.
With his latest book, Against Control, a collection of essays on William S Burroughs and related counterculture figures such as Brion Gysin, recently published, Sargeant clocks up more than two years of writing books, articles and essays. His curation of Revelation Perth International Film Festival reflects this intense involvement with cultural commentary and analysis and his championing of independent and underground film culture. At Rev this year we can expect challenging experiments in film such as Rodrigo Reyes' Purgatorio and Toby Amies' The Man Whose Mind Exploded, as well as the Adelaide-made feature, The Dead Speak Back. Let the conversation begin.
Revelation Perth International Film Festival, director Richard Sowada, program director Jack Sargeant, July 3-13
RealTime issue #121 June-July 2014 pg. 23
© Leon Marvel; for permission to reproduce apply to realtime@realtimearts.net