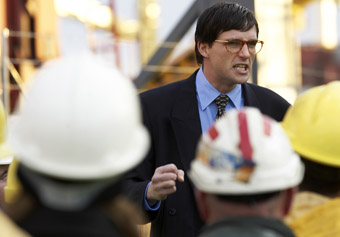 Daniel Frederiksen, Bastard Boys
BASTARD BOYS, THE ABC'S DRAMATISATION OF THE 1998 DISPUTE BETWEEN THE MARITIME UNION OF AUSTRALIA AND PATRICK STEVEDORES, INCLUDES A SCENE IN WHICH ACTU SECRETARY BILL KELTY, PLAYED BY FRANCIS GREENSLADE, ANOINTS GREG COMBET, PLAYED BY DANIEL FREDERIKSEN, AS HIS SUCCESSOR. LEAVING KELTY'S OFFICE, COMBET REMOVES HIS GLASSES AND FOR A MOMENT, WITH HIS SENSIBLE SIDE PART, RESEMBLES CLARK KENT IN SEARCH OF A PHONE BOOTH. THE TRANSFORMATION, THOUGH, IS NEVER REALISED. IN THE NEXT SCENE, COMBET IS PRETTY MUCH THE SAME MAN AS BEFORE.
In many ways, this transformation-that-isn't is an apt metaphor for Bastard Boys: while it looks great, has an excellent cast and a compelling story, it never really flies. Rather, it remains grounded in a no-man's land, trying to portray the complexities of recent political history on a tiny canvas: not quite drama, not quite documentary, it never manages to free itself sufficiently from the events of 1998 to offer a deeper reflection on the implications of those tumultuous events on the country.
These limits are strikingly apparent in the script, which often seems contrived to the point of silliness. In one scene, for example, Combet comes to convince a group of unionists to end a sit-in in response to the presence of scab labour on the docks. As he enters the room where the group of unionists has bunkered down, one of their number announces his arrival, adding "The ACTU. You ever heard of them? The affiliation of trade unions formed to devise policy and lobby on behalf of the labour movement."
The producers might as well have plastered a caption on the screen to explain the ACTU and its role on the political landscape.
It's not only the protagonists who get brushed with the bleeding obvious. Bastard Boys is infested with that blight of political drama: the set speech. Combet, for example, explains to union lawyer Josh Bornstein that "The law is an artificial construct erected by the capitalist class to ensure the system protects their own interests and maximises their own profit." Later on, MUA National Secretary John Coombes, played by Colin Friels, explains the importance of solidarity to Combet thus: "I don't break my promises, now that's what solidarity's about".
While some of these exchanges are delivered with irony, they end up looking like clunky plot points and character sketches for those unfamiliar with the personalities and events around the waterfront dispute. Signposts of this kind are necessary to expand Bastard Boys' appeal to more than political junkies, but they warranted a more sophisticated approach, not a high school social studies lesson.
These are symptoms of the larger problem of Bastard Boys, namely that in limiting itself to the particular personalities and events of the waterfront dispute, it remains a prisoner to the times and events it depicts.
In this regard, Bastard Boys might have been strengthened by displacing the point of view from the main protagonists in the dispute to minor players—the experiences of a scab labourer and a unionist, for example, would, potentially, have made for a more politically and artistically nuanced story. Alternatively the main characters and events could have been displaced to a different context altogether. A lesson here is The West Wing, which, rather than directly re-creating the Clinton Administration (which is its obvious template) displaces the action into fictional, yet recognisable characters and events.
While comparisons with The West Wing might be regarded as grossly unfair given obvious differences in resources, this isn't an argument about production values or costs. The point rather is one of approach. A more visceral treatment, freed from particular characters and events might have given the makers of Bastard Boys greater creative freedom in expressing truths about those events which a more straightforward re-telling of events does not permit.
The political, cultural and artistic limits of the docu-drama format have been highlighted by the responses of the main protagonists that followed the airing of Bastard Boys.
Bill Kelty went on Late Night Live to complain that the show's makers never approached him to ask about his role in the dispute. Chris Corrigan, meanwhile took to the opinion pages of The Australian to denounce what he saw as the portrayal of himself as an "evil, uncaring and insensitive boss" and to point to errors of fact around conspiracy claims.
The predictable nature of these responses suggests that rather than opening a space for a more searching discussion of the events of 1998 and their relevance to contemporary Australia, Bastard Boys seemed stuck in 1998. In an election year where industrial relations are set to take centrestage, Bastard Boys was an opportunity lost.
Bastard Boys, writer Sue Smith, director Ray Quint, performers Geoff Morrell, Daniel Frederiksen, Dan Wyllie, Anthony Hayes, Justine Clarke, Rhys Muldoon, Lucy Bell, Justin Smith, Caroline Craig, Helen Thomson, producers Brett Popplewell, Ray Quint; ABC TV & Flying Cabbage Productions; May 13, 14
RealTime issue #79 June-July 2007 pg. 23
© Christopher Scanlon; for permission to reproduce apply to realtime@realtimearts.net