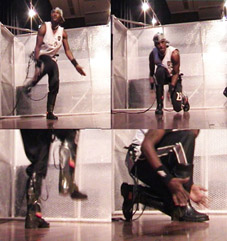 Cobi van Tonder's Ephemeral Gumboots
Small fish
On a bright July day, in the airy open space of Johannesburg's Franchise Gallery, I am absorbed in watching a goldfish lazily paint flesh onto a cartoon fish skeleton by means of a webcam and computer which translate movements in to brushstrokes as he meanders round his tank. The artwork, Scale Model, by Mitch Said, is part of Return, a group show of similarly playful interactive works by students studying for their Masters in Digital Arts at Witwatersrand School of Arts.
It's a lighthearted start to my self-appointed mission to explore the landscape of new media arts in the new South Africa. I have family links to the country, and have traveled here a couple of times. On this journey I want to come to understand South Africa in terms that relate to my own work in new media art and to strengthen my intangible link of heritage to the country by discovering contemporary common ground.
Eleven years after the end of apartheid, in a country in the midst of seismic socio-economic change and still revelling in the joy of unfettered interaction within its own population and with the outside world, how are South Africa's artists, audiences and curators engaging with new media and communication technologies? What is distinctive and unique about their new media art scene and how have contemporary techno-cultural forms taken root in South African soil?
This exhibition is a great starting point as it shows what the next generation of artists is up to. It seems to me less a return and more a departure. Their work is whimsical and playful, with an exuberance and wonder at the possibilities of digital technology and communication. As well as this freshness there is a resourceful quality to the show that mirrors the spirit on the street of Johannesburg. Nicky Nagy's quirky assemblage of cast-off household appliances that spring to life unexpectedly, Funguye To ("Does it work?" in Slovak), has the trash+imagination aesthetic of the city's markets where electrical cables are turned into basketware and tin cans become radios and toy cars.
Johannesburg Downtown
After a degree of struggle with well-meaning relatives I brave a trip to the Johannesburg Art Gallery. The JAG is a grand old building in Joubert Park, once the genteel civic centrepiece of the city, now the heart of the city's pell-mell hawker district. Following the desegregation of the city, white businesses and residents withdrew like a tide flowing north to the suburbs of shopping malls and gated communities—leaving the JAG and other city institutions and colonial relics to take their chances amid a transformed social landscape. The gallery's surrounding park is now inhabited by what the Johannesburg official tourist website disarmingly describes as "the homeless and the mischievous."
On the day of my visit this uneasy conjunction is being played out paradoxically on the gallery walls through Guy Tillim's extraordinary exhibition Johannesburg Downtown 2004. For 5 months Tillim, well known for his photographic portraits of the victims of African conflicts, lived with and documented the lives of the residents of the vigorously squatted high-rises of the inner-city surrounding the JAG. These near derelict 'bad buildings', often without any utilities, have become vertical inner city versions of the sprawling "informal settlements" that surround South African cities. My companions and I gaze at his haunting photographs that show the daily struggle of living in the neighbourhoods we have driven through, handbags stashed under car-seats, to get here.
Most of the gallery is taken up by the blockbuster retrospective of William Kentridge, South Africa's most famous visual artist, who has finally, in a sense, returned home. His historically sensitive fascination with the transformational quality of tools and technologies, evident in all his artwork, establishes for me the idiosyncratic context of South Africa's economic and cultural relationship to technology. Johannesburg is a city built on seams of gold and the layers and layers of pain of those who have dug it out from the ground. Kentridge's animated Shadow Procession shows a parade of the dispossessed and the damaged in which men carry tools and men are made of tools, mine-dumps, pit heads and mechanisms become people and melt back into objects. In South Africa both minerals and people have been the raw materials that have fuelled an economy built on inequality. But things are changing. The gold is dwindling and there is no longer a disenfranchised labour force to be sent deeper into the earth to extract it. As the South African economy transforms itself, what role will be played by creativity, innovation and information technology—the ingredients of the knowledge economy that has transformed other countries' economic models? Already the seeds of this transformation are in place, the IT skills base growing amongst the skill-hungry population. How will the perception of South African culture evolve to express these new realities?
The new cultural entrepreneurs
One man who clearly sees the potential of cultural and economic exchange in an innovation driven and media saturated world is Marcus Neustetter, artist, organiser and co-director with Stephen Hobbs of Trinity Session, a powerhouse contemporary art production team specialising in digital technology and the urban environment. I meet Marcus at Premises, the city centre gallery space run by Trinity Session. He gives me a tour of their headquarters which have the air of a campaign office in the midst of an election. It is exhausting to contemplate their array of activities. A selected list describes 35 projects since 2000, amongst them tactical media art works for the leading European festivals Transmediale and Ars Electronica, community media and training initiatives, an impressive exhibition program at Premises, plus a string of high-level strategic consultancies.
For Trinity Session, the tension between South Africa's new cultural and social openness and the desperate economic need they perceive in the neighbourhoods around them has resulted in a compelling mix of a socially engaged regeneration agenda, global reach artistic ambition and a gung-ho approach to entrepreneurship that does not wince at ruthless marketing and cultural opportunism. They describe themselves as investigating "creativity as commodity through consultation processes and art and retail experiments", which includes curating the artworks for the South African Big Brother house of 2004—turning the reality TV show into a showcase for South African contemporary art.
After our tour of the office we head off to a nightclub in Newtown, the city's cultural quarter. It is 11pm and the stage for Johannesburg's Make Poverty History concert is being dismantled; it has been a bit of a non-event in the city. In comparison to the self-sufficient, creative, entrepreneurial spirit of Trinity Session, Bob Geldof's attempt to put culture at the service of African economics seems distant and impotent, even retrograde. An affair, in one newspaper commentator's words, "of fading rockstars and little else."
Gumboots in Grahamstown
A few days later I am flying south for the 31st National Arts Festival in Grahamstown. The festival is acknowledged as a barometer of the country's changing cultural climate, so I'm interested to see 2 events in the programme which show that new media art forms are finding a home in South African culture and developing a distinctive identity.
In Petra, a multimedia dance work, choreographed by PJ Sabbagha, digital technologies are integrated with live performance to explore one of the darkest issues at the heart of South African society. Through a series of beautiful but tortuous duets, the work starkly confronts the way HIV/AIDS has invaded all our relationships: from the intimate and personal to the public and societal. Nathaniel Stern, new media artist, and tireless blogger of the media art scene in Johannesburg, has created a hauntingly poetic digital backdrop—a combination of sombre, abstract textures and live video feed which enacts a disjointed dialogue with the dancers. Reminiscent in its brooding shadowy forms of Kentridge's parade of coal black despair, Stern's work is a new media expression of South Africa's new sorrow.
And finally over at the exhibition hall, in an impressive exhibition of interactive music-making machines, I find the perfect conclusion to my quest to discover a uniquely South African take on new media. Sounds Crazy has been co-curated by Grahamstown's own Studio for Interactive Sound and STEIM, the Dutch electronic music laboratory. Amongst the fabulous mixture of homegrown and international exhibits are Cobi van Tonder's Ephemeral Gumboots, a poetic combination of old and new in which the stamping and slapping of the dancer wearing the boots drives a soundscape of rhythmic electronic music. The boots are a contemporary version of one of the most distinctive South African forms of cultural expression, gumboot dancing, born in the bunkhouses of the gold mines; they are the new spirit of creativity and innovation shot through with the memory of South Africa's deeply layered cultural ground. Van Tonder writes that in her sound art she is "…mining the subconscious. Sometimes you strike gold, sometimes you sweat for months on end without any certain reward. My work is not about technology. It's about imagination."
Weblinks: Trinity Session: http://onair.co.za; Nathaniel Stern: http://nathanielstern.com; Studio for Interactive Sound, Grahamstown: http://www.ru.ac.za/org/sis/index.html;
Cobi van Tonder: http://www.otoplasma.com
RealTime issue #70 Dec-Jan 2005 pg. 34
© Lizzie Muller; for permission to reproduce apply to realtime@realtimearts.net