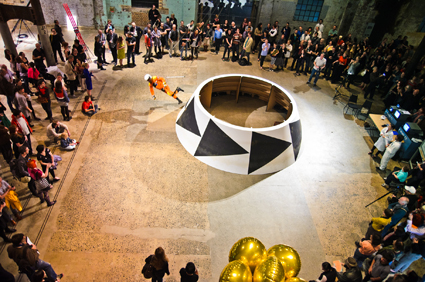 photo Lucy Parakhina
Adam Norton, Mars Gravity Simulator, 2011, Awfully Wonderful
CONTEMPORARY ART OFTEN APPEARS SCIENCE-FICTIONAL, AS IT EMPLOYS THE LATEST VISUAL TECHNOLOGIES AND ADAPTS SCIENTIFIC IDEAS FOR ITS OWN ENDS. EXHIBITIONS OF SCIENCE FICTION (SF) IN ART ARE HOWEVER A MOSTLY RECENT PHENOMENON. IN THE RICH ANTHOLOGY OF WRITING THAT MAKES UP THE CATALOGUE FOR AWFULLY WONDERFUL, SWISS CURATOR PATRICK GYGER LISTS RECENT SHOWS ON SF AT THE INSTITUTE OF CONTEMPORARY ARTS (ICA) IN LONDON, THE POMPIDOU IN PARIS AND ELSEWHERE. YET THESE EXHIBITIONS FALL SHORT OF BEING ABOUT SF, INSTEAD HAVING SF-INSPIRED THEMES. THE ICA USES ALIENS AS A METAPHOR FOR MULTICULTURALISM (ALIEN NATION, 2006), WHILE THE POMPIDOU JOINS THE RAFT OF CONTEMPORARY SHOWS ABOUT UTOPIA (LA NUAGE MAGELLAN, 2007).
The Awfully Wonderful exhibition is more explicit as it tackles the relationship between SF and contemporary art. In doing so, it makes the striking conclusion that new technologies and cutting edge sciences in fact have little to do with the SF genre. Curators Bec Dean and Lizzie Muller instead populate Performance Space with low-tech works that speculate on such archaisms as travel through time and outer space. Two architectural dioramas by David Lawrey and Jaki Middleton recall dusty museum exhibits while portending an apocalyptic future, their miniature city overtaken by disaster. Sam Smith's Time Travel (2009) also hinges upon the past's future, alluding to a philosophy of travelling through time while compelling our gaze with its scenes of cinema and television. Deborah Kelly's collages of oceanic creatures and 1960s pornography also appear out of time, their tangles of limbs and tentacles recalling the erotics of surrealism. The paradoxes of these old media works in wood, video and paper build a picture of SF as the retro-futurism of today.
This appears to be bad news for SF—that it is no longer the cutting edge genre of technology and prediction in a world that has come to look like the future itself. Like contemporary art, the world is science-fictional, leaving the actual genre stranded in a time out of time. Video works by Ian Haig and Philip Brophy push this retroactive logic to the extreme by making pastiches out of SF images, evoking clichés of gender war and alien visitation. A near naked Hayden Fowler also plunges us into a muddle of time, as he inhabits his installation of futuristic domes and grass in the CarriageWorks foyer only to evoke images of life in prehistory. Fowler imagines himself to have returned humanity to nature but this is a cleanly engineered nature with lawn and laboratory rats. There is something perversely troubling about a live performer in a set that might have been dropped from a cheap 1970s SF film. Such a meticulous realisation of the most lurid SF scenography is both compelling and discomforting in our technological age, which has long rendered such pastoral visions the stuff of fantasy.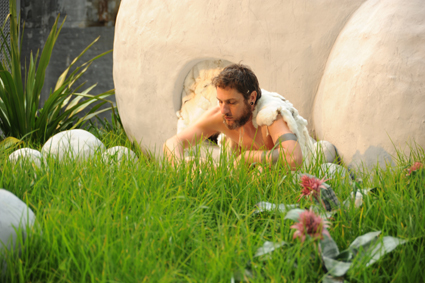 photo Garth Knight
Hayden Fowler, Anthropocene, 2011, Awfully Wonderful
If Fowler is a visionary, ready to move into the greater laboratory of a bioengineered world, Adam Norton is ready to move to Mars. By hanging a body harness above a room-sized running track (also in the vast CarriageWorks' foyer), the space-suited Norton simulates the planet's gravity, as well as NASA's own training regimes. The sight of Norton bouncing around his track is spectacular, his sincerity and enthusiasm backed by the authenticity of his research. Norton's work is among several in the show that shape-shift from art installation to actual science. Haines and Hinterding's pair of cloudbusters—orgone energy machines after the plans of Wilhelm Reich—also stand at the slipping point between creative fabrication and scientific actuality. It is only a shame that there are no demonstrations of their potential to seed clouds, whip up a storm or even a tornado. What greater legacy for an exhibition like this than a great whirly-whirly lifting the tin from Darlington terraces, art's possibilities spinning out of control in a science-fictional world?
A collection of obsolete technologies from the Powerhouse Museum also simulates the simultaneity of science and art. Safely encased in perspex, these technological artefacts are displayed in low light as if they might suddenly collapse back into their own times. One is a circumferentor, a low cost surveying instrument from the 1800s decorated with vegetal designs, appearing as if from some alternative steampunk timeline. Another, a 1K microcomputer from 1980, the Sinclair ZX80, has all the appearance of a dinosaur with its garishly large keys. These technological relics bring a scientistic sincerity to the show, casting a serious light on the allusions to arcane SF that might otherwise be comic.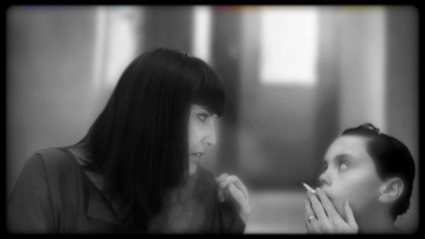 courtesy the artists
Frame Drag 1988 / 2009 / 2024, Ms&Mr
These devices are in neat contrast to one of the more metaphysical works installed beside them. A magnificent pair of video portraits by Ms&Mr alludes to some ambient, transgendered future. Two simple loops present enigmatic figures that seem to be lost in some nebulous eternity. On one screen a man's arm disappears into a forest of stars, while on the other the artists, in footage from different times in their lives, are smoothly juxtaposed so they appear to share smoke from a cigarette. She inhales his exhale and exhales in turn in a triangulation of sensual, ambient whiteness.
The feeling that Awfully Wonderful occupies a fold in time, as it plays upon the paradoxes of an art about the future that is nonetheless a future imagined by the past, tells us as much about contemporary art as science fiction. In rushing to capture the present, attracted by this or that technological or cognitive widget, contemporary art often wilfully forgets its own past. This show casts a more complex light upon the meaning of the contemporary, insofar as its technological and political conditions have been constructed by past imaginings. If contemporary art is the dominant genre of a global, networked present, Awfully Wonderful gestures to the romanticism that produced this contemporaneity, the fantasies that brought it into being.
The success of the show also lies in the absence of the kind of grandiose work that makes contemporary art so emasculated. Instead, the artists here work in the spirit of what SF scholars call the tinkerer, the handyman who fiddles with the details of lamps and lunch trays in a quest for everyday happiness. This is in contrast to the grandeur of new media and its ambitions to rewrite the history of art, and to the new genres of technological art, such as bio-art and nano-art that are so closely tied to the politics of their industries.
Instead, Awfully Wonderful is driven by a pragmatic and retro utopianism. Simon Yates' hilarious Metropolis Robot is symptomatic of humble hope, as he creates a walking version of Fritz Lang's cinema icon. In a single stroke Yates solves one of the most expensive problems in robotics, this being the bionics of walking, as he suspends the robot with cheap helium balloons and propels its legs with two AA batteries. Such is the genius of the tinkerer, who shows us that the future, or even the present, is not as complex or difficult as we might have imagined it to be.
Awfully Wonderful: Science Fiction in Contemporary Art, curators Bec Dean and Lizzie Muller, Performance Space, Sydney, April 15-May 14; www.performancespace.com.au
RealTime issue #103 June-July 2011 pg. 44
© Darren Jorgensen; for permission to reproduce apply to realtime@realtimearts.net