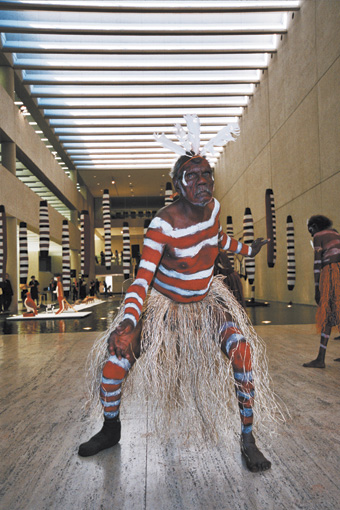 Arthur Pambegan, Jr., Aurukun Dancers
ALWAYS ONE OF AUSTRALIA'S MOST EAGERLY ANTICIPATED MAJOR VISUAL ARTS EVENTS BECAUSE OF ITS UNIQUE CULTURAL AMBIT AND THE PROFUSION OF UNFAMILIAR COLOUR, STYLE AND POLITICS THAT COME WITH IT, THE ASIA PACIFIC TRIENNIAL OF CONTEMPORARY ART (APT) WAS DOUBLY WELCOMED IN ITS FIFTH INCARNATION.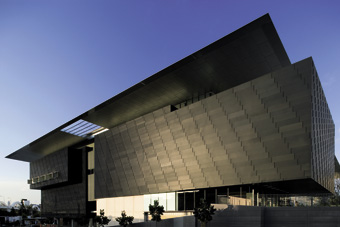 Gallery of Modern Art
The occasion for joyous and epic celebration was the opening of the magnificent five-level grand pavilion-like Gallery of Modern Art (GoMA). The superb architecture by Kerry and Lindsay Clare of Sydney firm Architectus speaks for itself with its grand halls, incredibly high ceilings, a multitude of intimate spaces, ultra-comfortable steeply raked cinemas, views within and out over the river, and a plenitude of natural light. For the artworks it is the most accommodating of Australia's major galleries, uncluttered and offering, for example, a whole wall in APT5 to one magical work by Anish Kapoor. The wall height alone in the major spaces offers artists and curators some wonderful opportunities.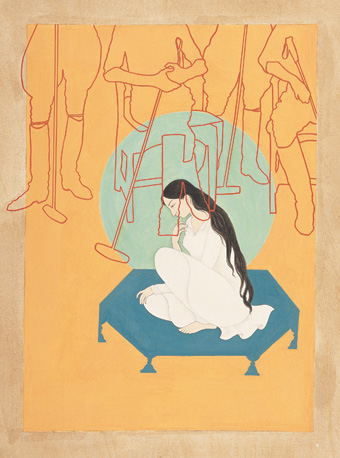 Nusra Latif Qureshi, Justified behavioural sketch 2002
It's a mere 150-metre walk to the Queensland Art Gallery, taking you past more impressive architecture in the form of the new Queensland State Library, a facility blessed with state of the art screen and computer facilities, luxuriously furnished and very welcoming. The QAG maintains its charm with a touch of refurbishment including a new wide glass entrance facing GoMA. QAG will now focus on art up until the 1970s.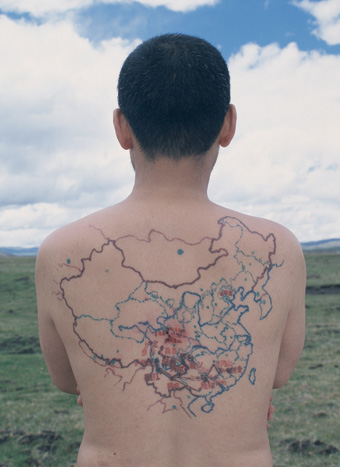 courtesy The Long March Project,
Qin Ga, The miniature long march (detail) 2002-05
APT5 features 37 artists and two large scale collaborations (Long March Project, China; Pacific Textiles Project). The Long March Project is an APT5 centrepiece, a profoundly fascinating re-tracing of Mao's 1934-5 journey undertaken by a number Chinese artists, a selection represented here, with works created at key sites (www.longmarchspace.com). Performance artist Qin Ga's Miniature Long March was tattooed on his back as the journey unfolded. You are welcomed to the project by Wang Henhai's two huge grey statues of Mao, side by side: Mao as Communist Party Chairman, Mao as Emperor of China. There are no illusions in the Long March project although plenty are played with. Zhou Xiaohu's Utopian Theatre, an engrossing large scale fantasia of rallies and media surveillance with a mass of clay figurines (the artist is also an animator), sound score and video imagery evokes societies both democratic and totalitarian. There is much else to admire in the Long March Project drawing on traditional art practices with thoroughly contemporary energy and insight.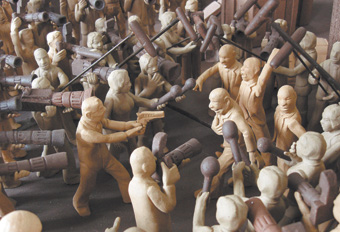 courtesy The Long March Project, Beijing
Zhou Xiaohu, Utopian theatre (detail) 2006
Throughout APT5 there is ample evidence of art realised through meticulous craft, delicacy and great labour from the Pacific Textile Art Project to Sangeeta Sandrasegar's (Australia) exquisite wall-based, shadow throwing fine cut-outs of hands or her images of feet with their erotic contemporary detailing, or Nusra Latif Qureshi's (Pakistan, lives in Melbourne) subtly ironic Mughal miniatures, Fiona Hall's American paper money birds' nests, Anish Kapoor's (UK) deeply immersive wall sculpture, Justine Cooper's eerie Saved by Science installation or Eko Nugroho's rebellious surreal humanoids (a giant one looms over you in GoMA's main entrance). And many more besides. APT5 is a rich visual feast with some performative elements if not quite as extensive as in previous APTs. QAG and APT have always provided well for children and APT5 is no exception.
APT5, GoMA and QAG are generous and accessible. The planning and deployment of the new building is considered and visionary, recognising the mutual needs of artists and audiences. The opening was a wonderful celebration of this. In RealTime 78 we'll publish a full review of APT5. RT
The 5th Asia-Pacific Triennial of Contemporary Art, Queensland Art Gallery and Gallery of Modern Art, Dec 2, 2006-May 27, 2007; www.asiapacifictriennial.com
RealTime issue #77 Feb-March 2007 pg. 8
© RealTime ; for permission to reproduce apply to realtime@realtimearts.net