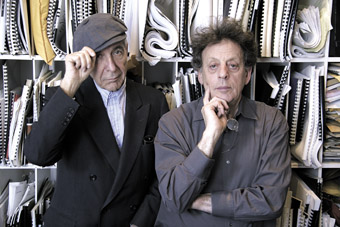 Leonard Cohen & Philip Glass
ALTHOUGH VERY DIFFERENTLY PROGRAMMED, THE 2008 SYDNEY AND ADELAIDE FESTIVALS SHARE A PASSION ABOVE ALL FOR MUSIC. SYDNEY'S ARTISTIC DIRECTOR, FERGUS LINEHAN, HAS MAXIMISED THE FESTIVAL'S POPULIST TENDENCIES (AT THE SERIOUS END OF THE SPECTRUM) WITH A MASSIVE MUSIC LINEUP RANGING FROM BRIAN WILSON AND BJORK TO AMERICAN INDIES, DETROIT DJS AND AUSTRALIAN INDIGENOUS PERFORMERS. ADELAIDE'S BRETT SHEEHY HAS GIVEN CENTRESTAGE TO AINADAMAR, GOLIJOV'S OPERA ABOUT FEDERICO GARCIA LORCA, AND PHILIP GLASS' INTERPRETATION OF LEONARD COHEN'S RECENT COLLECTION OF POEMS AND DRAWINGS, BOOK OF LONGING. ON THE JAZZ FRONT, SHEEHY HAS BILLY COBHAM AND ORNETTE COLEMAN. ON CONTEMPORARY CLASSICAL THERE'S THOMAS ADES AND JOHN ADAMS AMONG OTHERS AND A DRAMATISED LIFE OF VIVALDI, THE RED PRIEST.
Sheehy's final Adelaide Festival appears to be his best, at least on paper. It's rich in potent content. However, compared with the thematically rich festivals of Kosky, Archer (in Adelaide and Melbourne) and certainly Kristy Edmund in her 2007 Melbourne Festival, Sheehy adheres to the conventional model of programmed diversity. Whether or not he'll please Melbourne's vociferous conservatives (desperate for opera, ballet, symphonies and great Shakespeares) when he takes over their festival in 2009 is another matter—he's quite capable, as his 2008 Adelaide Festival attests, of programming challenges for his audience. Fergus Linehan has moved on from the diversity of his first two programs to something more ambitious and coherent—a massive celebration of music, diverse in itself, but focused especially on the riches of popular music yielded by the 20th century and still being mined and developed and doubtless bringing a new audience to the festival.
adelaide festival
Ainadamar (Fountain of Tears) is Oswaldo Golijov's first opera. It premiered in 2003 and a revised version was directed by Peter Sellars in 2005. Golijov is an Argentinian composer of Eastern European Jewish extraction. He's an adventurer in the weaving of instrumental and electronic sound, the juxtaposing and merging of music from various cultures (here Christian, Sephardic and Arabic, true to Spain's history), but not adventurous in a modernist, avant-garde sense. His melodies are largely tonal, his harmonies immersive, his rhythms regular, his constructions familiar, but he can move and provoke and create passages of great beauty, capacities ideal for opera.
In the restrained theatricality of American David Henry Hwang's libretto Lorca's execution by the fascist Falangists is framed by the death of the revolutionary Mariana Pineda, executed in 1831 (and whom Lorca celebrated in the play named after her), and then principally by the coming death of Lorca's actress friend Maria Xirgu, old and ill in Montevideo where she has carried on the writer's theatrical tradition. She's passing it on it to her young student Nuria but continues to suffer guilt for having failed to convince Lorca to flee with her from Spain in 1936. Maria and Nuria are performed by sopranos, Lorca by a mezzo, heightening the sense of the writer's complex sexuality.
Lorca, himself a composer, was in love with flamenco and it quickly establishes itself as the principal musical mode of the opera. Ainadamar opens with the sound of a dark flood of water, heralding trumpets, castanets, the beating hooves of galloping horses, propulsive drumming and then the high whine of a female chorus singing of Mariana Pineda against strummed guitars and soaring strings. These constellate to frame Margarita Xirgu's recollections ("the day I first took [Lorca's] hand—soft like a baby, yet he was already a man"). Golijov immediately evokes the Spain we know through Spanish folk, classical and movie music, but manages to transcend pastiche with a sustained line and careful emotional shaping. Capturing the sense of a nation betraying itself, Lorca's Falangist tormentor and executioner is sung in flamenco tenor. A rasping, recurring Radio Falange broadcast ("Whoever is not with us/ Is against us") deepens the mood of threat.
The text of Hwang's libretto is spare and uncomplex, replete with just enough striking images ("To Havana, ah! With my skull open to the sun,/ sand tasting like rum/ The breeze is my shepherd, /I shall not want") in the manner of Lorca, and capturing the poet's intensely personal notion of revolution, social yes but in search of other kinds of release and embodied in adoration of the suffering woman. Of Pineda, Lorca sings "Yet the revolution betrayed her/ for all she really wanted/ was love, only love." Lorca himself is Christ-like, in his own words ("I walk singing, crowned with thorns") and those of the chorus ("you carried your cross, /on his left, a school teacher, on his right, a bullfighter,/ and the fountain began to cry"). Some of the most affecting music is heard in the Voices of the Fountain and then in the pathos of Confession with its many gentle voices (including recorded village folk in prayer against high, delicate marimba arpeggios) and Lorca refusing death. The electronically treated gunshots come as a shock, sole accompaniment to the Falangist tenor and mutating into the sharp pulse of castanets.
The Adelaide production is to be directed by Graeme Murphy, with design elements by Brian Thompson and video by Tim Gruchy, and Slava and Leonard Gregorian featured on guitars, most prominently for a taut duet, Crepuscule deliriant ("Delirious sunset, an interlude of light and orchestra–guided by two Arab guitars"), prelude to the sublime trio of sopranos with guitar, Day mi sangria (Here is my blood), at the opera's end. For some, Ainadamar will amount to no more than superior kitsch, a simplistic account of the last hours of a great poet and dramatist, for others it will be a deeply moving experience. A recording of this brief opera is available on one CD (DG 002894776165) with Dawn Upshaw, the composer's favourite soprano in superb form as Xirgu (listen also to her remarkable performance on Golijov's more provocative Ayre, DG 002894775414), with Kelley O'Connor excellent as Lorca (and appearing in the Adelaide production with Jessica Rivera as Xirgu).
In the 1990s Leonard Cohen spent eight years in a Buddhist monastery from which he emerged back into the world of song, sexuality and love and with a large collection of poems and drawings now published as Book of Longing. Cohen had read many of the poems to Philip Glass before their publication and the composer suggested he score them as a song cycle. The performance, described as "part concert, part cabaret", features Glass, his ensemble, vocalists and projections of Cohen's drawings, but not Cohen himself (except as occasional recorded reader of his poems), nor his tunes. This could be a very odd experience but the advance word is good. Even a seasoned Glass-watcher and doubter like the New Yorker's Alex Ross finds that "the expected stretches of prefab Glass give way to sharply characterised [instrumental] solos…These set the stage for a potent reimagining of Cohen's song 'You Came to Me This Morning'—it becomes a languid ballad somewhat reminiscent of the Kurt Weill of 'Rise and Fall of the City of Mahagonny', driven along by an ominously seething ensemble accompaniment. In the right context, Glass' music releases unexpected energies" (November 5).
The recently published Penguin paperback of Book of Longing is a generous offering of Cohen both profound and slight, and inherently tuneful—it's easy to imagine many of the poems sung, and a couple, like "Because of", have been on recent albums. The evocation of monastic life is strong, how tiny details, like insect life, become enormous, the denials and contradictions (the master priest Roshi's love of Scotch whisky), and Cohen's growing sense of a life not right for him. Side by side with resignation about a life nearing its end ("This is it", or "Takanawa Prince Hotel Bar" where Cohen espouses the "the Great Resignation of Poetry"), there's anger too, not just about the incapacities of an aging body and monastic deprivations, but also the fundamentalism inherent in his own questing: "I joined a tiny band of steel-jawed zealots/ who consider themselves/ the Marines of the spiritual world" (from "The party was over then too"). The Glass Book of Longing (also soon out on CD), should be nothing less than fascinating in performance with works sung and read—a reminder that Cohen started out as a poet in the 1950s; I remember reading and admiring him in the 60s, his novels as well, before his singing career commenced.
There's much more music in the Adelaide Festival and some very strong theatre. Schaubuhne an Lehniner Platz Berlin present Tenessee Williams' Cat on a Hot Tin Roof. Malthouse and the Sydney Opera House have commissioned Marius von Mayenberg's Moving Target, directed by Australia's Benedict Andrews (who impressively directed the writer's Eldorado for Malthouse and directs at the Schaubuhne). The Netherlands' company Kassys will present Kommer (Sorrow), a reverie about grieving that moves from stage action into film. Brink Productions will premiere Andrew Bovell's When the Rain Stops Falling, Dash Arts will present A Midsummer Night's Dream in Tim Supple's multilingual production drawing on classical Indian dance and martial arts, and Lovers & Haters is a new play about Don Dunstan written by Rob George and Maureen Sherlock. South African State Theatre presents Township Stories, a serial killer thriller with a strong social perspective.
In dance, DV8 will perform To Be Straight with You, a work derived from interviews with people affected by various forms of discrimination; Akram Kahn and Sylvie Guillem will unite for Sacred Monsters; and Australia's Force Majeure will collaborate with William Yang to present The Age I'm In (see page 4). The program also includes Chunky Move's Glow and the Emmanuel Gat Dance Company from Israel. As always there's a strong visual arts lineup in the festival, but more about that later.
sydney festival
Sydney Festival will open with a huge, free music party instead of the usual guests-only gig, encompassing Hyde Park, Angel Place, Macquarie Street, The Domain and beyond, and featuring Brian Wilson, Paul Kelly, New York's Pink Martini and many others. The party is the prelude to an ambitious round of concerts, major ones featuring large bands, orchestras even. Brian Wilson and band will perform the classic Pet Sounds in one concert and a new work, That Lucky Old Sun (A Narrative), a hymn to California, in another. The festival's previous celebrations of Leonard Cohen and Lou Reed (the staging of Berlin featuring Reed himself) have pulled huge audiences and aided some intriguing critical re-evaluations; the Wilson should do no less. Bjork, as popular with the art scene as with her fan mass, sold out within seconds: the anti-scalper unit is on alert.
American songwriter Sufjan Stevens has created an engaging, eccentric body of work with his curious take on Christianity and American culture in compositions rich in the idioms of hymns and folksong, and sometimes boosted to epic force with orchestral instrumentation. As with Brian Wilson and Bjork you'll get something more than a nice set of songs. Stevens' band will be supplemented with a wind and brass ensemble and video projections. Joanna Newsom, like Stevens another acquired taste, is also in symphonic mode, performing her album Ys with the Sydney Symphony Orchestra in arrangements by Van Dyke Parks (a key Beach Boys collaborator).
On the Australian front, Indigenous music is strongly represented in two concerts by an astonishing lineup of talent supported by prominent non-indigenous artists. In Cannot Buy My Soul, the truly idiosyncratic and bracingly political Kev Carmody will perform with Broome's wonderful Pigram Brothers, Paul Kelly, The Herd, The Drones, Missy Higgins, Steve Kilbey and others. From Melbourne's Arts House comes Murundak, a multimedia performance embracing a wide range of Aboriginal performers gathered as Black Arm Band, including singers, actors and didjeridu virtuoso Mark Atkins. Among the participants are Archie Roach, Ruby Hunter, Ursula Yovich, Stephen Pigram, Peter Rotumah, Dave Arden, Shellie Morris, Kutcha Edwards, Emma Donovan, Joe Geia, Dan Sultan and Jimmy Little. These concerts will present what has become a major body of Australian song, a rare opportunity to survey established work and new. In another act of reflection the remaining members of The Triffids will pay tribute to the late David McComb with songs popular and rare, and projections and readings—another opportunity for re-evaulation but now in live performance after the recent CD re-releases.
Among a host of other performers doing more intimate shows are Chicago-based singer-songwriter, multi-instrumentalist and whistler extraordinaire Andrew Bird (Armchair Apocrypha, 2007); France's 10-piece Babylon Circus merging a multitude of styles from ska-punk to dancehall; the eagerly anticipated 6-piece Tunng from New York with their infectious experimental pop-folk-electronica; from South Africa, Third World Bunfight and performance poet Odidi Mfenyana in House of the Holy Afro; from the US, Grammy-winning hip-hop artists De La Soul and People Under the Stairs; Montreal's electro-funk duo Chromeo; melodic New York-based indie band Mice Parade; Australia's Martin Craft (back from London); influential Detroit house producer Moodymann; also generating high expectations, Brooklyn's complex, dark-toned The National (Boxer, 2007) on the same bill as Clogs; Brazil's dance-driving Monobloco; and Minnesota's harmonising, richly minimalist Low.
Noite Brasil, with Oscar Castro-Neves, was a big success for the festival in 2007 and will be followed in 2008 by Jazz in The Domain: El Barrio with music rooted in New York's eastside, specifically 'salsa dura.' The 13-piece Spanish Harlem Orchestra will be conducted by famed pianist and arranger Oscar Hernández and featuring one of jazz's greatest trumpeters, Jon Faddis.
The Sydney Festival 2008 program has a substantial Australian dance program (see page 4). As well Spain's Compañía Nacional de Danza will present Three Works by Nacho Duato, including the choreographer's Alas ('wings' in Spanish), a version of the Wim Wenders film The Wings of Desire, created in collaboration with leading Slovenian theatre director Tomaz Pandur.
The theatre program has a strong political bent derived from works with a documentary impulse. At the centre of the program is the recently formed National Theatre of Scotland with Aalst, the company's version of a Belgian play based on fact about a husband and wife who murdered their two children in 1999, and Gregory Burke's Black Watch, again a work rooted in reality, here interviews with soldiers from the Iraq war.
Urban Theatre Projects from Sydney's western suburbs return to the festival after the success of their 2007 show, Back Home. The new work, The Last Highway, is described thus: "In a 24-hour service station on the edge of the road through a remote industrial part of western Sydney, the paths of six late-night workers intersect in startling ways." These are sex-workers, taxi-drivers and shift-workers and the performance focuses on their individual beliefs and larger issues of alienation and dispossession. Big hART's Ngapartji Ngapartji features Trevor Jamieson and people from the Pitjantjatjara community in this performance (and language lesson) about land not only taken from a people but destroyed in nuclear blasts in the 1950s. Like Aalst and Black Watch, The Last Highway and Ngapartji Ngapartji have developed out of intensive research and consultation.
There's more predictable festival fare in the exotic and expert circus theatre of La Clique, Cirque Ici and James Thiérrée's Au Revoir Parapluie. Warranting particular attention is Meow Meow's Insert the Name of the Person you Love, "inspired by an article on the time it takes to fall in love." As ever the femme fatale is in trouble, which puts her on the edge—the best place for this risk taking performer and virtuosic vocalist. Meow Meow is a true international of the cabaret and performance scene—her solo cabaret show Beyond Glamour featured in David Bowie's High Line Festival in New York.
For something out of the ordinary and in the open air, try US-based Australian artist Anita Fontaine's Ghostgarden, in which d/Lux/MediaArts takes you "on a cinematic journey" through Sydney's Botanic Gardens, relocating you in the 19th century when the site was a zoo and parklands. Using the worldwide Global Positioning System (GPS) and a pocket PC, you wander the gardens, a tale of love unfolding around you. For more of the surreal in the age of bio-mimickry, try Los Angeles-based Tim Hawkinson's Mapping the Marvellous at the MCA, featuring found object creations that include animals— "among them a bat created from shredded black plastic bags and twistie ties—as well as inflatable and collaged self portraits, monstrous beings and fantastical structures that chatter, whistle, rotate and spin." But if it's visual arts you want, then Adelaide, as ever, has had the greater commitment of Australia's international arts festivals.
Sydney Festival, Jan 5-26, www.sydneyfestival.org.au
Adelaide Festival, Feb 29-March 16, http://adelaidefestival.com.au
RealTime issue #82 Dec-Jan 2007 pg. 5
© Keith Gallasch; for permission to reproduce apply to realtime@realtimearts.net