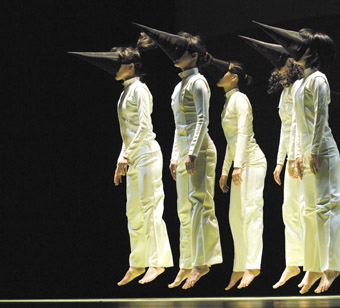 photo Choi YoungMo
Dance Theatre ON, Ah Q
THE DANCE PROGRAM OF THE 2008 SINGAPORE ARTS FESTIVAL IS PARTICULARLY STRONG, NOT LEAST IN THE WAY IT MORPHS INTO THE THEATRE PROGRAM WITH SOME FASCINATING HYBRID CREATIONS.
In Amjad, choreographer Édouard Lock and Canada's La La La Human Steps challenge romantic ballet in the shape of Swan Lake and Sleeping Beauty. Lock was born in Morocco where Amjad, a name for children both male and female, means "greater glory"—the choice of title suggestive perhaps of Lock's desire to transcend the inherent violence of gender divisions, not least in classical ballet. He requires of his company both ballet skills and hard-edged, fast contemporary dance.The multimedia set is by French-Canadian sculptor Armand Vaillancourt and the music mix comprises works by Gavin Bryars, David Lang, noise artist Blake Hargreaves and, of course, Tchaikovsky.
Romanian Edward Clug is the house choreographer and head of ballet at the Slovene National Theatre in Maribor, Slovenia's second largest city. His Radio and Juliet is Romeo & Juliet performed to the music of Radiohead and tells the tragic tale in reverse. In another major work, The Architecture of Silence, Clug choreographs his company as fish-like dancers in virtual waters to contrasting requiems by Mozart and contemporary Polish composer Zbigniew Preisner (who scored films for director Krzystof Kieslowski). This epic production features 45 dancers, 80 singers and the Singapore Festival Orchestra.
In Japanese artist Nibroll's No Direction, an exercise in miscommunication and an argument against homogenisation, eight performance artists "haphazardly inhabit a grid on stage, absorbing each other's idiosyncracies and sporadic urges in a continuous interplay of music, movement, and visual images." What began as an installation for Tokyo's Metropolitan Museum of Photography has become a major performance work with the multimedia collective formed in 1997 by Yanaihara Mikuni. No Direction is dance and much more.
In Ah Q, South Korea's Dance Theatre ON employs the Quixotic character from Luxun's novel The True Story of Ah Q to explore the effects of ignorance and foolishness. Choreographer Hong Songyop's productions are well known for their rich symbolism and surreal effects in their ventures into the psychological interior.
In the festival's theatre program dance makes some intriguing appearances. In For all the Wrong Reasons, a collaboration between Belgium's Victoria and the UK's Manchester-based Contact, leading experimental theatre director Lies Pauwels addresses stupidity. The setting is a faded end-of-the-pier revue, the performace a set of dances, songs and confessional monologues replete with sheer silliness and moments of profundity (you can enjoy a delicate if bizarre dance segment on the festival website).
In Nine Hills One Valley, dancer-director-designer Ratan Thiyam and the Chorus Repertory Theatre of Manipur celebrate the traditional dance, theatre and other cultural forms of the remote regions of Manipur in eastern India, but they also lament the passing of these ancient and often interdisciplinary arts. Although not dance-based, Awaking, a new interdisciplinary work from Ong Keng Sen and TheatreWorks with contemporary Chinese composer Qu Xiao Song, looks to the literature, theatre and music of the past in very different cultures. Awaking addresses love through the works of Shakespeare and Ming Dynasty poet and playwright Tang Xian Zu, of Peony Pavilion fame. Both writers died in 1616. The performance features the Singapore Chinese Orchestra; the Musicians of the Globe led by Philip Pickett; and the kunqu opera actress Wei Chun Rong and her musicians from the Northern Kunqu Opera Theatre in Beijing.
The festival also includes Forward Moves, commissioned works from three female Singaporean choreographers: Ebelle Chong, Neo Hong Chin and Joavien Ng. Continuum from the Singapore Dance Theatre presents the Asian premieres of Evening by Graham Lustig (USA), The Grey Area by David Dawson (UK) and Glow-Stop by Jorma Elo (Finland).
On the experimental theatre front, Singaporean visual artist and filmmaker Ho Tzu Nyen [RT80, p54] and co-director Fran Borgia have been commissioned by the Singapore Arts Festival and Brussel's Kunstenfestivaldesarts to create The King Lear Project: A Trilogy. The three productions, played over three days, work from well known critical essays on Shakespeare's tragedy, realising them as audition, rehearsal and post-show discussion, worrying at the right way to stage the great work.
As for Australian content, in the 2008 Singapore Festival Geelong's Back to Back Theatre continue on their quiet path to world domination with the remarkable Small Metal Objects. RT
The 2008 Singapore Arts Festival. May 23-June 22, www.singaporeartsfest.com
RealTime issue #84 April-May 2008 pg. 33
© RealTime ; for permission to reproduce apply to realtime@realtimearts.net