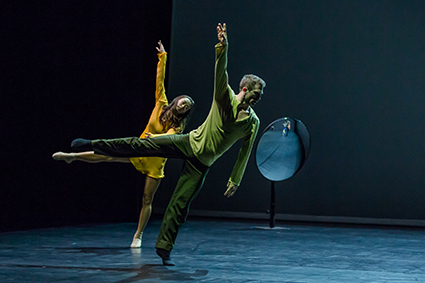 photo Peter Greig
Sydney Dance Company, Chloe Leong, David Mack, Quintett, William Forsythe
Mysterious objects: a large, antique projector to the right; a reflector disk facing it on the diagonal in the back corner. From out of silence: the sublime plangency of Gavin Bryars' "Jesus' Blood Never Failed Me Yet," the looped delicately quavering voice of the aged singer gradually underscored with melancholy strings and brass—a musical perpetuum mobile, ordinary and profound.
In harmony with and radical counterpoint to this humble evocation of infinity and faith, five young bodies solo, intersect and duet across the space in various permutations, their movement the language of classical ballet seamlessly interwoven or interpolated with stalking crawls, elegant crabwalks, casual strolls, atypical lifts (a dancer hoisted by her horizontally extended forearm), precarious leaps and catches. Bodies and floor are slapped, a bottom forcefully bumped by another, arabesques flawlessly executed and the space shared by contrastive duets and solos that make architectural sense—as ever in the choreography of William Forsythe. Of course, the legacy of Forsythe is written through today's contemporary dance and its hybridisation with popular dance forms, martial arts, media arts and the theatre of simultaneity, but Quintett remains strikingly original, a cogent ballet performed with great precision, remarkable abandon and realised with a surreal theatrical sensibility. Late in the work's 25 minutes as light fades, the projector flickers on, enabling brief passages of elusive shadow play before the dancer slides head first beneath a side curtain only to find herself dragged back centre-stage where she readies to dance again. Blackout. It's a not-quite resolution. The dance and song live long in us.
The opening night's impressive, responsive and necessarily highly flexible dancers were Chloe Leong, Jesse Scales, David Mack, Cass Mortimer Eipper and Sam Young-Wright under the direction of Forsythe's assistant stagers Thomas McManus (one of the original dancers of the work) and Ana Catalina Roman Horcajo (who appeared in it subsequently). Quintett abounds with sheer formality, unexpected angularity, calculated off-centredness, exquisite head and arm work (two hands grip a head to turn a body), humour and watchfulness. These were realised by the dancers with precision and evident passion.
It's long been reported that Forsythe composed the work in 1993 as "a love letter" to his 32-year-old dying wife, leading to much speculation about the work's meanings. McManus has said in an interview, "Bill never said that Quintett was about anything in particular…for us it was a very joyful experience." Certainly, Quintett's mere 25 minutes are dense with possible meanings, heightened by the awe with which we regard the dancing and its inherent joyfulness despite the apparent melancholy of the serene music that suffuses it.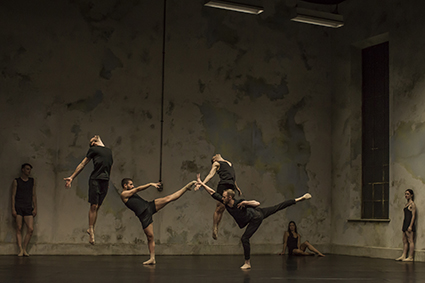 photo Peter Greig
Sydney Dance Company Ensemble, Frame of Mind, Rafael Bonachela
Bryce Dessner's Aheym, played by the Kronos Quartet, is the score for Rafael Bonachela's Frame of Mind. Next to Gavin Bryar's melodic minimalism Dessner's writing in Aheym ("homeward" in Yiddish), if characterful, is in the vein of the familiar chugging minimalism of Philip Glass. Bonachela works relentlessly close to its pulse with rare moments of counterpoint, focusing on speed whether in solos, ensembles or the company en masse. Consequently the busy-ness makes it difficult to focus on motifs or to grasp the work at once, in contrast with being drawn into Forsythe's engrossing fast-slow oscillations in Quintett.
Bonachela's motivation for Frame of Mind is the split he experiences in having two homes, one in Europe, the other in Australia and the resulting desire to inhabit both places at once. Consequently, the design for the 34-minute Frame of Mind by Ralph Myer is a vast, expressionistic room, towering vertiginously high. Its mottled walls suggest age (separation as an eternal curse? A "melancholy memory room," writes Myer), its huge window (the frame of mind) lets in the light of day, night and change of seasons, and darkens for interiority. Performers linger along the walls, slip in and out of the dancing or exit and re-emerge in displays of tight unison with 16 bodies suddenly soloing at once before re-uniting. The image is powerful if not greatly revealing beyond emphasising the together and apartness that seems to pervade the company and ensemble passages, while the forceful solos express emotional pain. One unusual gesture stands out—a hand held across the eyes and then shifted away to lead the next movement: a motif suggesting a closed-in, displaced self breaking out? In a final, vigorous solo Cass Mortimer Eipper opens with this motif but in the end sinks to the floor with an arm across his eyes. Can the strange exile of being at home but not at home be endured? The work's tormented propulsion and its intense solos suggest not; nor is reprieve found in pulsing crowds.
Bonachela sees Frame of Mind as "an acknowledgement of our emotional lives" without the need for words (program note). Although powerful in part, it's not clear that Bonachela's choreography, however deft and finely articulated, says more than is obvious about his plight. Juxtaposing Frame of Mind with Quintett was doubtless a challenge—the sheer scale of the Bonachela, dense with numbers and an uncomplicated premise, up against the small ensemble lucidity of the Forsythe, dense with meaning.
Sydney Dance Company, Frame of Mind: Quintett, choreography William Forsythe and original dancers, design, lighting William Forsythe, costumes Stephen Galloway; Frame of Mind, choreography Rafael Bonachela in collaboration with dancers, set, costumes Ralph Myer, lighting Benjamin Cisterne; Sydney Theatre, 6-21 March
RealTime issue #126 April-May 2015 pg. 26
© Keith Gallasch; for permission to reproduce apply to realtime@realtimearts.net