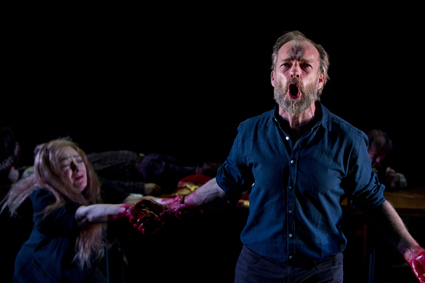 photo Brett Boardman
Melita Jurisic, Hugo Weaving, Macbeth, Sydney Theatre Company
Powerfully performed and provocatively staged, Kip Williams' Macbeth for the Sydney Theatre Company is bracingly emotional and corruscatingly memorable. It's almost a perverse pleasure having seen many productions and films of this tragedy, to witness so intimately the Macbeths' intense passion for each other, their mutual delight in the prophecy of kingship for Macbeth, the extreme discordancy over whether or not to act on it and, all too soon, their utter, quaking, near dumbfounded horror at having executed the deed. Even the resolute Lady Macbeth is aghast when she returns the knife to the scene of the crime, hovering over the body of the bloodied Duncan as if afraid to put the weapon down.
In an emotionally rich, finely graded performance Hugo Weaving's Macbeth startlingly alternates between growing confidence (his voice deepening, his forceful rationale for further killing growled), eruptions of conscience (the protracted half-howling that stifles his speech in the presence of Banquo's ghost), panicky anger over the uncertain meanings of the witches' prophecies and, finally, his trumpeted over-reliance on them. His lament for his dead wife is sad but distracted, his "Tomorrow, and tomorrow…" expressly bitter, devoid of any sense of self-doubt. He fights with enormous energy, falls exhausted, drags himself to Macduff, grabs at his enemy's legs and dies.
Melita Jurisic's Lady Macbeth complements Weaving in physical energy and emotional volatility: she weeps over his letter, is playfully girlish upon his homecoming; she is profoundly shaken by her husband's breakdown during the banquet and alarmed and defeated by his new murders, plotted without telling her. We are well prepared for her demise. Unfortunately, in the sleepwalking scene Jurisic ratchets her voice up from mezzo to a contorted cry, swallowing the words. There is a chilling moment however when passing by Macbeth, whom she doesn't see; she utters, "Here's the smell of blood still," leans towards him and is repelled by what she senses.
Weaving and Jurisic run with the beat of Shakespeare's poetry, Weaving initially with a kind of formality that suits the soldier but is soon emotionally undone, the performer expertly holding the poetic line. Jurisic near intones her words (as she did so strikingly in Barrie Kosky's Mourning Becomes Elektra, STC, 1998). These complementary deliveries are in tune with the ensemble's commitment to chiming the play's insistent couplets and aphoristic utterances that point 'the moral' (and all its ironic ambiguities), recalling the Morality Plays so frequently evoked in Elizabethan and Jacobean drama.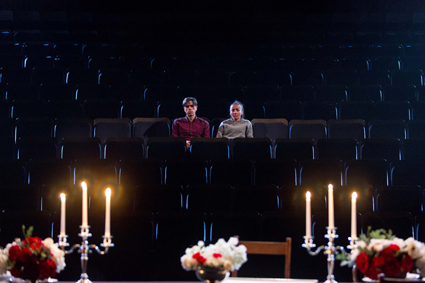 photo Brett Boardman
Macbeth, Sydney Theatre Company
A DIY Macbeth
Peter Brook's The Empty Space is prominently quoted from in the printed program. In Williams' production, the audience shares the unadorned stage with the actors performing in close proximity to us, the vastness of the auditorium behind them. The theatre is not simply an empty space but one in which we find our usual position reversed—we might become players of a kind, or not. The effect of the reversal is certainly eerie—the sheer emptiness of the auditorium and our presence on stage echoes the multitude of utterances in the play about the loss of order, the confusion between real and unreal, the blurring of day and night and the putting on of appearances.
But before the auditorium comes into play, after some third of the performance, the conceit of 'the empty space' is compounded with the deployment of a complementary one—DIY theatre. Save for a long trestle table, various chairs, a simple crown, a regal cape, plastic raincoat and a ruff, the stage is bare of props. Others are added in due course: a single knife ominously handed scene to scene, character to character, plastic plates and wine glasses, black table cloth, cakes, candles, bowls of flowers, cups of stage blood and, finally, a large sword and an Elizabethan courtier's outfit. The three weird sisters plunge their heads into water-filled Tupperware trays, burbling out their prophecies; later they use desserts to the same end in a grim bit of comedy that turns nasty with Macbeth lashed to a chair. The actors as stagehands manage the props (Macbeth sets the table for the banquet, "play[ing] the humble host") and perform any number of roles, against gender and age: Paula Arundell is Banqo, Kate Box is Macduff, John Gaden plays King Duncan, an old man and Macduff's child in a tender and metaphorically rich scene with Arundell, now as Lady Macduff. These effective transformations, with minimal if any costume change, confirm our sense of coherent society ravaged and undone—small tragedies within the play's overarching cosmos.
However, this space is not so empty. Lighting constantly transforms it, creating new perspectives and ambiences and a world at once intimate and vast. A massive, eye-wateringly dense fog saturated with reds and pinks fills the stage after the murder of Duncan, until dispersed by banks of large electric fans aimed at us. The actors are head-miked, even when in close proximity to us. The sound score rumbles insistently (as in so many productions these days) but with a disturbing musicality: discrete pinged notes in moments of pathos and high emotion or a sub-melodic assemblage of distant possibly brass chords. This empty space is filled with the immersive sounds of cinema: miked voices and soundtrack. At times I wondered what un-miked voices might have done for our sense of immediacy and, especially, distance in the exploitation of this empty space.
I was surprised that greater use was not made of the auditorium: the conceit was nowhere near exhausted. Sometimes, the simplicity of the notion was effective: prior to his death, as other events unfold or he momentarily steps into them, Macbeth stands still on the forestage for a long time, back to us, staring into the auditorium, minus an audience—already on his way to becoming the "poor player/ That struts and frets his hour upon the stage/ And then is heard no more." Even in battle he is alone, tightly bound by two pulsing spotlights, furiously brandishing his long sword against invisible enemies. In the end, Macduff, lifting the depleted Macbeth's head, pours a cup of blood over him.
Weaving's gripping performance and fine support from the ensemble are framed by the artifice of the empty space and DIY theatre. There are times when the first feels insufficiently embodied or contradictory, while the second borders on a ragbag of devices, but among them are powerful images: simply choreographed, ritualistic moments ("Is this a dagger which I see before me…?"), the swelling fog from which steps the Porter, Macbeth bound by the witches and doused in their dessert mix, and the sparkling, falling snow in which Macbeth will leave traces of the dance of his defeat.
How well do these conceits serve Shakespeare's play? Admirably for the most part, imbuing the production with a necessary sense of disorientation and giving body to the tragedy's insistent metaphors of chaos and illusion with essentially simple theatre magic. They underline Macbeth's fatal dilemma. Believe the witches. Witches are wicked. Don't trust them. Take action yourself. But still believe.
The final image of the play has the actors dressing Malcolm, Duncan's son, in full courtly finery. He faces the auditorium, not us, and is crowned. Order, monarchical and theatrical, has been restored, as it had been when, after the anxious times that followed the death of the childless Elizabeth I, James VI of Scotland (a believer in witches) was crowned James I of England.
In his intriguing contemplation of theatre as a not so empty space, Kip Williams conjures in Hugo Weaving a great Macbeth—initially a man deprived of a "single state" in his terrifying oscillations between guilt and determination; later an entirely resolute murderer, shorn of self-doubt but a great poet of our common existential fate.
Sydney Theatre Company, Macbeth, writer William Shakespeare, director Kip Williams, performers Hugo Weaving, Melita Jurisic, Robert Menzies, Paula Arundell, John Gaden, Kate Box, Eden Falk, Ivan Donato, designer Alice Babbage, lighting Nick Schlieper, sound, composition Max Lyandvert; Sydney Theatre, opened 26 July
RealTime issue #122 Aug-Sept 2014 pg. 47
© Keith Gallasch; for permission to reproduce apply to realtime@realtimearts.net