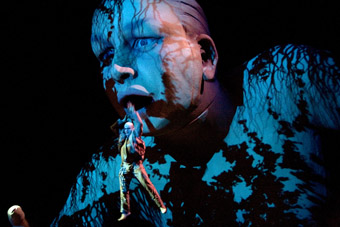 photo Bernd Uhlig
Le Grande Macabre
AT A BREAKFAST MEETING WITH SYDNEY JOURNALISTS, PAUL GRABOWSKY SPEAKS OF A CHALLENGE HE FACED IN PROGRAMMING THE 2010 ADELAIDE FESTIVAL: "HOW TO ACHIEVE A POINT OF DIFFERENCE" AT A TIME WHEN ARTS FESTIVALS CAN LOOK IDENTICAL AND WHEN ADELAIDE IS TO CELEBRATE ITS 50TH FESTIVAL. HE WANTS TO PAY TRIBUTE TO "LOYALTY, SUCCESS AND LONGEVITY", TO A FESTIVAL "BIGGER IN THE PUBLIC CONSCIOUSNESS THAN IN OTHER CITIES." AT THE SAME TIME HE WISHES "TO COMMISSION AND SUPPORT INDIGENOUS ART ACROSS ALL GENRES IN THE FESTIVAL", SEEING IT "AS THE MOST INTERESTING WORK IN AUSTRALIA" AND ART AS CENTRAL TO ABORIGINAL LIFE IN A WAY THAT IT IS NOT IN WESTERN CULTURE.
indigenous embodiment
To these ends, Grabowsky has woven Indigenous art and collaboration into his program. Building on the huge popularity of the 2008 festival's Northern Lights installation (by Sydney-based The Electric Canvas) which celebrated Adelaide by 'animating' its North Terrace cultural precinct buildings with transformative digital projections, Grabowsky has extended the project to the wall of Parliament House that faces the Adelaide Festival Centre Plaza. With "a sense of irony and poetry", he says, Aboriginal law from the Central Desert, in Pitjanjatjara language, will be projected onto the building and, on two public occasions, elders will pass on a song to a young man. Northern Lights thus becomes something much more than witty, digital magic.
Australia's place in Asia and as a country with a culturally significant Indigenous population figures in the music program. The London Sinfonietta is a leading progressive music ensemble whose first program will celebrate the music of the Pacific Rim with works from Mexico (Revueltas), US (Nancarrow, Cage, Adams) and Korea (Unsuk Chin's Double Concerto, with Australian pianist Lisa Moore). Their second program, Wind & Glass, includes adventurous Brisbane composer John Rodgers' Glass, performed by the great jazz trumpeter, Scott Tinkler, and a festival commission, Tract. In this new work, composer performer Erkki Veltheim (who plays with Elision, the Australian Art Orchestra and Geoffrey Gurrumul Yunupingu) has set the manikay song cycles of the Young Wägiluk Group from South East Arnhem Land. Grabowksy sees the juxtaposition of "cutting edge new music with one of the great treasures of Indigenous Australian culture as an important moment in Australian cultural history." The program includes works by UK composers Tansy Davies (Neon) and Gavin Bryars (The Sinking of the Titanic).
The Chooky Dancers from Elcho Island in Australia's north came to prominence with their indiosnycratic YouTube performance of the 'Zorba' dance. They will feature in a festival commission (in partnership with Darwin Festival, Sydney Opera House and Malthouse Melbourne), Ngurrumilmarrmeriyu (Wrong Skin), A Yolngu Tale of Forbidden Love, Skin and Clan, directed by Nigel Jamieson (Theft of Sita, Honour Bound, Gallipoli). Inspired by Shakespeare's Romeo and Juliet, the work will combine traditional dance and song, drama, comedy and film to address the complexities of life in remote communities, not least for the young. The work's title is explained by the festival:
"Ngurrumilmarrmeriyu: A Yolngu word meaning 'elope'. The literal translation of Ngurrumilmarrmeriyu is Ngurru (nose), mil (eye), marr (heart), miriou (nothing). If you follow your heart and body and marry outside the dictates of your family and community, you lose everything—your kinship, your place in the world, the system of law that lays down all the relationships by which you live."
Also in the 2010 program is Company B's highly successful, The Sapphires, the story of the indigenous McCrae sisters who as a singing group entertained troops during the Vietnam War. Written by Tony Briggs, it's based on the lives of his mothers and aunts. Tandanya National Aboriginal Cultural Institute is presenting Putsch by Brisbane-based proppaNOW, a collective of innovative and activist artists including Richard Bell, Vernon Ah Kee, Tony Albert, Bianca Beetson, Andrea Fisher, Jennifer Herd, Gordon Hookey and Laurie Nilsen. Putsch aims to defy white expectations of Aboriginal art and to eliminate self-censorship.
body opera
Grabowksy's celebration of Australian Indigenous culture offers a sense of history, continuity, intercultural potential and therefore hope. However, global warming data projects the spectre of gradually accelerating annihilation of the Earth's ecology while popular feature films neurotically repeat sudden apocalypses. György Ligeti's opera Le Grand Macabre, a festival centrepiece, might then offer some temporary relief from large scale anxieties. Its protagonists come face to face with Death (Le Grand Macabre) in a riotous absurdist fantasy of power plays and miraculous survivals that reveal that there's more to life than death.
Le Grande Macabre, adapted from the play by Belgian surrealist Michel de Ghelderode, is a widely admired 20th century opera classic, hugely theatrical and richly visceral, funny and frightening. Its sense of rugged but vulnerable corporeality is amplified by truly dramatic singing that ranges from falsetto to stuttering stacatto to gut rumbling bass, abrupt and lyrical by turns and reinforced by a wonderfully suggestive orchestral score ranging from a car horn prelude to the sheer apocalyptic force of the full orchestra. (The excellent 1997 English language version conducted by Esa-Pekka Salonen—from a production by Peter Sellars—is available on SONY Classical, CD S2K 62312.)
To give Le Grand Macabre a bit more body, its producers (Théâtre Royal de la Monnaie, Brussels; English National Opera, London; Gran Teatro de Liceu, Barcelona and Teatro dell'Opera di Roma) have employed La Fura dels Baus to stage it. For those of you who only know the company from its ensemble work with raw meat and chainsaws and audiences on the run, be assured that its company members have a strong track record of major opera successes, albeit without deserting their impulse to provoke. Central to the staging is a massive remotely controlled body from whose orifices the characters of Le Grand Macabre emerge, their costumes suggestive of bodily organs, while the body doubles as a screen for (psychological) projections. The production is in English and with surtitles.
vulnerable bodies
Looking at the body from another angle, Back to Back's Food Court is the company's darkest work to date, a brutal exploration of bullying, not least from a sexual perspective, and performed to The Necks' insistent musical pulse, played live, and amidst Bluebottle's eerie, impressionistic dreamscapes. Back to Back put the 'heartwarming' label sometimes applied to them to the test in this unique work.
Earlier this year, New York's Elevator Repair Service gave body to every word of The Great Gatsby in Gatz, a quite lateral, seductive transposition of the book from print to live reading and performance over seven absorbing hours (RT91). For the Adelaide Festival they'll perform the first chapter of William Faulkner's 1929 novel, The Sound and the Fury. One of the company explained the choice: "Faulkner himself claims to have written the Benjy chapter first and insists that he only wrote the succeeding chapters in an attempt to explain the first one. I liked the prospect of taking his initial inspiration and illuminating it through performing it live." The rich experience of Gatz is enough of a recommendation to see this new work.
The vulnerability of the body, and of self, is nowhere more strangely focused than in superstition, in the nervous hovering between rationality and delusion. Adelaide innovators, The Border Project in collaboration with Sydney Theatre Company's new ensemble The Residents, will premiere Vs Macbeth, a reworking of Shakespeare's play in terms of the superstitions in the text and those historically constellating around "that play", as well as incidents involving the collaborators as the production has evolved. Cameron Goodall will play Macbeth and Amber McMahon Lady Macbeth, with Sam Haren directing.
In another take on Shakepeare, Melbourne's The Eleventh Hour (directed by Adelaide-based Anne Thompson, with William Henderson) revealingly transposes The Life and Death of King John, set in the 13th century, onto the bodies and into the mouths of convalescing First World War soldiers, the ultimate victims of unchecked power. John Bailey wrote of the Melbourne premiere:
"[T]he conceit works wonderfully as the audience takes on a kind of double-consciousness, extracting Shakespeare's tale from the often hilarious and sometimes moving play staged by the wounded" (RT70).
the immersed audience
Another festival commission (with Sydney Festival) has brought together Australian recorder virtuoso Genevieve Lacey and innovative UK filmmaker Marc Silver (www.marcsilver.net) to create an immersive in-the-round installation, en masse, for 50 people at a time, produced by Melbourne's Arts House. To metaphorical ends, Silver juxtaposes his footage of hundreds of thousands of migrating starlings with an electroacoustic score from Lacey, sound artist Lawrence English and re-mix contributions from international respondents Christian Fennesz, DJ Olive, Nico Muhly, Ben Frost, Steve Adam and Taylor Deupree. At specified times the installation will also include a live performance.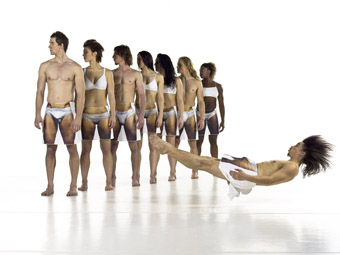 image Chris Herzfeld
Be Yourself, ADT
dance about the body
Australian dance companies like ADT (Devolution,The Age of Unbeauty), Chunky Move (Mortal Engine) and Lucy Guerin Inc (Structure & Sadness) are not afraid to tackle big issues. ADT's Be Your Self (co-produced by Grand Théâtre de la Ville de Luxembourg, La Rose des Vents Villeneuve d'Ascq and Le Rive Gauche Centre Culturel de Saint-Etienne-du-Rouvray) creatively addresses the emotional and biological complexities of the self as body. See ADT artistic director Garry Stewart offers valuable insights into the evolution of the work and the nature of the unusual collaborations involved in its realisation.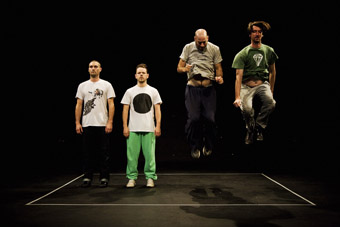 photo by Untrained Artist
Byron Perry, Antony Hamilton, Simon Obarzanek, Ross Coulter, Untrained, Lucy Guerin Inc
Lucy Guerin's Untrained (see reviews) is a work on a more modest scale but it wittily and very personally reveals much about the differences (and similarities) between trained and untrained dancers and, by analogy, about all our bodies. The show has the curiously empathetic effect of constantly prompting you to think, 'How would, or could I, do that?', at the same time feeling the movement in your body.
Jin Xing Theatre Company's Shanghai Beauty is a rarity, contemporary Chinese dance. It sounds intriguing, examining "opposing views of the body and the beautiful…through a cross-cultural choreography for 16 dancers who move as one." Jin Xing was a colonel in the Chinese Army, trained with Graham and Cunningham in the US, and became a woman and the director of her own company, unfunded by the Chinese government until this tour, says a very pleased Grabowksy.
active recall
Paul Grabowsky's gift to the people of Adelaide on the occasion of its festival's 50th anniversary is Reel Life: The Home Movie Project. It's an installation that transforms the Elder Park Rotunda into a giant lantern screening images built from footage from the 1930s to the 1980s, largely in Super8, submitted to the festival and edited from 100 hours of film by Richard Raber and Naomi Bishops of Traces Films, and includes trips, parties and pageants, festivals and events both intimate and epic.
to the heart
The 2010 festival poster and brochure image is of a heart shape, perhaps blow-torched through metal, allowing a glimpse of a warm, golden interior. After decades where empathy has failed Australians, the processes of apology, forgiveness and reconcilation have barely begun. Paul Grabowksy clearly wants to cut through hard-heartedness: "Our festival….aim[s] to remind us all of our better selves, our best selves in a festival which celebrates our right to dream, to emote, to feel." Nor is he afraid to wear his heart on his sleeve, revealing his intentions and confirming them in a program rich in Indigenous content, local and national talent in an international context, and with an overarching sense of the here and now.
See page overview of the Adelaide Festival visual arts program.
Adelaide Festival, Feb 26-March 14,
www.adelaidefestival.com.au
RealTime issue #94 Dec-Jan 2009 pg. 13
© Keith Gallasch; for permission to reproduce apply to realtime@realtimearts.net