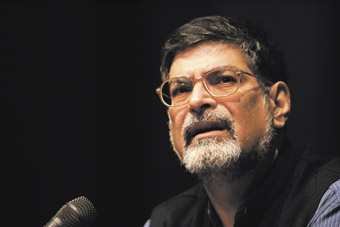 photo James Knowler
Rustom Bharucha
WHEN A NEW FESTIVAL SPRINGS INTO BEING, IT NEEDS TO DO SOME GROUND-CLEARING TO JUSTIFY ITS EXISTENCE. WHEN THAT FESTIVAL IS ONE DEVOTED TO THE CULTURAL CONNECTIONS BETWEEN AUSTRALIA AND ASIA IN A CITY AS TRADITIONALLY ANGLOCENTRIC AS ADELAIDE, YOU NEED TO ROLL UP YOUR SLEEVES BECAUSE THERE'S SOME SERIOUS WORK TO BE DONE. IT WAS IN THIS SPIRIT THAT WE HUNKERED DOWN TO A TWO-DAY SYMPOSIUM TO LAUNCH THE OZASIA FESTIVAL WHICH DOUGLAS GAUTIER, THE HEAD OF THE ADELAIDE FESTIVAL CENTRE, HOPES TO MAKE AN ANNUAL ADDITION TO HIS CITY'S CULTURAL LANDSCAPE.
Asia and Australia are both complicated places and a variety of issues must be considered when speaking of the possible connections between them: the economic and political contexts; questions of intercultural communication; the multicultural politics of Asian communities in Australia with the tricky business of hyphenated identities; and then the pragmatic stuff about how to turn all of this into a living for working artists. With such a disparate array of terrains in front of us, and with the desire to invite as many voices as possible into these debates, the challenge was for the participants to find points of common interest so that they didn't simply talk past each other.
Bob Hawke's opening keynote set up a range of ideas against which several subsequent speakers tried to define their positions. After a brief historical outline (ALP=Asia as opportunity=good; conservatives=Asia as threat=bad) Hawke based his argument on the primacy of economic and trade ties. His argued that Asia—read primarily as China—is increasingly important to Australia's economic base and implied that the arts should be along for the ride in the superstructure. And besides, the takeaway food here was hell prior to Asian influence.
The challenges flung down were several: is there a justification for intercultural artistic practice that isn't premised on placing art in the margins of economic life, and is the quality of the pad thai all there is to multiculturalism—an increased sense of cosmopolitanism for skippies to enjoy while they watch the footy on telly?
Penny Wong, Labor Senator from South Australia, showed scant respect for party elders as she rose to this bait, criticising the reduction of Asian influence to marginalised exotica within Australian culture. She pointed out that the central question is not so much the economic possibilities for Australia in Asia, but rather the ways that Asia is within Australia and not something external to it.
This way lies that most nebulous of territories, cultural identity. This is one of those large and comfortably amorphous terms which looks good on the menu but which usually leaves you hungry again pretty quickly. Send in the cultural theorists—or in this case, our second keynote speaker, Rustom Bharucha.
Bharucha, described in the program as a "leading practitioner and theorist of interculturalism," led off the second day of the symposium with an abstract, yet immensely engaging talk (no easy combination), which considered the general issues on the table, and more specifically, his experiences with the National Cultural Diversity Cluster established in the Australian Performance Laboratory at Flinders University.
He pointed out that, from his position in India, he saw the category of Asia as a construction, in many ways imposed externally. Given the variety of identity positions through which we can all define ourselves, "Asia" is a fairly general one in relation to more immediate options such as nation, gender, class or profession. While Asianness can function as a form of western orientalism, it can also be invoked strategically from within Asia, though Bharucha had stern words for the ways in which this has been used as a pretext for state determinism, as in the case of Singapore.
Bharucha ended with a cogent analysis of Australian cultural policies in the Asia-Pacific, contrasting the Australian government's increasing interest in expanding markets within the region with its populist cultural xenophobia on the home front. While many of the speakers couched their calls for increased cultural outwardness in the language of multiculturalism, Bharucha adopted a more critical approach to this rather vexed term, noting that mythicising ethnic origin was less important than other everyday negotiations. He criticised the construction of the national based on past traditions, and sought to replace it with a more complex (his favourite word) sense of the nation as an ongoing activity, the sum total of actions taken in the public sphere aimed at greater inclusivity.
The political analysis offered here lingered like a slightly bad smell over much of the symposium. Lachlan Strahan of the Department of Foreign Affairs and Trade noted that his department funds artistic activity as a form of cultural diplomacy in order to project an image of Australia "as a tolerant, innovative country." This sat uneasily with the obvious fact that most people interested in exploring the cultural relations between Australia and Asian countries are frequently predisposed towards criticism of current Australian government policy. As much as cultural exchange eludes the control of governments, there is no escaping the way that the mechanisms through which working artists explore these more diffuse connections are intimately connected to the purse strings of foreign governments (those of China and Indonesia) and alien governments (those of John Howard and Alexander Downer).
If the initial fault line under analysis was the difference between Australia and Asia, other more immediate fissures were quick to appear. Primary among these was the problem of intersection between theoretical discourse and artistic practice. Bharucha's keynote talk was followed by a panel discussion by the artists who had residencies at Flinders Cluster (and whose work, by the way, formed a hefty chunk of the OzAsia program.)
Artists as wildly different as monologist-photographer William Yang, violinist-stand up comic Hung Le and visual artist Hossein Valamanesh were asked to speak briefly on how they defined culture. The fragmentary and rather embarrassed responses pointed to the problems of practising artists being asked to reflect upon such abstract generalities, when what they normally do is something quite tangibly specific that doesn't require such self-conscious abstractions.
If Bharucha's favourite term was complexity, the value of many artists is that they can convert the complexities of the world into small chunks of insightful simplicity by filtering them through their craft. Woyciech Pisarek and Yumi Umiumare wanted to tell stories about how, unbeknownst to them, living in Australia imprinted a new culture on their bodies because, now when they return to their countries of birth, they physically experience themselves as foreigners in these defamiliarised lands. Others, such as playwright John Romeril and theatre entrepreneur Michiko Aoki, attempted to explain the connections across cultures as a matter of lived experience by narrating their own experiences as nothing more mysterious than going to new lands and showing an interest in what they saw there.
OzAsia 2007 raised a host of related issues in an unruly way—which is perhaps the best start you can hope for. Cultural debates only cohere easily in the hands of ideologues. If nations are about the way people imagine themselves and others, art clearly has a role to play in affecting those imaginings. But both art and nation states involve everyday actions as well as simply imagining. As the OzAsia festival gets people to think about the connections they have, and might have, to Asia, this will involve looking inward as well as outward, at abstract beliefs and at everyday practices, at how art and the social world intersect in constantly changing ways.
OzAsia Festival 2007, Cultural Symposium, OzAsia—The Big Ideas, Space Theatre, Adelaide Festival Centre, Adelaide, Sept 22-23
RealTime issue #82 Dec-Jan 2007 pg. 12
© Mike Walsh; for permission to reproduce apply to realtime@realtimearts.net