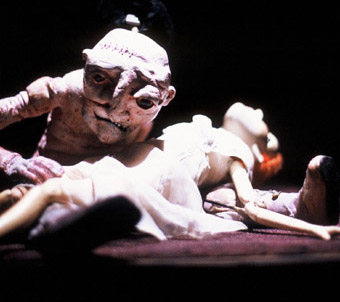 photo Glenn Dickson
Frankenstein
My imagination, unbidden, possessed and guided me…I saw—with shut eyes, but acute mental vision—I saw the unhallowed arts kneeling before the thing he had put together.
Mary Shelley's introduction to Frankenstein (1831)
Mary Shelley's Gothic tale inverts the rational and scientific thinking associated with the Age of Reason. The scientist Victor Frankenstein cannot relinquish his desire to create a human in his image. Mixing science and alchemy, he tampers with the remains of the stolen dead, creating a monster with human longings that are at odds with its eight-foot ugliness.
Terrapin Puppet Theatre's Frankenstein is not the 1931 film with Boris Karloff where the Monster shambles around with bolts in his neck, although Matt Warren's black and white video montage of monsters reminds us of our fascination with filmic representations. With puppetry design by Graeme Davis, this story of obsession and carnage is portrayed with the beauty and finesse that puppetry makes possible.
The puppets embody the strangeness of the 'other': the monster has human form and longs for acceptance, while in the skilful hands of Kirsty Grierson, Colin Sneesby and Melissa King it is are also imbued with human qualities. It is easy to forget that puppetry is deception.
Greg Methé's set design uses the device of the triangle to convey the character's journey from heaven to purgatory and then hell. Elizabeth, her fiancé Victor Frankenstein and the Monster continually traverse 3 levels, including the upper book-lined library and the site of Victor's obsessive experimentation in the cellar.
In Victor's subterranean laboratory we peer through the portal of a boiler, mesmerised by an inchoate form suffused with purple light. Ben Sibson's sound score of dripping water, thunder, lightning and dark piano chords accentuates the Monster's grotesque birth. Sprawling like soft clay, inanimate and without differentiation, he stirs and assumes life, head down, bum up, moving onto his hands and knees while shielding his eyes from the alternating light and dark. The Monster repeatedly stands and falls before reaching out to the terrified Frankenstein. Victor takes no responsibility for the life he has created. The Monster remains an abject creature, abandoned and unprepared for any role in the world.
Love, desire and rejection are the central concerns in Jessica Wilson and Anne Thompson's interpretation of the tale. This production re-enacts the horror of the Monster as he takes his first breath and proceeds to snuff and sniff his way through torment to oblivion after killing Elizabeth, whom he loves, and Victor, his creator.
First published in 1818, Mary Shelley's story still evokes fascination. Terrapin's production revisits and reinvents Frankenstein, imbuing the tale with a timely resonance. Through the processes of economic imperative and tribal tension the world continues to spawn monsters. Each day the media presents recurring primal scenes beyond our comprehension. We remain trapped in the bind of observing horror while recognising the apparition as a manifestation of our own dark dreaming.
Terrapin Puppet Theatre, Frankenstein, director Jessica Wilson, dramaturg/concept development Anne Thompson, puppet design Graeme Davis, puppeteers Kirsty Grierson, Melissa King, Colin Sneesby; Peacock Theatre, Hobart, May 18-29
RealTime issue #62 Aug-Sept 2004 pg. Onl
© Sue Moss; for permission to reproduce apply to realtime@realtimearts.net